The great Prometheus certificate debate
I've been jetting about recently. As a result, this place has been a bit less busy than usual. Tuesday saw Screenwriter touching down in London for a special screening of new footage from Ridley Scott's Prometheus. Might Shelley have been …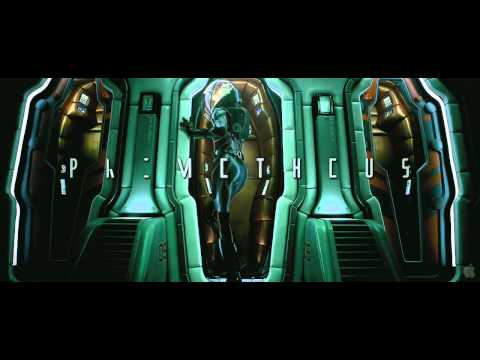 I've been jetting about recently. As a result, this place has been a bit less busy than usual. Tuesday saw Screenwriter touching down in London for a special screening of new footage from Ridley Scott's Prometheus. Might Shelley have been speaking of Scott when he wrote "Monarch of Gods and Dæmons, and all Spirits/ But One, who throng those bright and rolling worlds…"? Almost certainly not. But I have to take every opportunity possible to make use of that English degree I received in 1932.
Anyway, the footage helped clarify what the darn thing is about. If you've been paying attention, you'll know that, at first, it was a prequel to Alien, then it wasn't any sort of prequel at all. Now, it's a film set in the same universe at an earlier point to the great 1979 picture. Scott, who joined Noomi Rapace, Michael Fassbender and Charlize Theron on stage, explained that, ever since the film came out, people have been asking him about the "space jockey". That, in nerd speak, is the ossified creature that Sigourney Weaver and gang encounter shortly after landing on the planet where the alien lurks. Now, we'll know the answer.
There was a fair bit of interesting chatter. Fassbender, who plays an android, explained that, while preparing for the role, Scott had pointed him towards the great Joseph Losey picture The Servant. Given that the Harold Pinter-scripted drama is among my favourite films of all time, I couldn't be any happier. "I'm a gentleman's gentleman, and you're no bloody gentleman!" That's what Dirk Bogarde says in one of the very rare films where he plays a surly, miserable bastard.
The closest thing to a controversy kicked off when somebody inquired about the film's potential certificate. If you have been posting on Prom-Maniac.com you will know that, over a month before the film opens, fans are already getting very het up about this subject. It has been implied that Scott might be prepared to cut the film in order to secure a less lenient cert from the Motion Picture Association of America. This has triggered real anger. Many people out there on the ether regard a stricter cert as a badge of honour. If only adults are allowed in then the film must be for adults. That's the logic.
Scott was quite interesting on this issue. He admitted that he was a businessman as well as a film-maker and — not wanting to exclude a large portion of the audience — greatly desired a PG-13 rather than an R cert. But he sounded pretty annoyed about the way the MPAA went about its business. "I know the importance of that. When a big film fails, it's disastrous for all of us," he said. Then he started to get a bit cryptic. He said that he didn't want to single out a particular movie, because it was directed by a friend of his, but he was surprised at some of the "films this year that have got PG-13 ratings – it's absolutely f**king ludicrous. So MPAA, get your house in order." Can he be thinking of The Hunger Games? It's a hard phrase to parse. If that film is in his mind then he, presumably, is complaining at the MPAA's inconsistency, rather than getting all angry about the wee kids being exposed to knife fights in The Hunger Games. I'm just guessing here.
At any rate, whatever happens, somebody, somewhere will be unhappy. If Prometheus does get an R then Scott and his colleagues at Fox will be fuming at the expected loss of earnings. If a PG-13 is handed out then various nuts on the internet will be calling Sir Ridley a traitor and demanding (oh, be still, my aching sides) "a boycott". You know. Like those brave folks who walked to work during the Montgomery bus boycotts in the Civil Rights era. Like the followers of Ghandi who shunned British-made goods during the fight for Indian independence. They will, in other words, be behaving like the bravest of heroes and will undoubtedly bring 20th Century Fox to its knees. Give me a break.