Notes from the BFI London Film Festival
Love a duck, it's all go at the BFI London Film Festival. I have just returned from my first three-day jaunt to the baggy event and — hooray! — further proof has been offered that 2011 is shaping up to …
Love a duck, it's all go at the BFI London Film Festival. I have just returned from my first three-day jaunt to the baggy event and — hooray! — further proof has been offered that 2011 is shaping up to be a very good year indeed for cinema. Well, I say "2011″, but such are the vagaries of film distribution that many of the films I have seen will not be opening in these territories until early next year. Blame the Oscars. The studios schedule all their "quality" US releases for December and November and, as a result, they then creep our way in the early part of the following year. Oh, well. At least it means there's something to look forward to in the gloomy months of late winter.
Among the people I've chatted to are Lynne Ramsay (perky), Evan Rachel Wood (tired, but enthusiastic), Alexander Payne (hung-over, but amusing), the Dardenne Brothers (not at all what you might suspect), Michael Shannon (focussed) and Elizabeth Olsen (quite tall). I also touched base with Markus Schleinzer, director of the fine Michael, who, unlike the protagonist of his film, did not lock me in a gloomy basement. Not even a little bit.
As I've mentioned before in this place, despite the lack of world premieres, the LFF is the best festival to connect with talent in this corner of Europe. At Cannes or Venice they're all too busy swanning around on yachts, gondolas or other luxury forms of aquatic transport. What of the films? Well, we've already talked about a few in discussions concerning the South of France. But I would isolate three for special mention.
Despite having a title than almost nobody can remember, Martha Marcy May Marlene is a real stunner. Dealing with the aftermath of a young woman's experiences in a cult, Sean Durkin's picture has a spooky ambience all its own. Ms Olsen, younger sister of those twins, is awfully good and the enigmatic ending really sends you out with the right sort of headache.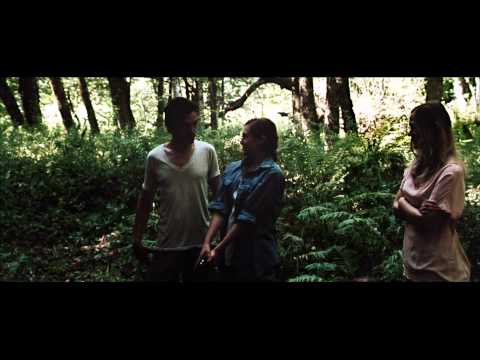 Alexander Payne's The Descendents is, well, a very good Alexander Payne film. Mr George Clooney plays a Hawaiian dealing with the imminent death of his wife following a boating accident. It's a funny thing about Mr Payne's last four films: all are based on novels, yet all seem to spring from the same narrative furrow. Once again, as in Election, About Schmidt and Sideways, a man of a certain age finds himself being pooed upon by the universe's many bottoms and reacts in desperate, slightly ill-advised fashion. Payne acknowledged this recurring theme and promised to shake it for his next film. There's no real need. All four pictures are great. Heck, all Robert Bresson's films played the same notes and they are virtually all masterpieces.
I think the film that I've enjoyed most , however, is Jeff Nichols's Take Shelter. For some years, we've all been watching Michael Shannon with some interest. Possessor of the scariest forehead in acting he has, in films such as Bug, My Son, My Son, What Have Ye Done and Nichols's brilliant Shotgun Stories, emerged as the most agreeably sinister presence of the age. He's very good in Boardwalk Empire. He's the main reason to watch Revolutionary Road. Take Shelter really pushes him to the front of the pack. Michael plays a mid-westerner who starts to see visions and hear voices. Eventually, he takes to building a tornado shelter in his garden. Partly a study of madness, partly a side-on horror film, the picture is one of the best I've seen this year. And there's more good news. Whereas The Descendants and Martha Mary Marlene Madge Mantovani don't come our way until 2012, you can catch this fine film from November 25th. Do us all a favour and give them some business when it comes along. You won't regret it.