Spacial Awareness in The Shining
Here's a very interesting video from Rob Ager, a self-taught Liverpudlian film sleuth, on the cerebral subject of "Spacial Awareness in The Shining". Rob is not the first person to discover fascinating architectural anomalies in Stanley Kubrick's last great film, …
Here's a very interesting video from Rob Ager, a self-taught Liverpudlian film sleuth, on the cerebral subject of "Spacial Awareness in The Shining". Rob is not the first person to discover fascinating architectural anomalies in Stanley Kubrick's last great film, but I have not previously seen the information collated in such comprehensive and lucid fashion.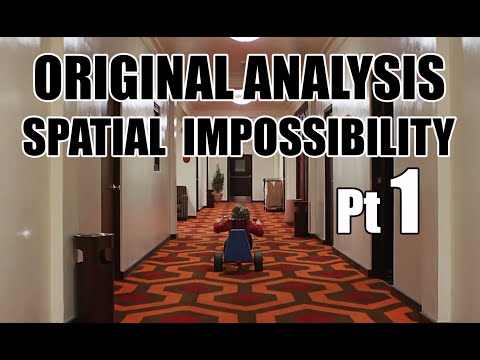 Rob's starting point is an interesting one. He discovered that, when planning a special level based on The Overlook Hotel, the film's location, the designers of a Duke Nukem sequel (that's a video game, old-timer) found that some of the corridors made absolutely no sense. They were forced to improvise.
In Rob's first example, he points out that the office in which Jack Torrance first meets the hotel manager has a window that — despite offering views of the countryside — must actually look out on an internal hallway. He goes on to explain that various apartments could not fit in the spaces they have been allocated. The maze makes no sense. The ballroom is to big for the building. And so on.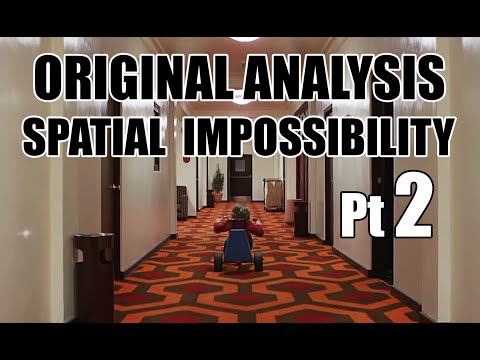 If such irregularities occurred in a Brett Ratner film then we would feel no need to pay any attention (and we'd be certified insane for even bothering to check). But, if we know anything about Stanley Kubrick, we know that he was fanatical in his attention to detail. As Rob points out, these apparent anomalies must surely be deliberate. It's fair to assume that Kubrick is inviting our subconsciouses to conclude that, far from being a representation of reality, the film's manifestation of the Overlook Hotel is plucked from Jack Torrance's unhinged mind. We are in a half-place. Perhaps, The Overlook Hotel actually is Torrance's mind.
Why does does Kubrick still draw this level of attention from cinema enthusiasts? Obviously, he delivered an extraordinary series of films throughout his career. 2001: A Space Odyssey may be philosophically muddled, but its power to judder the frontal lobes is close to unmatched. The latter half of A Clockwork Orange is pretty ropey, but the opening sections are as effective as any other adventure in dystopian film-making. Barry Lyndon is magnificent throughout.
All that noted, this notion — an orthodoxy in certain parts of the internet —  that Kubrick is the great film-maker remains a slightly puzzling one. Is he really the equal of Bergman, Mizoguchi, Renoir or Godard? Okay, that's a silly question. They're all foreign, for Pete's sake. But it is interesting that neither Howard Hawks, John Ford nor Alfred Hitchcock tend to get a look in here.
Allow me a moment of characteristic snootiness. There seems to be a view that, because all those directors worked within the system — producing films that, however brilliant, looked very like westerns, comedies or thrillers — they are not regarded as being sufficiently serious. Kubrick's near-psychotic solemnity allows the young viewer to believe that he is watching something that qualifies as art. Happily, the films are not in a foreign tongue or anything, but their aching slowness invites intimations of high-mindedness. 2001: A Space Odyssey is a science-fiction film, but nobody is likely to confuse it with Attack of the Lady Swamp Monsters.
Yet you will stare for a long time at a Kubrick film before drawing any philosophical insights from the work. Even his best films are masterpieces of spectacle rather than masterpieces of ideas. And, of course, young people rather like spectacle. There's a bombastic quality to Kubrick that batters aside any reservations about content.
None of which is to suggest he wasn't a sort of genius. He's just not my favourite sort of genius. Give me Hawks's His Girl Friday over Lolita any day. Give me Ford's The Searchers over 2001. Give me Hitchcock's Strangers on a Train over A Clockwork Orange.
Mind you, The Shining really is something else. And Barry Lyndon is beyond hypnotic. This conversation really is going in circles.