Everything that is right about Formation
Beyoncé slays once again.
Awe. that's always one way of putting it when it comes to Beyoncé.
Beyoncé's ability to conjure cultural memes out of nothing is only second to her ability to reflect existing ones back at us through a prism we didn't even know we needed. She veers towards the edge, gathering visual aspects of pop culture and social context, Beyoncifying them and presenting them back to us. Like all great pop artists, Beyoncé is an aggregator of social, political, musical, artistic, and visual culture. And she presents her view, which becomes our view, with remarkable joy, clarity and energy. The result is awe.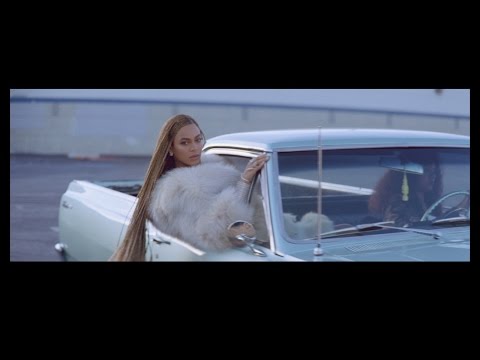 Her ability to own a moment is also incredibly exciting. Sure, Coldplay were the official Super Bowl halftime performers, with Bruno Mars in the mix too, but this was Beyonc'o'clock. Again. In terms of marketing and PR strategy, the whole thing is just sublime. Drop a great track and a fantastic video that gets everyone talking, blow the Super Bowl halftime show out of the water. Announce a world tour. Done. Here are some of the things that I think are just so right about 'Formation'.
Shrugging Off Internet Lameness
"Y'all haters corny with that illuminati mess" simultaneously acknowledges the weird YouTube bargain basement comment section obsession with Beyoncé and illuminati imagery, and rolls her eyes towards the lameness of being preoccupied with it.
You Don't Own Me
The line "I'm so possessive so I rock his Roc necklaces" subverts Jay Z's proclamation that he had the "hottest chick in the game wearing my chain" on The Black Album. Wearing the chain isn't Jay Z being possessive, because according to Beyoncé here, she wears it because she's possessive.
Celebrating Her Black Family
She also celebrates the black features of her family, "I like my baby hair, with baby hair and afros" refers to Blue Ivy's afro. "I like my negro nose with Jackson Five nostrils" is a shoutout to Jay Z's nose, a characteristic of the rapper's that has been lampooned as one of his most distinctive features.
Sex Positive
The "When he fuck me good I take his ass to Red Lobster" line is explicit, unapologetic and hilarious. It's also even more impactful because Beyoncé doesn't generally swear, but in recent years has become that bit riskier. Red Lobster responded almost immediately, musing about changing the name of their cheddar bay biscuits.
Yes My Kid Is Awesome
Beyoncé has an astute sense of tone when it comes to Blue Ivy's inclusion in her own imagery. When Kim Kardashian and Kanye West parade North West in camera flashes at fashion row front rows it feels like accessorising. But when Blue Ivy appears in 'Formation', she's not just a chip off the old block, but is herself empowered, owning the moment.
Nod to Solange
Some of the visuals in 'Foundation' are reminiscent of visual cues you'd expect to see in a Solange video.
Exposing Pop Music To New Orleans Bounce
Messy Mya opens the track "What happened after New Orleans?" Messy, Anthony Barre, the rapper and internet personality was shot dead in 2010 aged 22. Big Freedia also features.
Take My Credit Card
"Drop him off at the mall, let him buy some J's, let him shop up." Rappers may holler about their girlfriends' love for shoe shopping, but here's Beyoncé, playing on both her husband's name and his propensity for Nike Air Jordans.
Owning Her Own Shade
The "Yellow bone" remark refers to Beyoncé owning her blackness, however light skinned that may be.
Get In Formation
'Formation' feels like a call to action. Don't just set up a squad around you, but move simultaneously, as a murmuration of female empowerment, an army of solidarity. Beyoncé obviously isn't shy about these calls, with many of her songs and lyrics calling on women to step up, with, and for each other, from single ladies to independent women. But getting in formation almost formalises that military swagger. And at the Super Bowl especially, the references to the Black Panther movement were front and centre.
The Killer Line
The line, "I got hot sauce in my bag… swag", is better than Rihanna's entire new record combined. Beyoncé is a master of both the musical and lyrical hook.
Experimentation
The song is also musically experimental, minimal, forceful, with great repetition.
Remember Katrina
The video for 'Formation' is obviously deeply steeped – literally – in the destruction wreaked by Hurricane Katrina and everything that symbolises; the importance of New Orleans as a cultural and creative centre, the abandonment of African Americans by the US authorities and government, the resilience of people there through initial helplessness and therefore black people in the US in general, a celebration of triumph over adversity and the fact that New Orleans, Katrina, its connotations and aftermath have not gone away, but are present, contemporary and urgent. "What happened after New Orleans?", well, look at the news. The track closes with a sample from the Hurricane Katrina documentary Trouble The Water and Beyoncé sinks below the surface of the water on top of a cop car.
Black Lives Matter
The imagery of a young black kid dancing in front of a police line before raising his hands only to have the police do so in an act of contrition as a camera veers across wall graffiti that proclaims "stop shooting us" is powerful, profound, visceral and purposeful. While many pop stars ignore the police brutality and murder that is happening in the US, or are too nervous to approach it, Beyoncé confronts it head on. And it's not merely a baldly confrontational statement, but a hopeful one too. Maybe some day the police will be the ones with their hands up, not shooting.
Black Bill Gates
I love the line that goes "You might just be a black Bill Gates in the making, cause I slay / I just might be a black Bill Gates in the making" because it's not just presenting that potential to someone else, but also asserting her own potential, her own wealth, her own power. Beyoncé has stepped up levels again and again, and most recently she has been making more changes to her management team, bringing in Steve Pamon to her company Parkwood Entertainment. Her manager Lee Anne Callahan-Longo (who came through Columbia has been working with Beyoncé for over ten years) is moving on. Once again, change is in the air in the upper echelons of Beyoncé's management. What's next, I wonder?
Pride
'Formation' positions pride as a foundation, not something from a well that has to be sourced. Pride in blackness, pride in togetherness, pride in femininity, pride in place, pride in the collective, pride in the characteristics of one's self and one's culture. Beyoncé isn't politicising her identity, her identity is already politicised so she is once again owning it. As a commentary on being black in America it is one of fierce pride, and of proud fierceness.
Charity
The announcement of her world tour was perfectly timed, capitalising on the song and video release and the Super Bowl performance. And in the details of that tour, charity and giving is also mentioned, with Beyoncé "partnering with the Community Foundation of Greater Flint to create a fund that will address long-term developmental, education, nutrition and health needs of the children affected by the Flint water crisis."
The Super Bowl
Beyoncé wasn't just performing at the Super Bowl halftime show, she created a political act out of what is generally viewed as a frivolous and overblown stage show. Katy Perry had dancing sharks. Beyoncé dressed up as Michael Jackson and had an army of Black Panther-referencing dancers backing her up. Following the performance, some of those dancers held a sign saying "justice 4 Mario Woods" – a black man shot dead by police in San Francisco where the game was being held. There was no hiding from what Beyoncé meant by that Super Bowl performance. She didn't insinuate or make people guess about what she was doing. This was overtly political, down to the black berets, the raised fists, the formation that spelled out 'X' on the pitch, the shotgun ammunition embedded in her leather jacket outfit. While Coldplay conjured flower power, Beyoncé's message was clear: Black Power.