Frankie Knuckles: 1955 – 2014
One of the greats passes.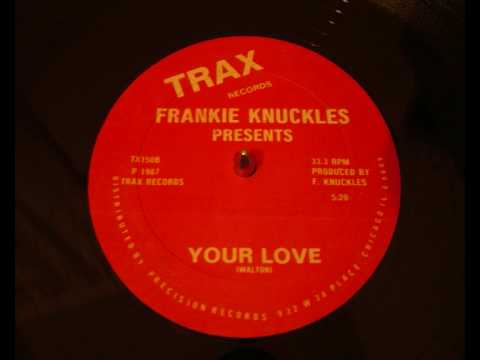 I think the first time I heard 'Your Love', was when Anthony Remedy played it during some set, in some club, at some time. I was probably having so much fun I don't remember the details. What I do remember is at the time, I was pretty dismissive of house music. I liked techno, drum and bass, but my lack of interest in house was something of a point of exasperation for my friend Anthony. 'Your Love' changed that. It was that track and this Channel 4 documentary, Pump Up The Volume , which began an exploration of house music for me. And at the centre of that exploration, amongst other key figures, was Frankie Knuckles.
Knuckles was shorthand for house. One of the originals. Those mythological – but still alive! Still relatively young! – figures who bended gay minds in New York with disco and brought it to Chicago and turned it into something else, before morphing it into something completely different in Detroit. The names of the clubs they played in were almost like myths consigned to the past.
I was too young to have experienced the house music revolution in Dublin's clubs. I only caught the tail-end of the Kitchen, for example, and the first time I walked into a club having never heard the type of music that was playing before was at !Kaboogie nights in Parnell Street, and especially at Kennedy's when a different genre was being discovered in dark rooms with loud sound systems. Hearing something like 'Midnight Request Line' and having no context for it solidified that dubstep was the last 'discoverable' music in a club setting for me. It was too late in history to walk into a club and hear house and techno as new sounds first time around, but at least I got something. No genre is truly mysterious or ready to be discovered now because of how music is distributed, encountered and discovered online. It's a rare occasion if you're into a particular genre or style that a DJ will play something that not only you've never heard of before but that you haven't even encountered in terms of its newness. Something that doesn't sound like anything else. That's over. The idea of queuing outside a record store for a tune you've been waiting for for weeks, now seems ludicrous.
But the upside was that for me, the beauty of house became about rediscovery. I would trawl mp3 blogs and come across treasure troves of Chicago house tracks, download them all and go for long periods where that's all I listened to. It seems juvenile and uninformed now to have been discovering music ages after it happened, but I guess it's the same process I went through as a teenager discovering psychedelic rock and punk and thinking "woah", decades after someone else sitting in their room put on a record and said "woah".
But for me, it always came back to 'Your Love', even though it wasn't really his track to begin with. The song kept having legs; its original version by Jamie Principle turned into the second version credited to Knuckles, the Candi Staton a cappella for 'You Got The Love' has reemerged countless times, Friendly Fires started covering it, Animal Collective scored a massive tune with 'My Girls'.
Knuckles will always be known as a pioneer, an incredibly stylish and sophisticated DJ, and one of the people who gathered knowledge from New York, built on it in Chicago and brought house music to the world, which ended up as the foundation on which most pop music and electronic music has since been built. In a music industry that regurgitates genres and passes them off as 'innovation', Knuckles was pure, one of the few who can claim to have created something at least vaguely new, while paying tribute to the disco sounds of the past. There's no such thing as a blank slate when so many great ideas in art have come before, but it's what you add to it that counts. Knuckles sure as hell added a whole lot.