Glacier
John Grant's song is a well of resolve from which to draw from.
Yesterday at the Olympia in Dublin, I was setting up for an interview with John Grant for Ceol ar an Imeall. The interview time was running over (eventually by well over an hour) but it didn't matter because Grant was soundchecking. Doing interviews with musicians on the day they play can cause all sorts of issues with times and rushing and the perpetual risk of the support act's soundcheck bleeding into your TV recording. And the biggest issue is generally the musician's tiredness. They've probably just got off a ferry and are slowly realising that they won't have a chance for a power nap back at the hotel before the gig.
Selfishly, these kind of things don't really matter if you're just doing the interview for print, because you can fill in the gaps yourself in your writing, but even the stripped back TV set up we have for Ceol requires at least some production standards. Lights need to be set up properly, mic packs need to be charged and synched, cameras need to be ready to go (yesterday I think we were just using two 5Ds and a GoPro – you can do these things quite pared down.) But if you're not in a rush, and the act is still soundchecking, it's one of the pleasures of the job to just sit back and listen to them run through some tracks.
Soundchecks are mostly a pain for musicians, as far as I can gather, but occasionally I prefer being an "audience" for the soundcheck than at the gig itself. It feels illegal or something, just you and a few crew in the venue as the edges are smoothed out. You never really write about it – although I've chosen to here – but it's one of those situations that never gets old. The armour of the gig is stripped back, the nuts and bolts of what makes something run exposed. Grant was already running through some tunes when I got there, but a while in, Sinead O'Connor and Conor O'Brien popped up on stage to rehearse 'Glacier'. They must have run through the song five, six, seven times, fixing harmonies, figuring out timings, deciding who would split the verses. O'Connor, a perfectionist, was being pedantic about the sound, the harmony she was trying to nail, reverb, her distance from the mic. But the results time and time again were beautiful. Their voices soared with every turn, but still they repeated and adjusted until they got it right.
Throughout the rehearsal, the lyrics didn't lose their power. Grant began, "You just want to live your life / The best way you know how / But they keep on telling you / That you are not allowed / They say you are sick / That you should hang your head in shame / They are pointing fingers / And want you to take the blame." O'Brien took up the tune, "There are days when people are / So nasty and convincing / They say things beyond belief / That sting and leave you wincing / And to boot they say their words / Come straight down from above / And they really seem to think / That what they're doing counts as love."
The chorus of 'Glacier' drives like an icebreaker through the very metaphor it uses. All the personal and external injustices confronted by both individuals and us collectively are drawn out, with the elongated phrasing of "this pain" almost pulling through your very core. "This pain / It is a glacier moving through you / And carving out deep valleys / And creating spectacular landscapes / And nourishing the ground / With precious minerals and other stuff / So, don't you become paralyzed with fear / When things seem particularly rough." The resolute optimism, strength and steadfastness the end of the chorus captures is a stunning lyrical achievement. And it works because it's true. This isn't a cheesy Gloria Gaynor moment, or a roar from Katy Perry, but something much more. The opposition to many of us just living our lives as how we see fit, will not break us, but in fact, that opposition acts as an internal weapon, allowing the subjugated and oppressed to grow stronger and more precious.
When Sinead O'Connor sang the final two verses, it took on a much more profound meaning, "Don't you pay them fuckers as they say no never mind / They don't give two shits about you / It's the blind leading the blind / What they want is commonly referred to as theocracy / And what that boils down to is referred as hypocrisy / Don't listen to anyone; get answers on your own / Even if it means that sometimes you feel quite alone / No one on this planet can tell you what to believe / People like to talk a lot, and they like to deceive." She could be singing about herself, or our society, or all of us. O'Connor, slagged by the press over the years, remains one of the most pertinent and important voices in this country, consistently exposing truths across religion, mental health, sex, society, women, art, freedom of expression. When she says "Don't you pay them fucks as they say no never mind," it's a statement of boldness and courage, a fixed purpose that rings out.
Grant, along with O'Connor and O'Brien, is one of the best songwriters of his generation. His brutal and beautiful honesty is a mark of artistic courage in a music industry loaded with pastiche, pretence and chicanery. And although so many of his songs are astounding works of truth, it's 'Glacier' that truly soars. What a privilege to hear these three great people bring what was already a stunning piece of work to a new level. Preach.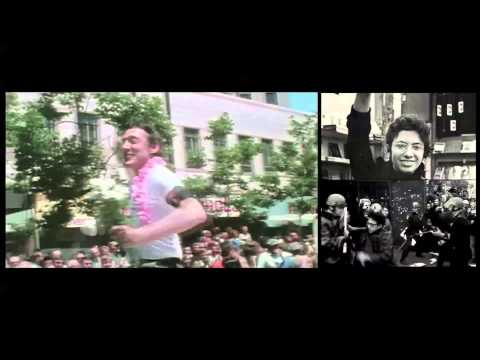 If you have a spare half hour today, check out Jim Carroll's podcast interview with John Grant at Other Voices last year.
(photo via Wikipedia)