Eminem: Rap God
Marshall Mathers new tune is perhaps one of his greatest displays of rapping. (Pic via Spin)
Eminem is undeniably one of the most captivating artists of his generation; an innovator, a groundbreaker, and a controversialist, holding down a career wrapped in intrigue, tragedy and talent.
Just when you think he's past it, he unveils 'Rap God'.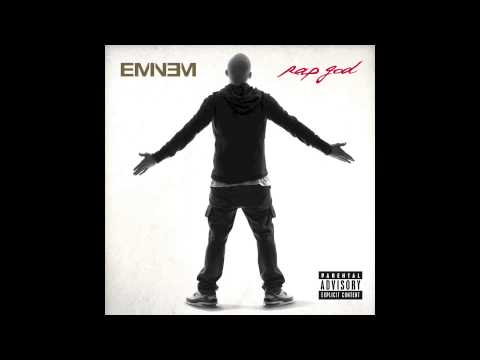 Like loads of suburban teenagers, The Slim Shady LP was my soundtrack to being disgruntled with authority and doing everything possible to get into trouble without getting caught. With 'Forgot About Dre', Eminem knocked one of the greatest ever tracks out of the park, but it wasn't until I heard 'Stan' in the summer of 2000 that I really became a fan, forsaking the hip-hop that coloured my teens; MC Solaar's Qui sème le vent récolte le tempo, The Chronic, Illmatic and the underrated I Am…, Reasonable Doubt, Doggystyle, 36 Chambers, Ready To Die for The Marshall Mathers LP learning every lyric and musical detail by sitting close to my bedroom stereo, blasting it on giant headphones at night.
My fandom of Eminem led me down a love of more mainstream hip-hop. I even bought Ja Rule and 50 Cent albums. I know. When Country Grammar came out, my taste progressed into a love of Southern hip-hop and Dirty South stuff; OutKast, the Cash Money stuff, Juicy J, Pimp C, but a love for Dre remained a constant. When I heard 'Renegade' from what is probably my favourite hip-hop album, The Blueprint I realised again what an amazing MC Eminem is.
When I was 20, I went to Eminem's first Irish concert on the 26th June 2003 in Punchestown. Here's a photo of me and my mates on our way to this gig for your amusement, which has been loitering in the Irish Times archives. Look how excited I am! And yes, that is an Abercrombie tank top. If I remember correctly, those McDonald's cups did most definitely not contain soft drinks.

It was an amazing gig, and the best rap show I had ever been to up until Jay-Z at Glastonbury and then Watch The Throne at the O2. When Eminem returned in 2010 to headline Oxegen, you realised how his festival headlining capacity paled in comparison to Jay-Z's Oxegen show because Eminem, ultimately, is downbeat. He's angry and the music is loaded with rage and darkness when he forsakes the cartoon stuff. He doesn't engage with the crowd or try to please anyone. This aggression was typified too with his non-solo stuff. I still think the best thing he released with D12 isn't 'Purple Pills' but 'Fight Music', and if you want to examine the look of modern hip-hop, it's this video that's a touchstone for where ASAP Rocky and co's style inspiration is rooted, in my opinion.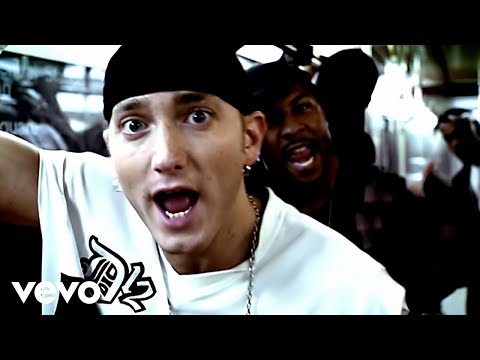 Living in Boston in 2004 and occasionally going to New York at the weekends – and now obsessed with backpack rap and open mic lounge rap nights in Cambridge –  I met someone through a mutual friend who worked for Shady Records. Late at night, she brought me up to Eminem's office in SoHo, featuring a table loaded with bottles of Hennessy and rails of clothing from the 'Without Me' video which had yet to be put in storage. Holding up the costumes from that shoot felt like I was touching rap history.
Two years previous to that, 8 Mile came out, and while everyone cites 'Lose Yourself' as the highlight of that soundtrack – it's obviously a classic – I feel the title track / '8 Mile Road' is just as good.
Honestly, I don't think Eminem put out a brilliant record after The Marshall Mathers LP which was his pinnacle. I was never into the Slim Shady persona, and like a lot of people, was pulled towards the innovations in production that were happening around The Neptunes and Clipse, as well as being pulled back into hip-hop history, revisiting the more musical offerings of The Roots and Gang Starr, and the political stylings of Dead Prez, Tupac, Public Enemy and Immortal Technique, as well as growing to love the more neo-soulful stylings of hip-hop and RnB, Common, D'Angelo, all the Soulquarians stuff, and everything J Dilla ever touched. Guru's Jazzmatazz Vol. 1 was a gateway to jazz for me. I felt drawn to Courtney Pine, and then fell back through history into Chet Baker, Charlie Parker, Clifford Brown and the rest. Eminem felt a bit vacuous when you got into all that stuff. Hip-hop progressed, but Eminem seemed stuck in this own past.
But now in 2013, even though his The Marshal Mathers LP 2 seems to be coloured by his own apathy around the record promotion and his concert appearances, he can still shoot a bullet as piercing as 'Rap God'. It makes you feel like despite all the below par material he's released, that the dross was worth it for rhymes like this.