PopLives #49: Fez Fa'anana
Every week this Q&A finds out what various heads in music, film, fashion, theatre, bukes, performance, tech stuff, and whatever else are consuming.
Fez Fa'anana (centre) is one of the performers with BRIEFS, and is coming to Ireland soon as part of the Dublin Fringe Festival.
What are you reading?
Noel Coward's Design for Living which is about a trio of artistic characters, Gilda, Otto and Leo, and their complicated three-way relationship. It was broadway show and make for a great read which I'm loving right now.
Last film you saw and your verdict?
The Croods. Another entertaining children's animation with an almost sickening moral lesson for everyone to take on board.
Last gig/concert you went to and your verdict?
Kraftwerk @ Latitude Festival – sheer brilliance! Clever, slick, big and mesmerising.
Last stage production you saw and your verdict?
We've just finished our show BRIEFS: The Second Coming at Edinburgh Fringe before we wing our way to our favourite Fringe in Dublin this September. But we saw the ridiculously amazing La Poeme at Edinburgh Fringe Festival. It was skillfully messed up and confusingly stunning.
Last gallery / museum / exhibition you visited and your verdict?
World Press Photo Exhibition at the Brisbane Powerhouse – potent, real, depressing and shocking. Turning the sometimes mundane into magic.
You have a golden ticket to Easons, what magazine is first on your list?
I love a good trashy read and an easy crossword or sudoku so any of those magazines like Who, New Weekly and Now. Completely brainless rubbish read. However, I do recall The Irish Times doing a great simplex Crossword, so looking forward to that again this year.
What are your most clicked bookmarks?
My online banking – still waiting for an enormous amount of money to miraculously appear in it…
Do you have a favourite podcast or radio programme?
Luxuria.com. It's internet radio with amazing tunes and perfect to have that little bit of 'what feels like home' with you while on tour and for ready to play before we go on stage at Vicar Street
When you fall into a YouTube hole what's the general subject matter of the videos you're watching?
Ridiculous eighties dance videos. Sarah Carlson is the bomb or old school vaudeville video's which I watch in awe and jealousy by the amount of sheer talent.
What song should we listen to right now?
Royal T : Italian electronic duo Crookers. Many of the songs feature collaborations, including Kid Cudi, Soulwax, Kelis, will.i.am, Róisín Murphy, Miike Snow and many more. Royal T featuring Róisín Murphy was on Season 7 of So You Think You Can Dance, and I love Roisin Murphy too so a good mix all round.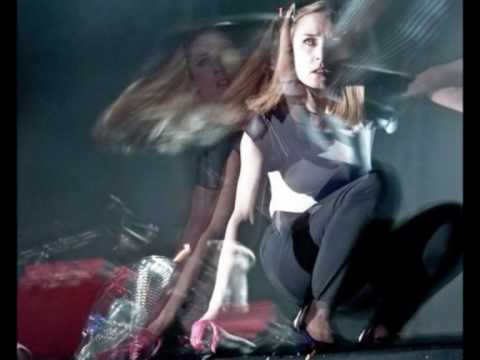 Which boxset/TV series do you have on the go at the moment?
I have just obsessively watched the HBO series 'Girls'.
Which app do you use the most?
I'm using Vine a lot right now.
Do you play video games or mobile platform games, and if so, what's your favourite at the moment?
Mario Cart will always be the ultimate game but i am loving Alien Storm and Golden Axe. Last time I was in Dublin I found R.A.G.E record, art and game emporium which is amazing. I bought a Sega Mega Drive and a stupid amount of games!
What is your favourite club night of all time?
Club Briefs – This is where the BRIEFS was born. A good old trashy speakeasy club night of silliness, extravagance, fanciness and one off amazingness. When we were in Dublin last year though we loved Mother, and this year we are looking forward to revisiting some our old haunts.
If you could transport one international cultural outlet to your home town, what would it be and why?
I really don't know. I think I like that my home town is a simple place. If I could transport a international cultural outlet to my hometown it would need to be turned into a mall for people to come to it.
And finally, if you check out one southern hemisphere artist this week make it…
Dallas Dellaforce from BRIEFS: The Second Coming of course. We're just playing at Dublin's Vicar Street for seven days this year so get in quick as we sold put last year and many of you Dubliners were upset that you missed us, so we're back with a great new show, with a line up to die for that includes the fierce Ms. Dellaforce who brings drag artistry to a whole new level and Australian circus stars Ben Lewis and Tom Flanagan of Tom Tom Crew and Circus Oz fame. Fresh-faced circus brat Louis Biggs makes his Briefs debut, so check him out and you can expect everything from dog show satire, intimate yo-yo tricks, wind machines, Busby Berkeley-style spectacle and the usual array of serious skills including dancing, tumbling, juggling, acro-balancing, trapeze, hula hooping, skipping and pure circus skill held up in the most fabulous of six-inch heels.
BRIEFS: The Second Coming runs at Vicar Street from Sep 5 – 11 as part of Dublin Fringe Festival 2013 – Further info & bookings www.fringefest.com / 1850 374 643
Previously on PopLives: Chris Judge, Xnthony, David Mullane, Jo Mangan, Derek O'Connor, Beardyman, Lynnette Moran, Rob Delaney, Julie Chance,  Conor O'Brien, Nial Conlan, Wallis Bird, Adrian Crowley, Tegan Quin, Ellie Macnamara, Steve Ryan, Mumblin Deaf Ro, Rick O'Shea, Grace Dyas, Mark O'Halloran, Amy Conroy, Louise McSharry, Maeve Higgins, Ray Yeates, Nialler9, Jeanie Finlay, Kevin Barry, Brigie De Courcy, John Scott, Willie White, Niall Muckian, Phil Boyle, Angela Dorgan, Roise Goan, Joshua Gordon, Mick Minogue, Eilis Boyle, Annie Mac, Ben Frow, Michael McDermott, Sinead O'Connor,  Shane Langan, Kathy Scott, Eoghan Kidney, Michael Roe, and Phillip McMahon.