Pat Kenny leaves RTE for Newstalk
Something actually interesting has happened in Irish radio! It's Top Trumps time in broadcasting as high card Pat Kenny jumps to Newstalk.
For the past few years there have been certain radio stories that the media have kept repeating in lieu of any actual interesting news:
1. Communicorp's dominance - Communicorp's approach to acquiring radio stations has changed Irish radio, with Newstalk, Today FM, 98fm, Spin (and its South West incarnation) and Phantom in its arsenal. With the Pat Kenny acquisition, it's beefing up even further.
2. The Tubridy Question - be it across 2fm or the Late Late, the endless circular debate about whether or not Ryan Tubridy is working well, how many listeners or viewers he's gained or lost, reports of rumoured / imaginary warnings from management, blah blah blah, all of this generally failing to recognise that RTE has invested a huge about in Tubridy so will hardly give up on him now and the conveyor belt of Tubridy coverage also ignores the fact that he is a fine broadcaster, so if a programme isn't working then there are probably also peripheral – not just personal – problems to address.
3. RTE salaries – the screaming indignant headlines, the hand-wringing, the bitching, the 'they're not worth it' yells from the punters, the choice quotes from Noel Kelly. The salaries of RTE's big shots are constantly under scrutiny from the public, politicians, and other stations. Funnily enough, RTE's excuse has generally run along the lines that they have to pay big talent big dosh or else they'd be poached. With the station in an extreme belt-tightening exercise that would make Rachel Zoe gag on her coconut water, is that sentiment now actually true?
Let's see. Pat Kenny, arguably Ireland's best radio broadcaster, has left RTE after 41 years to present a morning show on Newstalk. As his contract negotiations broke down and with an offer from Newstalk on the table, Kenny has left with immediate effect, leaving a chasm in RTE Radio One's scheduling, a bit of spare change behind the couch in Donnybrook, and one of their biggest names skipping up the dial to the competition.
Here's Pat Kenny talking to Chris Donoghue talking about his move.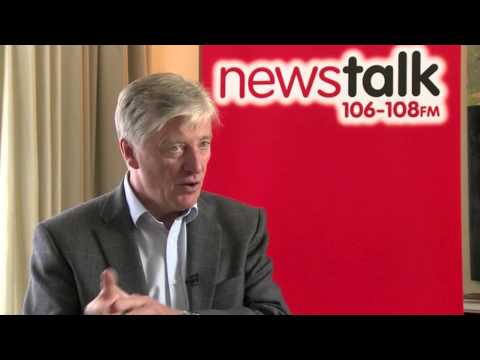 Donoghue signs off with a killer line, "Welcome to the jungle, Pat." An interesting little nugget in that interview is that Kenny hopes to "return to screens" and insinuates that he's open to offers. RTE DG Noel Curran says that although there's no animosity, he won't be returning to Prime Time in the autumn. "We were hoping that Pat would stay, but he decided not to," Curran said on Drive Time. Another remark Kenny passes in that video is that he doesn't want to work with the same intensity as he has been recently. Kenny shows a savviness in terms of his brand and product with a televisual analogy saying that people don't often remember what station they're watching a programme on, but just that they're watching a familiar show.
Kenny talks about the opportunity to innovate at Newstalk. And it's an innovation that probably cost the station a fair whack. While RTE salaries have come down in the past few years, Kenny's salary in 2011 (for presenting Frontline on TV and his radio programme) was €630,000. Do people tend to move to smaller companies for less cash than they're on? I'll let you answer that yourselves. Kenny won't reveal the nitty gritty of the offer, but says there were two offers on the table and that money wasn't an overriding factor. "I'm someone who likes even to surprise myself sometimes," he says.
RTE generally treat their staff in a slightly more gentle manner than the more rough and tumble world of the commercial radio market, so "with immediate effect" has a sting in its sentiment, as you'd expect Kenny to have one last show, and an opportunity to bid farewell to his 328,000 listeners. Not so on this occasion. So as one of the biggest transfer deals ever in Irish radio sees Kenny remove the Montrose sponsorship from his chest and don the Newstalk jersey, who are the winners and losers in all of this?
Winners
Newstalk
Obviously. This is a huge coup for the station. While Today FM have Dempsey, D'Arcy and Cooper, Newstalk's only real celebrity presenter is George Hook. But now they've got one of the big guns. Losing Off The Ball was a blow to the station, but this is a bounce-back of unprecedented force.
Newspapers
Finally, there's some decent media goss to write about for days.
Losers
RTE
Obviously. Seeing a big star leave the carpark on their BMW C1 for the last time is tough. "We want you to continue to listen to Radio One, we will replace quality with quality," Curran said on Drive Time, and although he presumably didn't mean it to come across as such, there's a drop of desperation in such an outpouring. "I think it's not impossible that we will," Curran answered, when Mary Wilson asked if he expected to lose other people.
Tom Dunne
Dunne currently presents a programme from 10am until noon on Newstalk. Kenny's slot will be 10am until 12.30pm. Tough break.
TBC
Pat Kenny
On September 2nd, when Kenny dons the cans in Marconi House for the first time, all ears will be on tuned in to see what the show is going to be like. Will he rock? Kenny is a majestic radio broadcaster. For all the criticism or slagging he gets, he's second to none on radio when dealing with the smart, hard stuff. It was only really with light entertainment and the requirement to be personable that he slipped up. He's the best at what he does, so let's see what happens. He says he'll maintain the same rigour, discipline and "a curiosity that is undimmed".
The contenders 
And now all eyes are on the replacement. How can RTE fill a hole as big as the one PK has just left? The listenership of the slot is massive, so they'll need a heavyweight if they want to replicate Kenny's success. And that's probably what they'll want to do as RTE tends to be shy away from risk, so would management really be willing to go for a complete reinvention of what the programme is?
Here's what the bookies think (the odds are changing a lot, so I've updated this again):

Tubridy has got to be up there in staking a claim to the slot. It would solve the nagging problem of whether or not he's working on 2fm, and also bring him back to a broadcasting zone in which he excels – being slightly nerdy and talking competently to smart people, as well as injecting his personality into the show. RTE has form in allowing Tubridy to follow in Kenny's footsteps, but would he want to return to Radio 1? Would the tough-talking 2fm head Dan Healy want the biggest name on 2fm to fly the nest (again)? Would Noel Curran be into that option?
Another obvious choice is Miriam O'Callaghan, who is playing a blinder filling in on John Murray's slot. O'Callaghan can do hard current affairs, as well as the lighter stuff. She's a safe pair of hands and loved by the public, but would she be viewed as too touchy feely for the slot?
Claire Byrne has excelled in RTE since she's shed the lighter formats initially adopted. There's a sense of the long game about Byrne, who is savvy, intelligent and an extremely competent broadcaster who has fitted well wherever she's been placed; the Late Debate, her Saturday radio programme, Prime Time, filling in for Marian Finucane and elsewhere. Like Tubridy, she also has Noel Kelly's negotiating skills on her side.
What about a curve ball? RTE played one moving Murray into a weekday morning slot out of the blue, and it's worked well for them to the tune of 300k+ listeners. Could they possibly take a solid current affairs broadcaster and allow their personality to breathe more in the formerly Kenny-based format? Aine Lawlor would do a good job of that.
Or is RTE in a position to poach an appropriate replacement? Who would work in that slot? Matt Cooper is probably the closest commercial station peer to Kenny in terms of intellect, broadcasting prowess, fame and likeability. But realistically, would RTE move to take someone who also broadcasts on a rival TV station? And are they in a financial position to take on another broadcaster at that level?
There's one thing I really hope doesn't change though, and that's the show's triumphant theme music.