The Original Gathering
The Gathering was actually a whopper Irish-run rave in early 90s San Fran. Who's up for another?
In the early 90s, a Tyrone man called Malachy O'Brien circulated a leaflet in San Francisco titled 'HOUSE MUSIC AND PLANETARY HEALING'.
"When used with positive intention, Group energy has the potential to help restore the plan of Love on Earth… When you open your heart, and trust the whole group you dance with; when you feel love with everyone, and they return it, a higher vibration can be reached. This happens when a crowd is deep into the vibe of House… In the true sense of rhythmic movement, the affect is to align the physical, mental and emotional bodies with the Oneness of All that Is… Help push the consciousness another level into Enlightenment… Don't put out negative energy and feelings. Leave the old ways behind. Throw yourself into the winds of transformation and sow the seeds for a new world – one where the human family is together again. When people respect and care for each other as a community-organism. It's up to us to spread the vibe! Spread the Peace!"
For most American dance music fans, now in one long (third, fourth, fifth?) Summer of Love, the acknowledgment of the origins of electronic music and raves in North America are a bit spotty. Sure, house and techno were grown from the seeds of disco in New York and their migration on the wind to Chicago and Detroit, and sure, Florida and New York had plenty of raves in the 90s, and sure, MDMA has its routes as a recreational drug in the bars of Austin and Dallas, but if you wanted a good ol' Irish knees up rave, Malachy O'Brien and Martin O'Brien (no relation) were your men. It was early 90s in San Fran, and that rave was called The Gathering.

The Gathering full moon raves, as documented by Simon Reynolds in 1998′s landmark book 'Energy Flash: A Journey Through Rave Music and Dance Culture' were free parties, comparable with the Spiral Tribe raves in the UK. Attracting hundreds and sometimes thousands of people they went down in US rave folklore – and indeed international rave folklore – as some of the most exciting and far out parties in the world.
On March 8, 1993, everything changed for Malachy. In a van on the way home from a rave, the vehicle crashed, sound equipment fell on top of him, and he became paralysed from the neck down. In this 2000 article the accident and subsequent benefit gigs are detailed. For many ravers in the Bay Area, Malachy getting injured was viewed as the end of a scene, along with drug busts at raves, arrests, and further south in LA, MARS-FM moving away from rave music to jazz and then rock.
But The Gathering isn't over yet. Martin O'Brien gave this interview in 2011. The documentary he's talking about was a 2010 Kickstarter project that raised over $20,000 and as far as I can tell is still in production.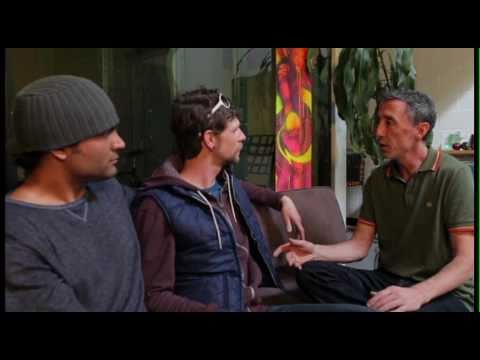 There's an interview with Martin here - an article on The Gathering's 20 year anniversary and party in 2011. And here's a teaser for the doc, (R)evolutions:

(Funnily enough, 'Revolution' is also the title of a 1968 documentary following the lifestyles of hippies on their way to another summer of love in San Fran. It was directed by the Irish-American filmmaker Jack O'Connell, who owns a small slice of hippy history with 'Revolution', and the feature drama 'Greenwich Village Story'.)
So, now that 2013 is the year of The (other) Gathering wouldn't it be fun to revisit the original Gathering's contribution to the Irish diaspora's cultural and social history with a gigantic rave?