PopLives #38 : Nial Conlan
Over the next few weeks on PopLives, the Q&A that concerns itself with the media consumption of interesting people, the nominees of this year's Meteor Choice Music Prize will be answering the questions. The Choice takes place in Vicar Street tonight.  Nial …
Over the next few weeks on PopLives, the Q&A that concerns itself with the media consumption of interesting people, the nominees of this year's Meteor Choice Music Prize will be answering the questions. The Choice takes place in Vicar Street tonight. 
Nial Conlan is the bass player with Delorentos, whose third album 'Little Sparks' is nominated for the Choice Music Prize. Conlon also curates Monthly General Meeting with Shane Langan.
Photo via JungleIndieRock.
What are you reading?
Thinking, Fast and Slow by Daniel Kahneman. Literally has changed how I approach everything in life.
Last film you saw and your verdict?
Shut Up And Play The Hits, a documentary and live convert movie from LCD soundsystem. It covers the weeks leading up to, and following the last gig and break up of the band, it's one of the most uplifting and inspiring music films I have ever seen, I would heartily recommend borrowing a projector and a wall and getting some mates together to watch it. Stunning, even if you don't listen to the band. Absolutely stunning.
Last gig/concert you went to and your verdict?
Mumbling Deaf Ro, at the MGM. He is a great songwriter and storyteller. His album Dictionary Crimes is up for the choice and deserves the recognition.
Last stage production you saw and your verdict?
Watched the streamed theatre show of This American Life, with David Rakoff, Ok Go! and a host of great guests, really enjoyed that. Looking forward to seeing something like that in real life, in Ireland.
Last gallery / museum / exhibition you visited and your verdict?
Little Green Street Gallery, a brilliant and clever way of showcasing up and coming Irish artists, fresh out of college or wherever, highly recommended.
You have a golden ticket to Easons, what magazine is first on your list?
Wired magazine, if for no other reason than to prove to my parents that 3D printing is a real thing, AND ITS THE FUTURE!
What are your most clicked bookmarks?
Musformation, lifehacker, AIB (I like to check how bad my bank balance is at least once a day, stops me from getting too happy)
Do you have a favourite podcast or radio programme?
WTF with Marc Maron is one of the most engaging interview series' I've ever heard. The guy started
it from his garage having lost his job, wife and having little or no prospects as he stared down middle age. Now it's one of the most popular podcasts in the world and the source of some of the most insightful views on the creative processes of comedians, writers and musicians. I love it.
When you fall into a YouTube hole what's the general subject matter of the
videos you're watching?
Documentaries which lead to conspiracy theory videos, which lead to video bloggers which ultimately lead to cat videos. Everything leads to cat videos.
What song should we listen to right now?
'Sea Creatures' by Soak.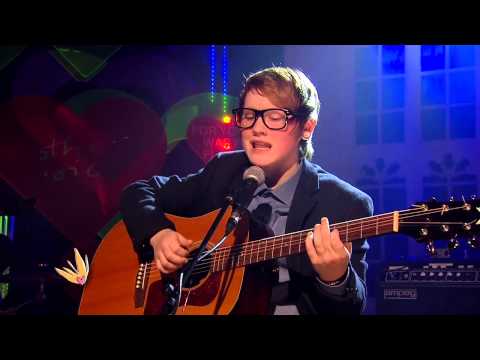 Which boxset/TV series do you have on the go at the moment?
Treme – takes a while to get going, but when it does its brilliant. It caused some of my friends to make several pilgrimages to New Orleans! Comedy wise, the first three seasons of Community are brilliant.
Which app do you use the most?
Epic tune (Guitar tuner). My guitar is always out of tune.
Do you play video games or mobile platform games, and if so, what's your
favourite at the moment?
Words With Friends, which I am terrible at.
What is your favourite club night of all time?
Of all time? I used to enjoy the Hoot night – 10 bands take 2 songs each on a particular theme (the Cure versus Diana Ross for example.)
If you could transport one international cultural outlet (gallery, theatre,
venue, club, etc) to your home town, what would it be and why?
Droog (droog.com ) they are a Dutch-based design/gallery crowd, like no other I have ever seen, really smart and quirky designs. My girlfriend used to live in Amsterdam and I spent hours there, amazing stuff - check out the website
And finally, if you listen to one album this week make it…
Treme, Season 1 (music from the HBO original series)
Previously on PopLives:  Wallis Bird, Adrian Crowley, Tegan Quin, Ellie Macnamara, Steve Ryan, Mumblin Deaf Ro, Rick O'Shea, Grace Dyas, Mark O'Halloran, Amy Conroy, Louise McSharry, Maeve Higgins, Ray Yeates, Nialler9, Jeanie Finlay, Kevin Barry, Brigie De Courcy, John Scott, Willie White, Niall Muckian, Phil Boyle, Angela Dorgan, Roise Goan, Joshua Gordon, Mick Minogue, Eilis Boyle, Annie Mac, Ben Frow, Michael McDermott, Sinead O'Connor,  Shane Langan, Kathy Scott, Eoghan Kidney, Michael Roe, and Phillip McMahon