PopLives #20: Kevin Barry
Every week this Q&A will find out what various heads in music, film, fashion, theatre, bukes, performance, tech stuff, and whatever else are consuming. Kevin Barry is an award-winning Irish author. (pic by Hugh O'Conor) What are you reading? It's A …
Every week this Q&A will find out what various heads in music, film, fashion, theatre, bukes, performance, tech stuff, and whatever else are consuming.
Kevin Barry is an award-winning Irish author.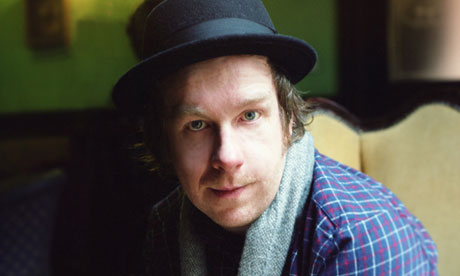 (pic by Hugh O'Conor)
What are you reading?
It's A Good Life If You DUon't Weaken, a graphic novel by Seth, which is funny and bleak and beautiful and grim and often all of these things at once, and even in the same panel.
Last film you saw and your verdict?
I was at 'What Richard Did' on Sunday night and I thought it was terrific, really affecting. It has a willfully moody "European" feel with lots of staring out of windows and shots of trees at dusk, and I'm a martyr for that kind of thing.
You have a golden ticket to Easons, what magazine is first on your list?
I have a shameful weakness for flashy lifestyle titles like Monocle and Wallpaper and generally mags with pictures of Swedish flats in them and people who look as if they exist entirely on blueberries and sparkling water.
What are your most clicked bookmarks?
Probably Gmail and the Guardian's football coverage.
Do you have a favourite podcast or radio programme?
Lyric is on for most of the day and night and it occasionally manages to induce a sense of calm and reasonableness into what is a very fraught household.
When you fall into a YouTube hole what's the general subject matter of the videos you're watching?
My youth, as it flashes before my tearful eyes in images of early 1980s synth bands like Visage, Soft Cell, Cabaret Voltaire, and so forth.
What song should we listen to right now?
There's a bit of a mid-'90s Jamaican Dancehall revival going on in my corner of south county Sligo at the moment, so anything by Red Rat.

Which boxset/TV series do you have on the go at the moment?
Am up to season four of Breaking Bad, which is magnificent, and now officially up there with Deadwood, The Wire and Mad Men among my all-time favourites.
Last gig/concert you went to and your verdict?
I was at a ceilidh featuring an excellent Scottish three-piece, whose name I didn't catch, at the Bladnoch whiskey distillery outside Wigtown, Ayrshire last Saturday, and I performed several complicated set dances, after which, a local lady informed me, I was "now technically a Presbytarian."
Which app do you use the most?
I do not have any "apps".
And finally, if you read one book this month, make it…
Obviously, the anthology "Silver Threads of Hope" from New Island.
Kevin Barry's story 'Supper Club' features in Silver Threads of Hope, an anthology edited by Sinéad Gleeson in aid of Console and published by New Island. www.newisland.ie. His own collection, Dark Lies the Island is out now, published by Jonathan Cape.
Previously on PopLives: Brigie De Courcy, John Scott, Willie White, Niall Muckian, Phil Boyle, Angela Dorgan, Roise Goan, Joshua Gordon, Mick Minogue, Eilis Boyle, Annie Mac, Ben Frow, Michael McDermott, Sinead O'Connor,  Shane Langan, Kathy Scott, Eoghan Kidney, Michael Roe, and Phillip McMahon.