PopLives #14: Angela Dorgan
Every week this Q&A will find out what various heads in music, film, fashion, theatre, bukes, performance, tech stuff, and whatever else are consuming. Angela Dorgan is the CEO of First Music Contact, and also takes care of business at …
Every week this Q&A will find out what various heads in music, film, fashion, theatre, bukes, performance, tech stuff, and whatever else are consuming.
Angela Dorgan is the CEO of First Music Contact, and also takes care of business at Music From Ireland, BreakingTunes and the Hard Working Class Heroes festival.
What are you reading?
I found a book of letters and stories about American comedian Bill Hicks in an Oxfam shop last week, I'm glued to it.
Last film you saw and your verdict?
The Bill Cunnignham, New York documentary at the Light House cinema. I laughed and cried at it. It's so amazing to see someone do what they do because they love it. He is so talented and so modest. It's his life as a love story with New York and its everyday styles and was so engaging and full of emotion. I watched it with my sister who's just back from living there for a year and we had a 'spot that corner' banter through the whole film. If you love New York and love fashion, go and see it.
You have a golden ticket to Easons, what magazine is first on your list?
Hmm I'd have to say Vanity Fair if I was traveling, a soap magazine if I was with my brother Pat as he's addicted. I'd also probably sneak upstairs and get some stationary. You'd swear I lived in Bronte sisters' times with my collections of stationary.
What are your most clicked bookmarks?
Regulars are Facebook and Twitter for engaging, BreakingTunes for work and Gawker for 'sleb stuff. I'm a little addicted to Etsy for vintage clothes. I also love music blogs so Crack in the Road (UK), I Guess I'm Floating (US), and On The Record and Nialler9 for the homies. I'm also an avid click-througher so mostly end up anywhere and everywhere.
When you fall into a YouTube hole what's the general subject matter of the videos you're watching?
I can't remember the last time I looked anything up on YouTube, but the videos I end up watching are links I find or I'm sent and those are usually comedy or parody based I'd say. Saw a great one this week with Hardy Bucks commentating on the Olympic sailing
What track should we listen to right now?
Laura by Bat for Lashes is sublime: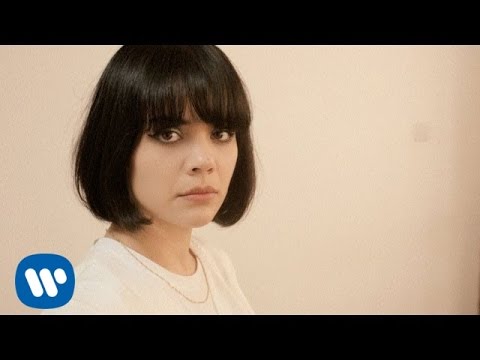 Also, Sorcha Richardson's I Heart NYC is really sweet.
Which boxset/TV series do you have on the go at the moment?
My sister and I are watching Mad Men in tandem from episode one and we keep forgetting which ones we can't talk about yet. I am a big fan of Breaking Bad on TG4, and have become oddly addicted to / guilty pleasure-watching Revenge.
Last gig/concert you went to and your verdict?
Just got back from Castlepalooza and LOVED it. Solar Bears and Le Galaxie were Irish standouts. I have been a fan of King Charles for a couple of years and got stage fright and didn't go to say hi to him when I got the chance on Sunday. I didn't see a bad set all weekend to be honest
Which app do you use the most?
Probably Twitter, RTE radio app, IMDB and the BreakingTunes app (shameless plug but true).
And finally, if you want to discover something new online this month, make it…
It would have to be BreakingTunes. We hit our 4,500 mark this week and it is truly incredible that there are that many acts / bands in Ireland. You can search by genre or get all tribal and search by County. I love the website yourstru.ly it's run by a friend of mine and has performances and interviews with loads of artists in intimate settings, unfortunately there's a lot you can't play here as it's a US site. There's a lovely blog The Racket which features writings on a theme which I really like and enjoy reading.
Previously on Pop Lives: Roise Goan, Joshua Gordon, Mick Minogue, Eilis Boyle, Annie Mac, Ben Frow, Michael McDermott, Sinead O'Connor,  Shane Langan, Kathy Scott, Eoghan Kidney, Michael Roe, and Phillip McMahon.