Damien Hirst's new exhibition torn to pieces
This is one of those reviews that makes you go "ooph", like a whack of a too-hard football to the gut, or watching someone faceplant off a skateboard. No one could accuse Jonathan Jones in The Guardian of pulling punches …
This is one of those reviews that makes you go "ooph", like a whack of a too-hard football to the gut, or watching someone faceplant off a skateboard. No one could accuse Jonathan Jones in The Guardian of pulling punches when it comes to slating Hirst's paintings, and although reviews from Joey Barton aren't in yet, those punches are now pretty much sucker ones, as Hirst's embarrassing attempts at painting things other than spots have been universally derided for some time.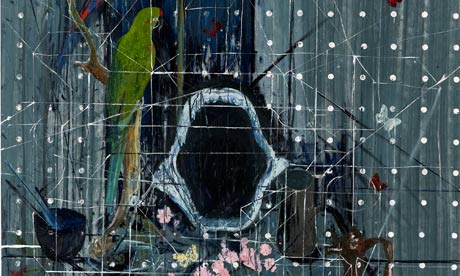 pic via the Guardian
Two Weeks Ones Summer in White Cube Bermondsey isn't the first time Hirst has tried to master something he doesn't have the skill for. In 2009, he drew plenty of sniggers from down the back when he made what was either a post-modern, or more likely, deluded, statement that "Anyone can be like Rembrandt". Then, his exhibition No Love Lost, Blue Paintings, was about to be exhibited at the Wallace Collection, with Hirst committing the cardinal sin in art, film and music, of presenting critics with a title that would inevitably backfire. Pretty much every critic hated the paintings.
You could argue about snobbery in the art world, that someone who revolutionised contemporary British art having the audacity to enter the world of fine art painting was bound to be shot down. But that's not necessarily an inevitability. Hirst didn't make it on his own. His wild success, both in publicity and financial terms, had several colluders; the art world itself, an excitable media, buyers with wallets deeper than their knowledge. The Hirst industry, much like Warhol's one, churned out sensationalist pieces very much of their time, and multiples of the same one. For example, there are 1,400 spot paintings in existence. In this year's multi-location Gagosian exhibition of 300 of them, just five had been painted by Hirst himself. Allowing understudies to do your work for you is as old as art itself, but 1,400 of the same piece is pushing it.
So when the spots and the spinning stops, and complicated things like oranges, magpies and butterflies need to be painted, Hirst doesn't so much reveal his emperor's clothes, but shows that this new cloak simply doesn't fit. The art world doesn't want Hirst the Painter, they want Hirst the Shocker, Hirst the Chancer, Hirst the Seller. Hirst's power has always been in making landmark pieces of art, in conceiving ideas that influenced his generation of artists, and raking in the cash from people who drank the formaldehyde-spiked Kool Aid. As his hero Warhol said (well, Hirst maintains his hero is Bacon, but that's kind of like Gaga saying her hero is Warhol when it's really Madonna), "Being good in business is the most fascinating kind of art. Making money is art." Hirst should stick to the art he knows best.