Louis Vuitton – Marc Jacobs
I went to see this exhibition recently at Musée des Arts Décoratifs in Paris, which documents the history of Louis Vuitton from the craftsmanship of the man himself to the brash branding of Marc Jacobs. I didn't really know too much about …
I went to see this exhibition recently at Musée des Arts Décoratifs in Paris, which documents the history of Louis Vuitton from the craftsmanship of the man himself to the brash branding of Marc Jacobs.
I didn't really know too much about the history of Louis Vuitton, but one thing that stuck with me is how a company can develop from beginnings very much based on craft and practicalities; designing neat, stackable trunks that worked well for both storage and traveling, to an entity completely based on branding, something Louis Vuitton got so good at that it became not only ripe for commentary and parody but also gave birth to a hyper-version of the ultimate accolade in a brand's success – bootlegged fakes.
Vuitton himself was inspired by other products, much like other designers are by the Louis Vuitton today. He was mad into the H.J. Cave & Sons Osilite trunk, a traveling case that was popular with explorers (and subsequently used on the 1933 Everest expedition). At the time, most people were making trunks with rounded lids, which meant water could run off them easily, but in 1858, four years after Vuitton established his label on Rue Neuve des Capucines in Paris, Vuitton started making flat canvas trunks that could be stacked for traveling. They became popular with rich folk in France who used them to store their haute couture gear. Because Vuitton's trunk designs were getting ripped off, he created the Damier canvas, that kind of two-tone brown chessboard design with a Louis Vuitton logo.
But it wasn't until Vuitton died and his son took up the business that the logo-d branding took off, with George Vuitton pushing an increasingly busy monogrammed canvas to differentiate LV trunks from the rest of the market. He also came up with the Steamer Bag, a smaller piece of luggage for inside the trunks. By the time their new shop opened on the Champs-Elysees in 1913, it was the largest luggage shop in the world.
Fast forward to 1997, and Marc Jacobs was installed as the brand's creative director aged just 34. There couldn't be a greater contrast between the considered approach of the Vuitton family, and Jacobs' collaborative pop-hungry prowess. In the exhibition itself, one half is made up of dimly lit glass cases displaying Louis Vuitton trunks almost as historic artifacts with a considered and reverential tone. When you reach the Jacobs era, it's a loud Warholian projectile vomit of screens blaring pop references and female mannequins dehumanised with animal heads, as the strobey, aggressive mass-marketing of Jacobs consigns the hushed tones and ingenious, hardy canvas designs of Vuitton's craft to boring old history. For all the fawning that goes on around Jacobs and the accolades he receives, the contrast is rather hilarious, with Jacob's trashy approach wallowing in superficiality. You'd wonder what Mr Vuitton would make of how his trunks ended up.
Wallpaper wrote about it here, TrendLand has a picture-heavy piece on it, and the curator of the exhibition Pamela Golbin gives a walk through in this video: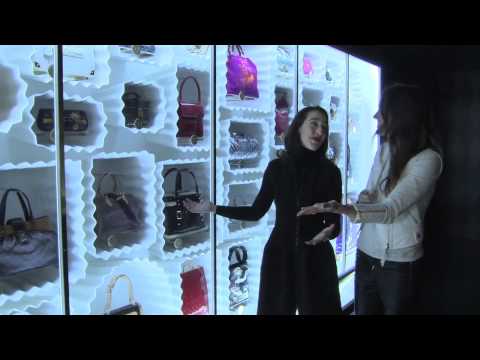 It runs until September 16th, so if you're in Paris and like over-priced bags, then you should check it out.