A nation holds its breath / looks confused as Jedward rehearse for the Eurovision
The Jedwardian era continues its reign as the two human jack-in-the-boxes (has anyone thought of merchandising those with giant blonde quiffs? Would be a winner) embark on their first rehearsal for their Eurovision performance in Baku, Azerbaijan. I got excited …
The Jedwardian era continues its reign as the two human jack-in-the-boxes (has anyone thought of merchandising those with giant blonde quiffs? Would be a winner) embark on their first rehearsal for their Eurovision performance in Baku, Azerbaijan.
I got excited when I heard there was going to be a water fountain on stage, but said water fountain seems to have all the drama of a low-pressure gym drinking font. They dance around for a while and make a love heart with their hands while a screen saver from Windows 95 plays in the background.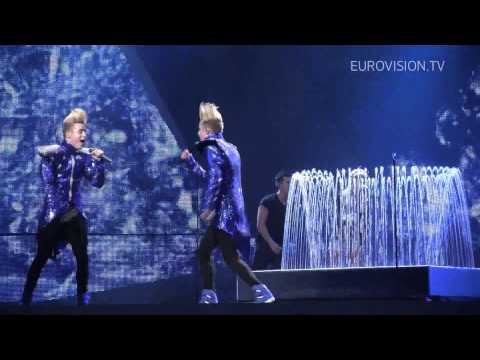 Is it just me or have Jedward's vocals improved slightly? Practice at all those bar mitzvahs must be paying off.
UPDATE: Here they are at a press conference dressed as buckets of popcorn: