What's in The Ticket today – and your plugs
Music and movies for the masses from The Ticket's crack team of writers
Kelis: from milkshakes to jerk ribs, Kelis talks all things food, funk and sauce before she whips up a storm at the Electric Picnic
Picnic picks: the acts you'll be glad you checked out at Stradbally
Two Days, One Night: human catastrophe has always loomed large in movies from the Dardenne brothers, but after decades of onscreen misery, the Belgian brothers are begining to let in a little light. Are the great humanists finally getting optimistic about the human condition?
The Magic Numbers: talk new album "Alias" ahead of their Irish shows next month
Lucy: Luc Besson on going mad with Scarlett Johansson as an assassin.
Plus CD reviews (including Cold Specks, Royal Blood, J Mascis, Larkin Poe, James Yorkston, Ballet School, Dry the River, Merchandise, Klangkarussell, Marc Perrenoud Trio, Noel Langley, West My Friend, Paul O'Shaughnessy etc), film reviews (Lucy, What If, Deliver Us From Evil, God Help the Girl, Two Days One Night, The Lonely Wife, Into the Storm), games, apps, listings, movie quiz, news and much, much more.
That's your winning Ticket in The Irish Times today in print, online and the best of The Ticket on the app.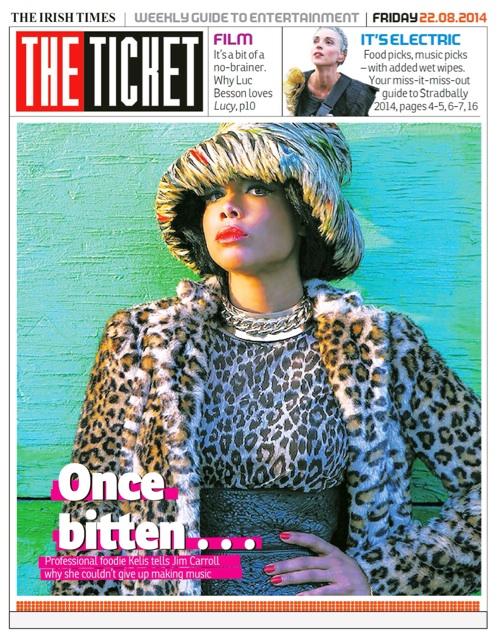 Banter at Kinsale Arts Festival plug: Banter returns to the Co Cork town for our third visit in a year as part of this year's Kinsale Arts Festival. Joining us on Saturday and Sunday September 27 and 28 will be Rory O'Connell, Mary Reynolds, Iarla Ó Lionáird, Pat Collins, Sully from Cully & Sully, Kieran Murphy from Murphy's Ice Cream and Nuala O'Connor. Full details on times etc here.
Banter podcast plug: check out all 26 podcasts from the Banter team to date – including interviews with award-winning authors Eimear McBride and Donal Ryan, the awesome John Grant, social campaigner Peter McVerry, film-maker Gerard Barrett and actor Jack Reynor, David Gray and many more plus discussions on Dublin media, alternative spaces and where the money is at in the GAA – here. Subscribe via the iTunes store or, for Android users, this link. The Banter podcasts are produced by Tanya White
The OTR plugs service is now open for business. Please feel free to plug and recommend stuff away to your heart's content, but remember some simple rules: (a) declare an interest where one should be declared, (b) plugs are accepted on the whim of OTR and may be edited for length/clarity/common sense and (c) plugs which mention a commercial sponsor are really ads and will probably not be published in this slot. This time next week, we'll be in a shed in the middle of a field in Co Laois