What's in The Ticket today – and your plugs
Your guide to music and movies every Friday
All This Mayhem: the tale of skateboarding brothers Tas & Ben Pappas who became the world's best at the sport before taking a path from winning and partying to injuries, drug smuggling, murder and suicide.
Guardians of the Galaxy: Zoe Saldana on returning to the sci-fi fray as an intergalactic outlaw alongside the likes of Bradley Cooper and Vin Diesel
Jenny Lewis: the serious songwriter reflects honestly on her life, including the death of her father, the dissolution of her much-loved indie band Rilo Kiley and insomnia
Indiependence: the acts you should see in Mitchelstown this weekend, from old-school hip-hop heroes Public Enemy to relative newcomers Hudson Taylor
Plus CD reviews (including Bear In Heaven, Common, Pixie Lott, The Ramona Flowers, How To Dress Well, John Steel Singers, Preachers Son, Spoon, Groom, Jenny Lewis, Danny Diamond, David Weiss, Hugh Buckley & Nigel Clark, Malcolm Holcombe etc), film reviews (Guardians of the Galaxy, Hide Your Smiling Faces, Mood Indigo, The Nut Job, Night at the Cinema 1914, Step Up All In), games, apps, listings, movie quiz, news and much, much more.
That's your winning Ticket in The Irish Times today in print, online and the best of The Ticket on the app.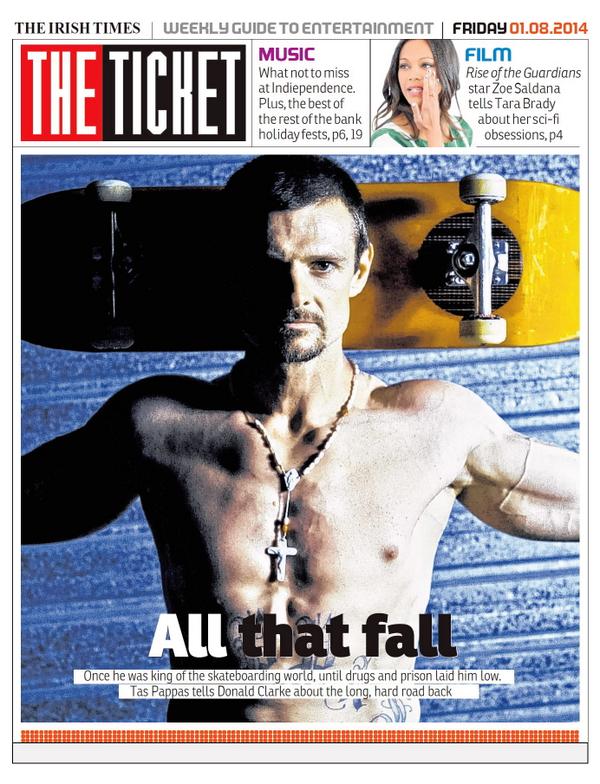 Banter at CultureTECH plug: Banter will be heading to Derry on Friday September 19 for a Culture Night out as part of this year's CultureTECH festival. Joining us at the historic St Augustine's Church in the heart of the city on the night will be Jamie Byng (publisher and managing director of Canongate), John Leland (New York Times journalist and author of Hip: The History), Steve Carson (Head of BBC Northern Ireland Productions and formerly Chief Editorial Advisor and Director, Factual Group at RTÉ) and Hannah Donovan (co-founder and design Director at This Is My Jam and previously Head of Creative for Last.fm)
Banter podcast plug: check out all 26 podcasts from the Banter team to date – including interviews with award-winning authors Eimear McBride and Donal Ryan, the awesome John Grant, social campaigner Peter McVerry, film-maker Gerard Barrett and actor Jack Reynor, David Gray and many more plus discussions on Dublin media, alternative spaces and where the money is in the GAA – here. Subscribe via the iTunes store or, for Android users, this link. The Banter podcasts are produced by Tanya White
The OTR plugs service is now open for business. Please feel free to plug and recommend stuff away to your heart's content, but remember some simple rules: (a) declare an interest where one should be declared, (b) plugs are accepted on the whim of OTR and may be edited for length/clarity/common sense and (c) plugs which mention a commercial sponsor are really ads and will probably not be published in this slot. Have a smashing bank holiday weekend y'all.