What's in The Ticket today – and your plugs
Your weekly guide to music and movies from our all-singing, all-dancing, all-action team of sages, wiseguys, oracles and hipsters
Castlepalooza: playing fantasy festival with Sleep Thieves, Dan Croll and Gilles Peterson
Sinead O'Connor: The Boy in the Striped Pyjamas author and O'Connor superfan John Boyne on why he rates the veteran singer whose new album comes out next month
Cher Lloyd: how the so-called 'chavvy' one from X Factor is showing signs of career longevity.
Who is Dayani Cristal?: director Marc Silver on his new documentary which traces the life behind the body of a migrant against the highly politicised and increasingly nasty debate about border security in the US
The Congress: Ari Folman on his follow-up to Waltz with Bashir, featuring Robin Wright as an aging, out-of-work actress, and his plans to film The Diary of Anne Frank
New Found Sounds: the monthly podcast featuring new Irish music
Plus CD reviews (including Jungle, Shabazz Palaces, Gulp, Emma Tricca, "Beck Song Reader", Jenny Lewis, Holy Family, Tom Petty & The Heartbreakers, FaultyDL, "Greater Lengths", Simon Toldam Orchester Stork, Arturo O'Farrill & the Afro Latin Jazz Orchestra, Four Star Trio etc), film reviews (Branded to Kill, Earth to Echo, House of Magic, Hercules, Joe, The Lady From Shanghai, Purge Anarchy, Who is Dayani Cristal?, Norte, End of History), games, apps, listings, movie quiz, news and much, much more.
That's your winning Ticket in The Irish Times today in print, online and the best of The Ticket on the app.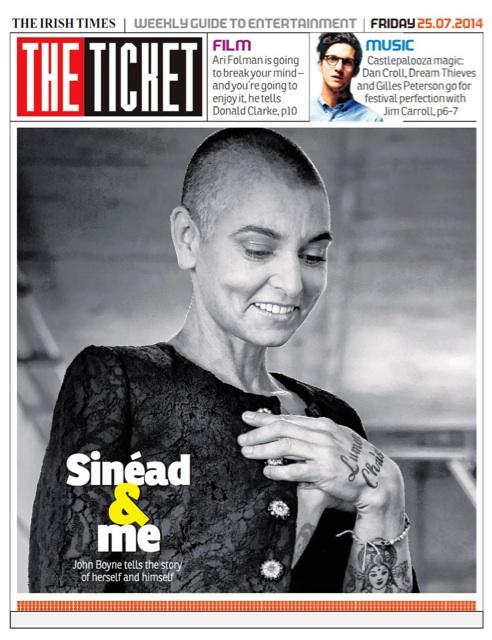 Glider plug: if it's the last Friday of the month (and payday), it's time for Glider at the Workman's Club, Dublin 2. Playing this, that and the other upstairs tonight from 10pm will be Cillian, Tanya and myself. Admission is free.
Banter podcast plug: check out all 26 podcasts from the Banter team to date – including interviews with award-winning authors Eimear McBride and Donal Ryan, the awesome John Grant, social campaigner Peter McVerry, film-maker Gerard Barrett and actor Jack Reynor, David Gray and many more plus discussions on Dublin media, alternative spaces and where the money is in the GAA – here. Subscribe via the iTunes store or, for Android users, this link. The Banter podcasts are produced by Tanya White
The OTR plugs service is now open for business. Please feel free to plug and recommend stuff away to your heart's content, but remember some simple rules: (a) declare an interest where one should be declared, (b) plugs are accepted on the whim of OTR and may be edited for length/clarity/common sense and (c) plugs which mention a commercial sponsor are really ads and will probably not be published in this slot. A good weekend for Limerick and Tipperary hurling fans