What's in The Ticket today – and your plugs
Your guide to the music and movies reviews, features and what-not in The Ticket today
Boyhood: Richard Linklater on his twelve years in the making new film about a boy called Mason
Transformers: it's a long way from Wicklow to the heights of Hollywood, but Jack Reynor has made the trip in just two short years to star in Michael Bay's latest instalment of Transformers
Example: following on from his "rock/grunge" album "Live Life Living", Elliot Gleave talks about his mission to get all the clubbers and the festival-goers interested again
Pop Corner Deluxe: a Pop Corner summer special as Ailbhe "that's Ms Ailbhe to you, pal" Malone rounds up Ed Sheeran, Craig David, Charli xCx and more.
Knockanstockan: five acts not to miss at the festival by the Blessington lakes
Movie Bites: lipsmacking Chef-inspired Korean BBQ tacos
Plus CD reviews (including Morrissey, GusGus, Protect-U, Slow Club, Fink, New Secret Weapon, Judas Priest, To Roccoco Rot, Fred Hersch Trio, Stella Bass, Goitse, Paul Creane and the Changing Band, Ramon Vargas etc), film reviews (Boyhood, Transformers: Age Of Extinction, Goltzius and the Pelican Company, Begin Again), games, apps, listings, movie quiz, news and much, much more.
That's your winning Ticket in The Irish Times today in print, online and the best of The Ticket on the app.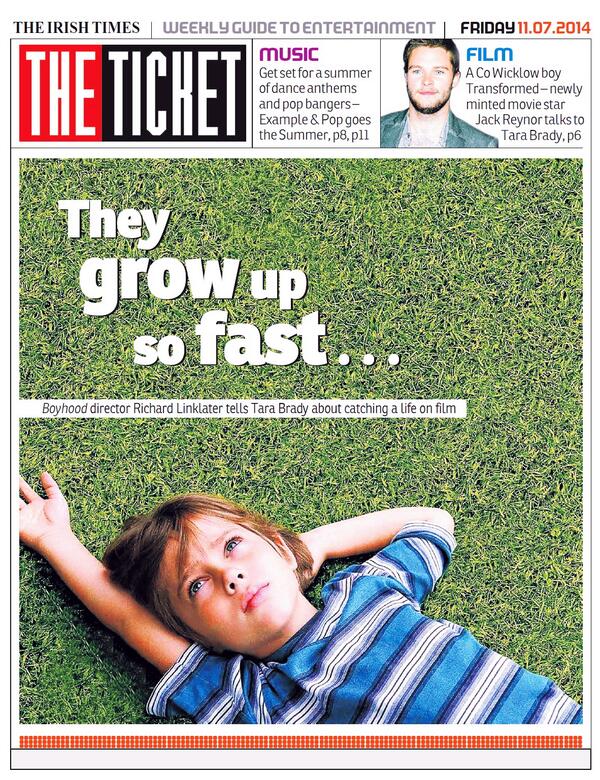 Banter podcast plug: you can now listen to or download our latest podcast, a recent discussion on how the media cover Dublin featuring Ian Lamont (editor, Totally Dublin), Kate Coleman (edior, Le Cool Dublin), Niall Harbison (founder Lovin Dublin) and James Remmond (Rabble), here. You can also check out all 26 podcasts from the Banter team to date – including interviews with award-winning authors Eimear McBride and Donal Ryan, musicians John Grant and David Gray, social campaigner Peter McVerry, film-maker Gerard Barrett and actor Jack Reynor and many more – here. Subscribe via the iTunes store or, for Android users, this link. The Banter podcasts are produced by Tanya White.
The OTR plugs service is now open for business. Please feel free to plug and recommend stuff away to your heart's content, but remember some simple rules: (a) declare an interest where one should be declared, (b) plugs are accepted on the whim of OTR and may be edited for length/clarity/common sense and (c) plugs which mention a commercial sponsor are really ads and will probably not be published in this slot. Are you having a good omnishambles?