What's in The Ticket today – and your plugs
Your all-singing, all-dancing weekly guide to music and movies
Tom Odell: the Ivor Novello Songwriter of the Year on why he's more than just the newest piano-playing pop kid on the block
Jersey Boys: Vincent Piazza chews the fat about playing Tommy DeVito in Clint Eastwood's version of the Four Seasons musical
Bright Days Ahead: François Truffaut's famous Dark Lady Fanny Ardant may be a little more auburn these days, but her passion for life and cinema is undimmed
The Strypes: where did it all go right for the Cavan band? Plus your guide to who to see at Sea Sessions 2014
Metal: shuned by the mainstream, metal is fighting fit and ready to mount a summer takeover of some of Europe's biggest festivals, including Glastonbury courtesy of Metallica. So what's the deal with Ireland?
Plus CD reviews (including Clipping, Daithi, Nightmares On Wax, Strand Of Oaks, Ed Sheeran, The Phantom Band, Wonder Villans, Mastodon, John McKenna, Sarah Jarosz, JC Sanford Orchestra, Joel Harrison etc), film reviews (Fault in Our Stars, Chinese Puzzle, Bright Days Ahead, Jersey Boys, Camille Claudel, Miss Violence, Spring in a Small Town, 3 Days to Kill), games, apps, listings, movie quiz, news and much, much more.
That's your winning Ticket in The Irish Times today in print, online and the best of The Ticket on the app.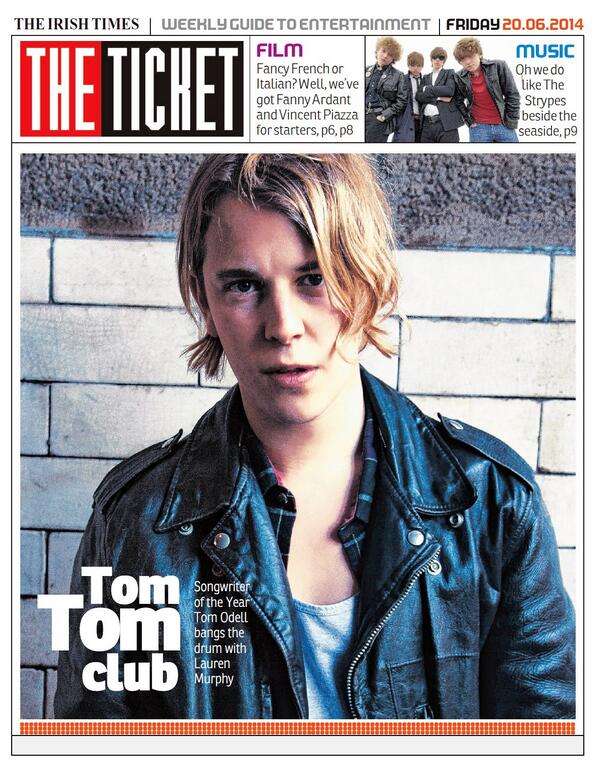 Banter podcast plug: check out all 24 podcasts from the Banter team to date – including interviews with award-winning authors Eimear McBride and Donal Ryan, the Body & Soul-bound John Grant, social campaigner Peter McVerry, film-maker Gerard Barrett and actor Jack Reynor and many more – here. Subscribe via the iTunes store or, for Android users, this link. The Banter podcasts are produced by Tanya White for Old Hat.
Banter plug: our 82nd Banter brings us back to Limerick and the Make A Move festival. Limerick City of Culture 2015 looks at what's ahead for Limerick's arts and culture communities after the City of Culture bandwagon leaves town. Our panel are Mike Fitzpatrick (director Limerick City of Culture 2014 and previously Head of Limerick School of Art and Design, a director of EVA International and director and curator of Limerick City Gallery of Art), Monica Spencer (board member of the Arts Council, actor, director and youth drama facilitator with the new Creative Communities Limerick Network), Catherine O'Halloran (Senior Youth Worker, leading light behind the Draw Out Project and board member of the Make a Move Festival) and Michael Finneran (head of the Department of Arts Education & Physical Education in Mary Immaculate College, founder member of Bare Space Theatre Company and one of those behind the establishment of Limerick's newest professional performing arts venue the Lime Tree Theatre). The discussion takes takes place at the Shannon Rowing Club (Shannon Bridge) on Friday July 4 at 7.30pm and admission is free.
Make A Move takes place in various venues across Limerick from July 3 to 6. See website for full information.
The OTR plugs service is now open for business. Please feel free to plug and recommend stuff away to your heart's content, but remember some simple rules: (a) declare an interest where one should be declared, (b) plugs are accepted on the whim of OTR and may be edited for length/clarity/common sense and (c) plugs which mention a commercial sponsor are really ads and will probably not be published in this slot. We don't make predictions any more on any game involving those hurlers from fecking Galway.