What's in The Ticket today – and your plugs
All the music and movies of the week from The Ticket, free with The Irish Times
Frank: director Lenny Abrahamson on his new film featuring Michael Fassbender wearing a large plastic head and Domhnall Gleeson writing songs about a woman in a red coat.
tUnE-yArDs: how a library book, studio hours and James Joyce helped Merril Garbus make her ace new album "Nikki Nack"
Blue Ruin: why filmmaker Jeremy Saulnier poured all his and his family's savings into making his new film
Foxes: Louisa Rose Allen joins the dots between EDM hits and her onw glorious debut album
Richard Dawson: meet the "rougher, Geordie John Grant"
Bang the Beat podcast: Ian Maleney rounds up the best of the month's sounds from the dance music underground including Mono Junk, Keita Sano, Joey Anderson, Call Super, Gesloten Cirkel and M Buckley
Plus CD reviews (including Lykke Li, Fatima Al Qadiri, Brian Eno & Karl Hyde, Lily Allen, The Horrors, ORB, Atmosphere, Natalie Merchant, The Harvest Ministers, Family of the Year, Kavorka, Aldoc, Lab Trioetc), film reviews (Blue Ruin, Run and Jump, Tarzan 3D, Pompeii 3D, Plastic, In Bloom, Ilo Ilo, Paths of Glory, Bad Neighbours, Song for Amy, Brick Mansion), games, apps, listings, movie quiz, news and much, much more.
That's your winning Ticket in The Irish Times today in print, online and the best of The Ticket on the app.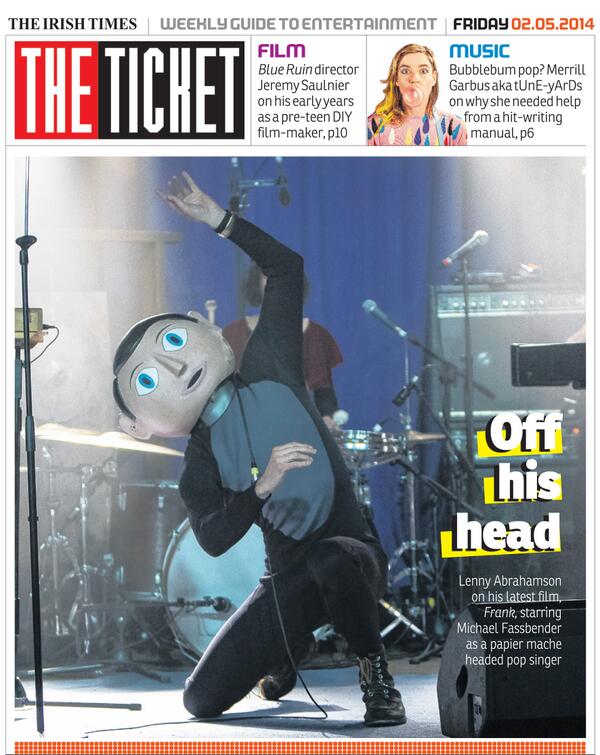 Podcast plug: Banter is now in the podcasting business with new episodes from our previous adventures in talking going live every week. You can listen to or download our latest podcast, which features Jon Ronson talkimg about how his story about being in a band with Frank Sidebottom became the inspiration for Lenny Abrahamson's Frank film, here. Catch up previous episodes here or subscribe via the iTunes store or, for Android users, this link. The Banter podcasts are produced by Tanya White for Old Hat.
The OTR plugs service is now open for business. Please feel free to plug and recommend stuff away to your heart's content, but remember some simple rules: (a) declare an interest where one should be declared, (b) plugs are accepted on the whim of OTR and may be edited for length/clarity/common sense and (c) plugs which mention a commercial sponsor are really ads and will probably not be published in this slot. Is this another bank holiday weekend I see before me?