What's in The Ticket today – and your plugs
The best in music and movies from your user-friendly Ticket – free with The Irish Times every Friday
Zero Theorem: Terry Gilliam explains the ins and outs of his dystopian thriller which some critics have called "a sagging bag of half-cooked ideas"
The Wanted: before they take a break, Siva Kaneswaran sets the record straight about light in the band who many considered to be the darkness (as opposed to The Darkness) to One Direction's light. Plus pop handbags through the ages.
Kylie: timing is everything in pop and Kylie has never missed a beat, says Jennifer Gannon
Drake and The Weeknd: the Canucks are coming
Shit Robot: Marcus Lambkin tells us about his second album which came about after he reluctantly became a live performer.
The Rocket: Donald Clarke talks to Australia's Kim Mordaunt about his new Laos-set movie
Movie Bites: pecan pie for Twenty Feet from Stardom
Plus CD reviews (including Hauschka, The Raglans, Eleanor McEvoy, Simon Felice, My Chemical Romance, Elton John, Phantogram, The Notwist, Ekopledz, Julian Arguelles, Oko, The Friel Sisters etc), film reviews (Plot for Peace, The Rocket, Zero Theorem, Need for Speed, Veronica Mars, Under the Skin), games, apps, listings, movie quiz, news and much, much more.
That's your winning Ticket in The Irish Times today in print, online and the best of The Ticket on the app.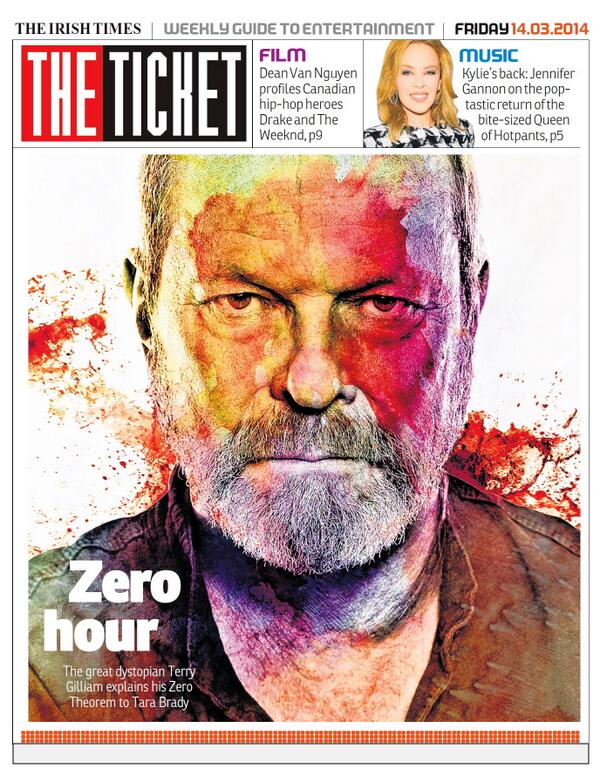 Bantercast plug: Banter is now in the podcasting business with new episodes from our previous adventures in talking going live every week. You can listen to or download our latest podcast, which features Eimear McBride talking about and reading from her award-winning debut novel A Girl Is A Half Formed Thing at Other Voices in Dingle, here. Catch up on the broadcasts to date here or subscribe via the iTunes store or, for Android users, this link. The Banter podcasts are produced by Tanya White for Old Hat.
The OTR plugs service is now open for business. Please feel free to plug and recommend stuff away to your heart's content, but remember some simple rules: (a) declare an interest where one should be declared, (b) plugs are accepted on the whim of OTR and may be edited for length/clarity/common sense and (c) plugs which mention a commercial sponsor are really ads and will probably not be published in this slot. Your new favourite band are probably Fat White Family. Or Perfect Pussy.