What's in The Ticket today – and your plugs
The best in music and movies every Friday from The Ticket
The Stag: Gonzaga, Trinity and Abbey Theatre old boy Andrew Scott takes the number 62 bus to work on Ireland's answer to The Hangover
Kodaline: how the Swords band went from reality TV wannabes to one of the of the most successful new Irish bands of recent years via Ronan Keating and a name-change
Under the Skin: Sexy Beast director Jonathan Glazer talks about his return to the filmmaking after a decade-long absence
Joan as Police Woman: Joan Wasser talks about her most musically eclectic album to date
Metronomy: Joe Mount on why it has taken the band three years to follow up their last album
Bang the Beat: Ian Melaney on podcast duties with the best in underground dance music
Plus CD reviews (including Elbow, Metronomy, Paloma Faith, Elbow, MO, Breton, Tensnake, Schoolboy Q, Echaskech, The Auteurs, Eric Church, Michael Wollny, Chaos Orchestra, Tomás Ó Gealbháin, Caoimhín Ó Fearghail and Seán Ó Fearghail etc), film reviews (300: Rise of an Empire, The Grand Budapest Hotel, A Long Way from Home, The Stag, Wake in Fright, Rome, Open City), games, apps, listings, movie quiz, news and much, much more.
That's your winning Ticket in The Irish Times today in print, online and the best of The Ticket on the app.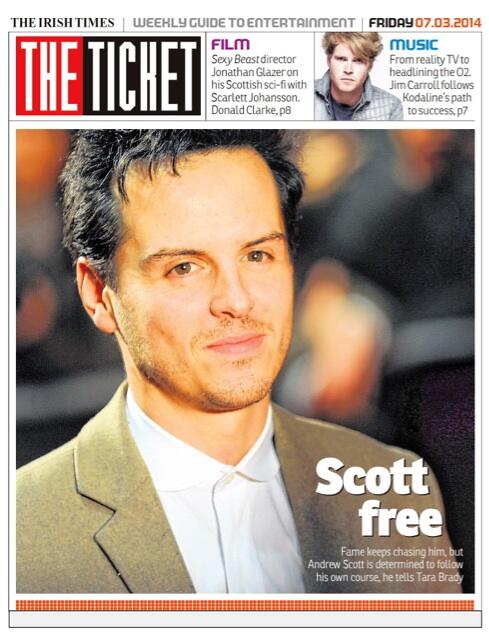 Bantercast plug: Banter is now in the podcasting business with new episodes from our previous adventures in talking going live every week. You can listen to or download our latest podcast, which features Paul Muldoon talking poetry and reading verse and was recorded at Other Voices in Dingle, here. Catch up on the broadcasts to date here or subscribe via the iTunes store or, for Android users, this link. The Banter podcasts are produced by Tanya White for Old Hat.
The OTR plugs service is now open for business. Please feel free to plug and recommend stuff away to your heart's content, but remember some simple rules: (a) declare an interest where one should be declared, (b) plugs are accepted on the whim of OTR and may be edited for length/clarity/common sense and (c) plugs which mention a commercial sponsor are really ads and will probably not be published in this slot. If it's March, it must be time for Texas