What's in The Ticket today – and your plugs
The best in music and movies every Friday straight into your hot little hands
Elbow: one of rock music's wiser souls, Elbow frontman Guy Garvey talks about new album "The Take Off and Landing of Everything"
Neneh Cherry: on her great new album "Blank Project", the art of collaboration and why she feels "unfinished".
Nymphomaniac: threesomes, sadomasochism and a penis montage with Stellan Skarsgård
Wake in Fright: Canadadian director Ted Kotcheff on his career in film and especially his seminal 1971 film, which has been lost to viewers for decades
Birdy: the 17 year old who has been making music since she was eight on her second album "Fire Within"
Newfound Sounds: the monthly podcast rounds up the best in new Irish tunes
Plus CD reviews (including Rufus Wainwright, Linda Perhacs, The Blue Nile, David WArd, Tupelo, Francis Harris, "Studio One Rocksteady", Blood Red Shoes, Fiona Kelleher, Peter Mulvey, John Taylor, Tim Hegarty etc), film reviews (Funny Face, Non-Stop, Tim's Vermeer, Stalker, The Book Thief, Ride Along), games, apps, listings, movie quiz, news and much, much more.
That's your winning Ticket in The Irish Times today in print, online and the best of The Ticket on the app.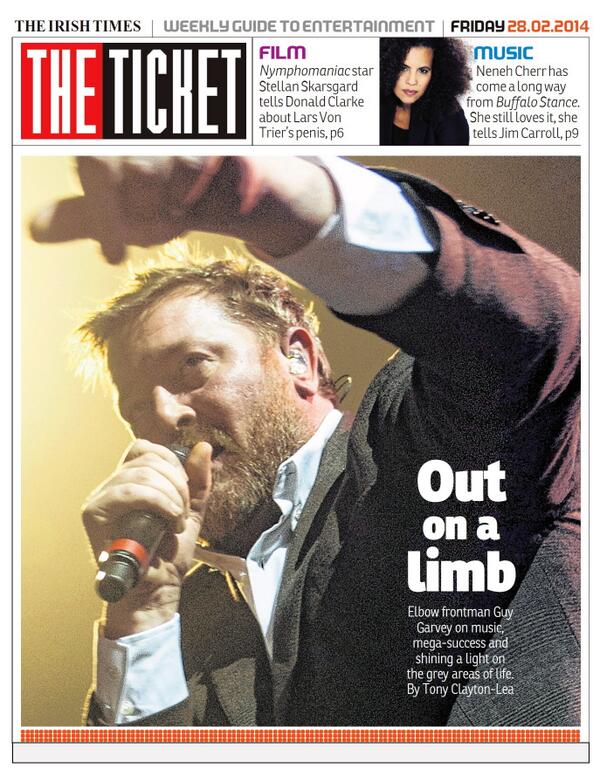 Bantercast plug: Banter is now in the podcasting business with new episodes from our previous adventures in talking going live every week. You can listen to or download our latest podcast, which features John Grant talking frankly about life, music and love and was recorded at Other Voices in Dingle last December, here. Catch up on the broadcasts to date here or subscribe via the iTunes store or, for Android users, this link.
The OTR plugs service is now open for business. Please feel free to plug and recommend stuff away to your heart's content, but remember some simple rules: (a) declare an interest where one should be declared, (b) plugs are accepted on the whim of OTR and may be edited for length/clarity/common sense and (c) plugs which mention a commercial sponsor are really ads and will probably not be published in this slot. #TeamVillagers