What's in The Ticket today – and your plugs
The best in music and movies from The Ticket every Friday
Inside Llewyn Davis: Oscar Isaac on folk, films and cats
September Girls: the Dublin garage rockers on the ebb and flow behind their debut album "Cursing the Sea", one of 2014′s early contenders in the album stakes
Aidan Gillen: the star of Game of Thrones, The Wire Love/Hate and Queer As Folk (and Other Voices presenter) on his selection of classic films screening in Cork this weekend
Mogwai: Barry Burns and Stuart Braithwaite talk music, Scottish identity and the absurdity of the post rock label
The New Mendicants: Joe Pernice of The Pernice Brothers and Norman Blake of Teenage Fanclub on pooling their creative resources for a low-budget side project
Plus CD reviews (including The Gloaming, The New Mendicants, Sharon Jones & The Dap-Kings, Angel Haze, Sophie Ellis-Bextor, Warpaint, Damien Jurado, "Rough Trade Shops Counter Culture 13″, Snowbird, Mogwai, Brandy Clark, Simcock & Goloubev, Abdullah Ibrahim etc), film reviews (Wolf of Wall Street, Night of the Hunter, Kiss the Water, Devil's Due), games, apps, listings, movie quiz, news and much, much more.
That's your winning Ticket in The Irish Times today in print, online and the best of The Ticket on the app.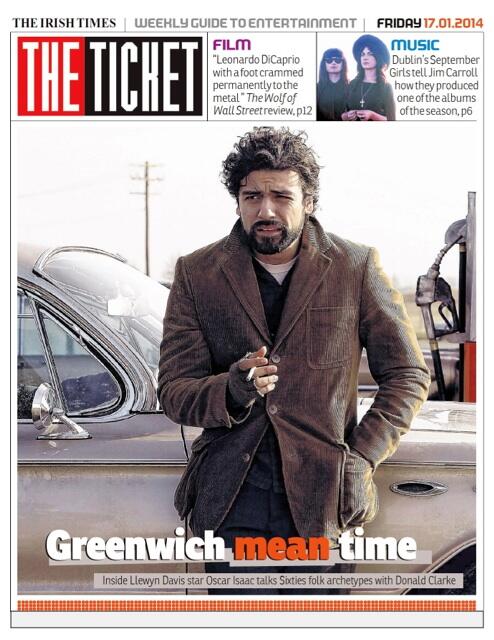 The OTR plugs service is now open for business. Please feel free to plug and recommend stuff away to your heart's content, but remember some simple rules: (a) declare an interest where one should be declared, (b) plugs are accepted on the whim of OTR and may be edited for length/clarity/common sense and (c) plugs which mention a commercial sponsor are really ads and will probably not be published in this slot. I saw a band last night playing vegetables as instruments.