What's in The Ticket today – and your plugs
The best in music and movies (and games) from the best music and movies (and games) supplement on the planet
The Ticket Awards 2013: here's what we have to say about the best rock and pop, Irish, jazz, trad, classical and roots, films, box office takes), festivals and games of the year. You can now totally ignore us and make your own vote count here.
Neko Case: the singer who creates brilliance out of darkness talks about her music, her menagerie and Miley
Bang the Beat: the best new sounds from the dance music underground for December
Plus CD reviews (including Toy, Britney Spears, Keith Jarrett, Brian Kennedy, Laurel Halo, "Saint Heron", Dott, "Punk 45″, My Pilot, "The Leitrim Equation 3″, Neil Young, Antonio Faraò American Quartet etc), film reviews (Nebraska, Kill Your Darlings, Frozen, Black Nativity, Getaway, Oldboy, Just a Sigh/Le Temps de l'Aventure, The Swell Season, Scatter My Ashes at Bergdorf's, Marius, Fanny), games, apps, listings, movie quiz, news and much, much more.
That's your winning Ticket in The Irish Times today in print, online and the best of The Ticket on the app.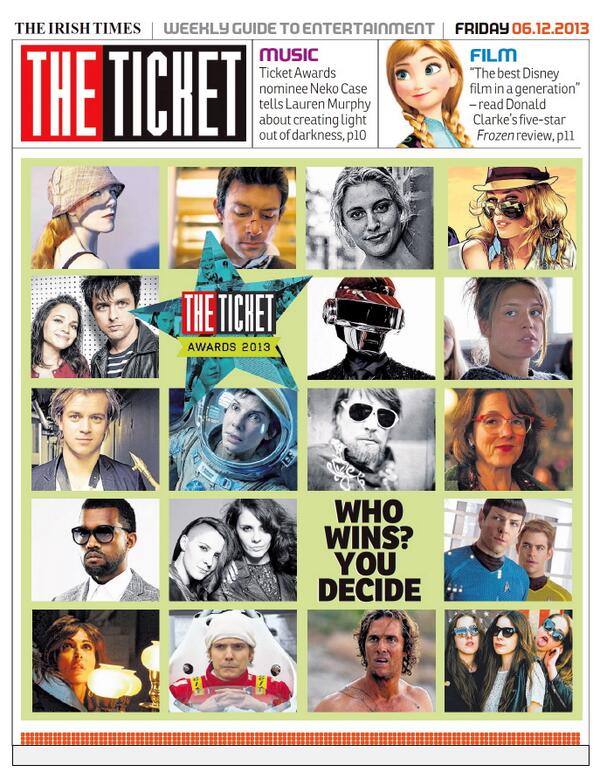 The OTR plugs service is now open for business. Please feel free to plug and recommend stuff away to your heart's content, but remember some simple rules: (a) declare an interest where one should be declared, (b) plugs are accepted on the whim of OTR and may be edited for length/clarity/common sense and (c) plugs which mention a commercial sponsor are really ads and will probably not be published in this slot. Hopefully, we'll see some of you in Foxy John's over the weekend.