What's in The Ticket today – and your plugs
Your weekly guide to music and movies. Published weekly since November 2000
Saving Mr Banks: older, wiser and sober, Colin Farrell has nonetheless not lost any of his wicked streak and the Saving Mr Banks star is definitely in touch with his feminine side
Blue is the Warmest Colour: director Abdellatif Kechiche ponders 10-minute long lesbian sex scenes and Palme D'Or awards
Baths: Q&A with Los Angeles producer Will Wisenfeld ahead of his show at Dublin's Button Factory on November 27
I'm Your Vinyl: Ken McHugh and Dana Donnelly go round and round at 33 RPM
Plus CD reviews (including Billie Joe + Norah, Blood Orange, Nick Cave & The Bad Seeds, Teeth of the Sea, Tess Parks, Stano, Gary Barlow, Motorhead, Robert Glasper Experiment, Dave Douglas, Roger Eno, Leonard Barry, Vijay Iyer & Mike Ladd, etc), film reviews (Blue is the Warmest Colour, Parkland, Computer Chess, Flu, The Hunger Games: Catching Fire, Seduced and Abandoned, The Family, The Summit), games, apps, listings, movie quiz, news and much, much more.
That's your winning Ticket in The Irish Times today in print, online and the best of The Ticket on the app.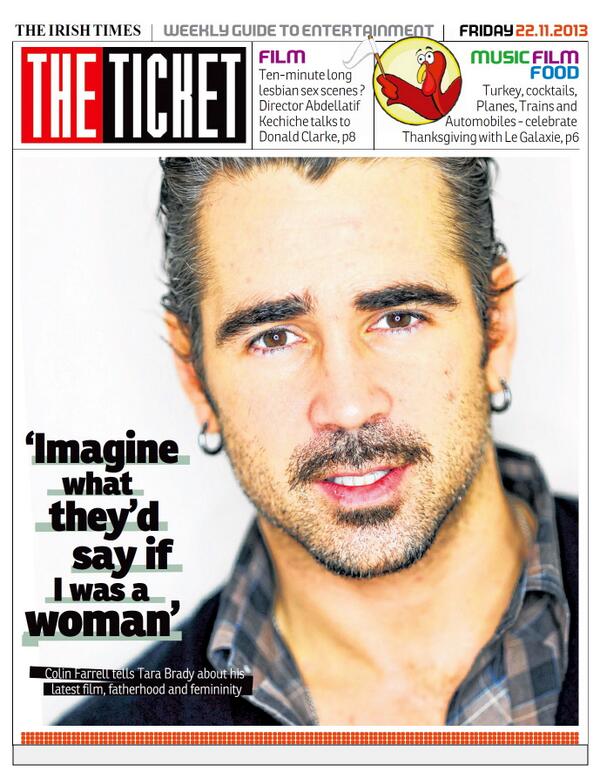 The OTR plugs service is now open for business. Please feel free to plug and recommend stuff away to your heart's content, but remember some simple rules: (a) declare an interest where one should be declared, (b) plugs are accepted on the whim of OTR and may be edited for length/clarity/common sense and (c) plugs which mention a commercial sponsor are really ads and will probably not be published in this slot. Brrrrr.