What's in The Ticket – and your plugs
The best in music and movies from The Irish Times every Friday
Arcade Fire: they're back! Jeremy Gara talks about bikes, collaborators and "Reflektor"
Sam Amidon: on the trip from office typist to folk revivalist
Omar Souleyman: Q&A with the best wedding singer in Syria
Ender's Game: Hailee Steinfeld on a gravity-defying role in Gavin Hood's flick based on Orson Scott Card's novel
Selfish Giant: director Clio Barnard on why the idea that film can deliver reality is nonsense
Spooky Movie Bites: rewatching Bedknobs & Broomsticks and making Toad In The Hole
Plus CD reviews (including "Jazz on Film: French New Wave Vol 3″, John Newman, Arcade Fire, Glasser, Four Tet, Boy George, Johnny Duhan, Moonface, Mineral, Devon Sproule & Mike O'Neill, Ralph Alessi, Minnie & the Illywhackers etc), film reviews (Enders Game, Jackass Presents: Bad Grandpa, Closed Circuit, Cloudy With A Chance of Meatballs 2, Mussel Shoals, The Selfish Giant, Taste of Money), games, apps, listings, movie quiz, news and much, much more.
That's your winning Ticket in The Irish Times today in print, online and the best of The Ticket on the app.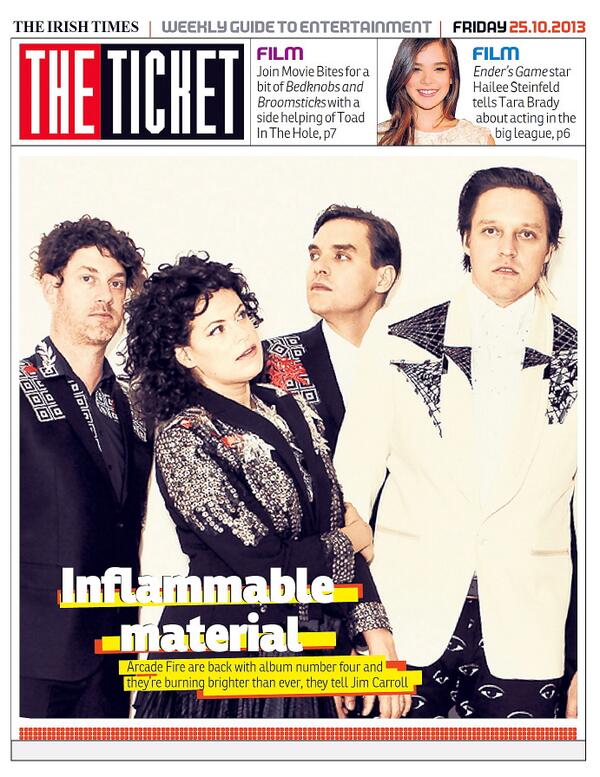 Glider plug: if it's the last Friday of the month (and payday), it's time for Glider at the Workman's Club, Dublin 2. Playing this, that and the other upstairs from 10pm and downstairs from 11.30pm will be Piotrek (Andrews Sisters Brothers), (Cillian, Tanya and myself. Admission is free.
Banter in the Burren plug: we head west to Co Clare for the Burren Winterage Weekend tomorrow for a discussion about farming on the edge and a look at the special issues which surround farming in a peripheral area.
Our panel includes Ella McSweeney (RTE TV's Ear to the Ground, RTE Radio One's Countrywide and BBC Radio Four), Dr Áine Macken Walsh (Research Officer at Teagasc's Rural Economy and Development Programme), Michael Davoren (Chair of Burren IFA and member of Burren Life Advisory Committee) and David Meredith (rural economist with Teagasc). The venue is Vaughan's Barn, Main Street, Kilfenora, Co Clare and the evening gets underway at 7pm. Admission is free and you'll get more information on the Burren Winterage Weekend here.
The OTR plugs service is now open for business. Please feel free to plug and recommend stuff away to your heart's content, but remember some simple rules: (a) declare an interest where one should be declared, (b) plugs are accepted on the whim of OTR and may be edited for length/clarity/common sense and (c) plugs which mention a commercial sponsor are really ads and will probably not be published in this slot. Enjoy the weekend y'all