What's in The Ticket today – and your plugs
The best in movies and music from the best little movies and music supplement in the world
Sing Me The Songs That Say I Love You: Martha Wainwright talks about joining her brother Rufus, Emmylou Harris, Norah Jones, Antony Hegarty, Justin Vivian Bond and many more in a heartwrenching tribute to her mother Kate McGarrigle (the film shows at the OneTwoOneTwo film festival at Dublin's Lighthouse on Sunday)
Lil Wayne: ahead of his first ever performance in Ireland, Dean Van Nguyen examines the consistencies and contradictions of the Nawlins' rapper
Rudimental: how they're making the sound of now
Ann Scott: on having way more fun on her (excellent) fourth album "Venus Rising"
Olivia Trummer: the German jazzer and 12 Points festival highlight gets set for a trip around Ireland
Perverts Guide to Ideology: Slovenian philosopher king Slavoj Zizek on being lifted from beardy obscurity by his involvement in the Pervert's Guide films.
Plus CD reviews (including The Unusual History of Ether, Miley Cyrus, Lee Ronaldo & the Dust, "Red Hot & Fela", Holy Ghost!, The Naked & Famous
etc), film reviews (The Irish Pub, Perverts Guide to Ideology, Sunshine on Leith, Thanks for Sharing, The To-Do List, The Crash Reel, How I Live Now, Filth), games, apps, listings, movie quiz, news and much, much more.
That's your winning Ticket in The Irish Times today in print, online and the best of The Ticket on the app.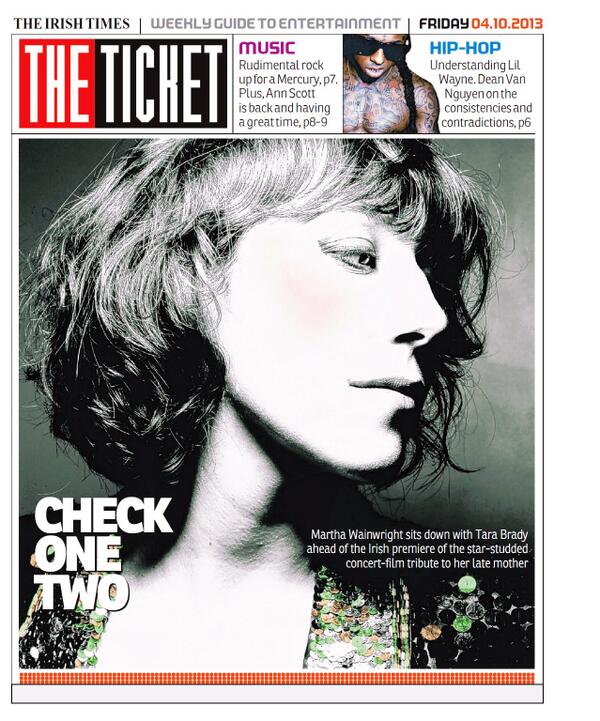 The OTR plugs service is now open for business. Please feel free to plug and recommend stuff away to your heart's content, but remember some simple rules: (a) declare an interest where one should be declared, (b) plugs are accepted on the whim of OTR and may be edited for length/clarity/common sense and (c) plugs which mention a commercial sponsor are really ads and will probably not be published in this slot. Hello to all the OTR fans at the Global Irish Economic Forum at Dublin Castle this weekend.