What's in The Ticket today – and your plugs
The best music and movies supplement in the world – free with The Irish Times
Bell X1: Paul Noonan and Dave Geraghty talk about getting back to basics for their sixth album "Chop Chop", recording in Connecticut and slow-burning Stateside success
The best music of 2013…so far: it's not just car registration numbers which are divided into two. At the halfway point in the year, here are the best albums and tunes from the year so far (in my humble opinion)
Now You See Me: Jesse Eisenberg on five months learning card tricks for his role as magician and trickster J. Daniel Atlas
The East: Zac Bhatmanglij talks about living off-the-grid to make his new eco-thriller
Waxahatchee: Katie Crutchfield gives us some insights into how she makes albums like "American Weekend" and "Cerulean Salt"
Plus CD reviews (including Bell X1, The Duckworth Lewis Method, Editors, The Silver Seas, Adrian Younge & Ghostface Killah, Zomby, "Country Soul Sisters 2″, The Whileaways, World Service Project, Big Blue, "World War Z OST", etc), film reviews (The East, This is the End, The act of killing, Despicable Me 2, Renoir, Stories we tell), games, apps, listings, movie quiz, news and much, much more.
That's your winning Ticket in The Irish Times today in print, online and the best of The Ticket on the app.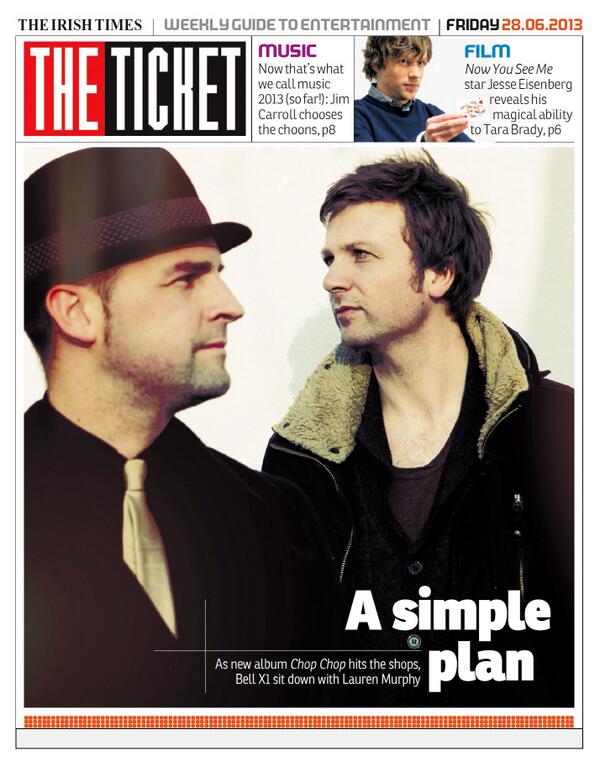 Glider plug: if it's the last Friday of the month (and payday), it's time for Glider at the Workman's Club, Dublin 2. Playing this, that and the other upstairs from 10pm and downstairs from 11.30pm will be Piotrek(The Andrews' Sisters' Brothers), Cillian, Tanya and myself. Admission is free.
The OTR plugs service is now open for business. Please feel free to plug and recommend stuff away to your heart's content, but remember some simple rules: (a) declare an interest where one should be declared, (b) plugs are accepted on the whim of OTR and may be edited for length/clarity/common sense and (c) plugs which mention a commercial sponsor are really ads and will probably not be published in this slot. Can Dublin actually finish the job against Kilkenny tomorrow night or will they just choke again?