What's in The Ticket today – and your plugs
The best in music and movies from your weekly treat in The Irish Times
Man of Steel: super trooper Michael Shannon drops the intensity (which he demonstrates with great elan in The Iceman – the best thing about the film, actually) and has a lie-down to talk about about his role in the new Superman flick
The Breeders: Kim Deal on revisiting her band's iconic "Last Splash" album, being a fan of Skrillex and how the idea of being a feminist rock icon rankles with her
Nicolas Jaar: on making music like no-one else. Plus five other acts to catch at next weekend's Body & Soul festival.
Stuck In Love: Lily Collins on her role alongside Greg Kinnear in the new rom-com and escaping the "daughter of Phil" tag.
Booking the Cooks: Wallis Bird whips up the Hob Nob Cheese Surprise which she'll be selling at Body & Soul.
Sea Sessions special: we head to Bundoran to preview the upcoming music and surf fest, hit the water with Fat Freddy's Drop, get bassy with Ayah Marar and get into the groove with the DJs spinning in Co Donegal.
Plus CD reviews (including Sigur Rós, Boards Of Canada, Kodaline, Jagwar Ma, PictureHouse, Tunng, Disclosure, Liz Seaver, Alison Moyet, Pat Metheny, "Seoda Ceoil 1 & 2″ etc), film reviews (Man Of Steel, Summer In February, Admission, Paradise: Love, Stuck In Love), games, apps, listings, movie quiz, news and much, much more.
That's your winning Ticket in The Irish Times today in print, online and the best of The Ticket on the app.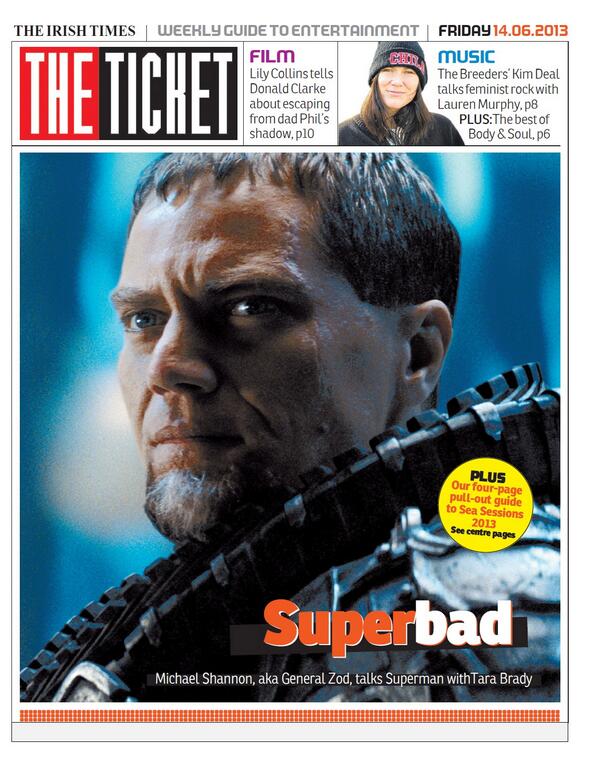 The OTR plugs service is now open for business. Please feel free to plug and recommend stuff away to your heart's content, but remember some simple rules: (a) declare an interest where one should be declared, (b) plugs are accepted on the whim of OTR and may be edited for length/clarity/common sense and (c) plugs which mention a commercial sponsor are really ads and will probably not be published in this slot. Insert your own message here.