What's in The Ticket today – and your plugs
The best in music and movies in our weekly supplement
Star Trek Into Darkness: Chris Pine on boldly going where just one man has gone before
Little Green Cars: Adam O'Regan and Stevie Appleby take pole position ahead of the release of their debut album "Absolute Zero"
Savages: starting a rrriot with Gemma Thompson and Jehn Beth
B*Witched: Lauren Murphy dons her best stone-wash denim jaacket to hang tough with Edele Lynch and Sinead O'Carroll
Movie Bites: whipping up Witnail & I's boozy bread and butter pudding in honour of the late Uncle Monty (Richard Griffiths)
Plus CD reviews (including Little Green Cars, Rudimental, Vampire Weekend, The Neighbourhood, Shuggie Otis, Enemies, Gabrielle Aplin, Dudley Corporation, John Blek & The Rats, Dave Douglas Quintet etc), film reviews (Mud, The Reluctant Fundamentalist, Our Children/A perdre la raison, Me & You, Deadfall, The Eye Of the Storm, Star Trek Into Darkness, The Gatekeepers), games, apps, listings, movie quiz, news and much, much more.
That's your winning Ticket in The Irish Times today in print, online and the best of The Ticket on the app.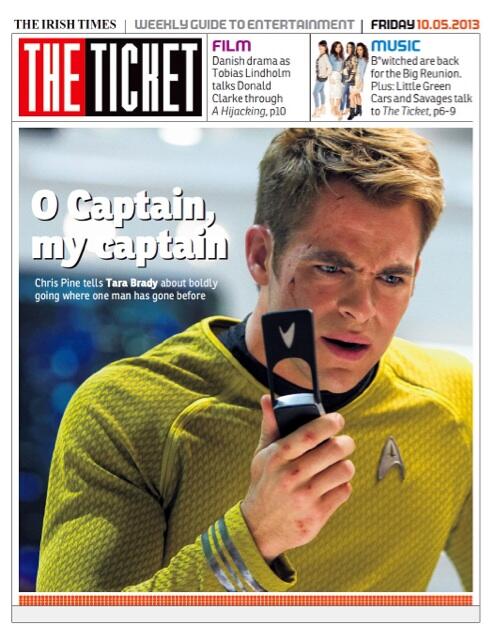 The OTR plugs service is now open for business. Please feel free to plug and recommend stuff away to your heart's content, but remember some simple rules: (a) declare an interest where one should be declared, (b) plugs are accepted on the whim of OTR and may be edited for length/clarity/common sense and (c) plugs which mention a commercial sponsor are really ads and will probably not be published in this slot. If you didn't catch Chris Dave and the Drumhedz last night, man, you missed a treat.