What's in The Ticket today – and your plugs
What's in The Ticket this week, including interviews with Foals, Darkstar, Slash, Gael Garcia Bernal and Brandon Cronenberg
Gael Garcia Bernal: the Mexian actor and director on his role in No as an advertising prodigy who helped oust Chilean President Augusto Pinochet in 1988. "Politics adds depth to a film just like politics adds depth to a person".
Foals: frontman Yannis Philippakis on why new album "Holy Fire" was their easiest one yet.
Darkstar: James Buttery talks about how the band's new album "News From Nowhere" benefited from the band's move from London to Yorkshire – and why dubstep has become the musical equivalent of painting by numbers.
Slash: Q&A with the guitarist ahead of his forthcoming Dublin shows.
Antiviral: Brandon Cronenberg talks about his flick where obsessive fans willingly seek out diseases recently contracted by celebs.
Plus CD reviews (including Eels, Marc Carroll, Stephan Matthieu & David Syvian, Unknown Mortal Orchestra, Thao & The Get Down Stay Down, Delphic, The Courteeners, Fleetwood Mac, Chris McNulty, John Hollenbeck, Southern Tenant Folk Union, Emma Sweeney), films (Bullet In the Head, Flight, Hyde Park On Hudson, Men At Lunch, Bullhead, I Wish), games (Ninja Gaiden 4: Razor's Edge, Corpse Party: Book Of Shadows, Earth Defense 2017 Portable), apps (Gesundheit), listings, news and much, much more.
That's your winning Ticket in The Irish Times today in print, online and the best of The Ticket on the app.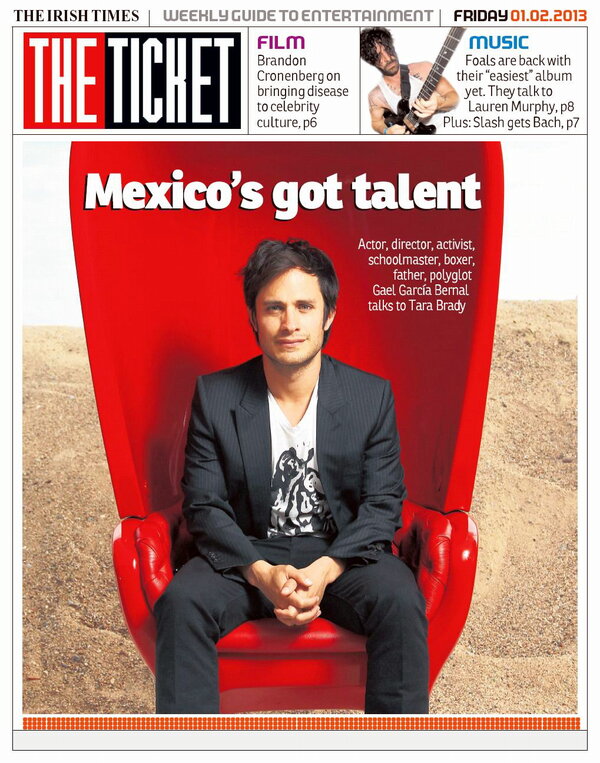 The OTR plugs service is now open for business. Please feel free to plug and recommend stuff away to your heart's content, but remember some simple rules: (a) declare an interest where one should be declared, (b) plugs are accepted on the whim of OTR and may be edited for length/clarity/common sense and (c) plugs which mention a commercial sponsor are really ads and will probably not be published in this slot. Did you have a good transfer deadline day?