What's in The Ticket today – and your plugs
The Sessions: John Hawkes on getting touchy-feely in The Sessions as a disabled man looking to lose his virginity to sex therapist Helen Hunt Kendrick Lamar: the man behind the album of 2012 talks about Watch the Throne, writing that …
The Sessions: John Hawkes on getting touchy-feely in The Sessions as a disabled man looking to lose his virginity to sex therapist Helen Hunt
Kendrick Lamar: the man behind the album of 2012 talks about Watch the Throne, writing that album and what comes next
Eurosonic: the best new bands in Europe played in Groningen last weekend and The Ticket was there to check them out.
Soak: the sharpest new kid (literally) on the block Bridie Monds-Watson on why "nothing is definite – except my A-levels"
Hail to the Chiefs: ahead of the release of Lincoln, Tara Brady looks at the history of US presidents on the big screen from Robot Nixon to Merkin Muffley.
Plus CD reviews (including Everything Everything, Lord Huron, Foxygen, Blackwell Brides, I Am Kloot, The Joy Formidable, Chief Keef, Mary Dillon "Reason to Believe", Kelan Phil Cohran & the Hypnotic Brass Ensemble, "Personal Space: Electronic Soul 1974-1984″ etc), films (Django Unchained, Everyday, The Sessions, Ballroom Dancer, Monsters Inc 3D), games (New Super Mario Brothers U, Nintendo Land, Rise of the Guardians), apps (Beyond Ynth: Christmas Edition), listings, news and much, much more.
That's your winning Ticket in The Irish Times today in print, online and the best of The Ticket on the app.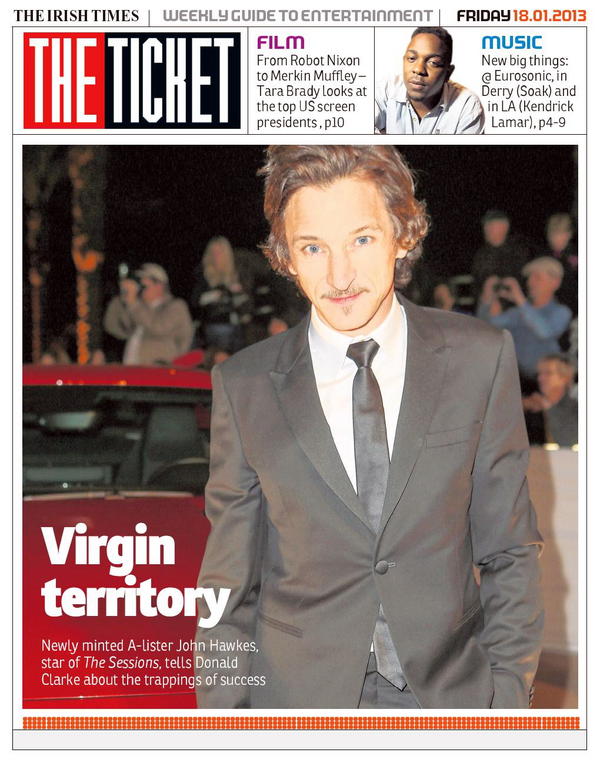 The OTR plugs service is now open for business. Please feel free to plug and recommend stuff away to your heart's content, but remember some simple rules: (a) declare an interest where one should be declared, (b) plugs are accepted on the whim of OTR and may be edited for length/clarity/common sense and (c) plugs which mention a commercial sponsor are really ads and will probably not be published in this slot. I'm going back to bed now.