What's in The Ticket today – and your plugs
The Hobbit: everyone's favourite everyman Martin Freeman makes the move out of the office and into Middle Earth Ed Sheeran: from singing in pubs to gazillions of album sales and Grammy nominations. God Is An Astronaut: Torsten Kinsella explains how …
The Hobbit: everyone's favourite everyman Martin Freeman makes the move out of the office and into Middle Earth
Ed Sheeran: from singing in pubs to gazillions of album sales and Grammy nominations.
God Is An Astronaut: Torsten Kinsella explains how and why the band have followed their own canny trajectory.
Secret of the Wings: Anjelica Huston muses on her third outing as fairy-in-chief Queen Clarion.
Festival Fit: Mark Graham heads to Tayto Park.
Pop Corner: Ailbhe Malone hangs out the bunting for Beyonce.
Plus CD reviews (including Bruno Mars, Ke$ha, "The Hobbit: An Unexpected Journey OST", Dog Is Dead, the Bryan Ferry Orchestra, Skelokrats, Gallops, Joyce the Librarian, Hunter-Gatherer, Odean Pope, Old Tire Swingers etc), films (The Hobbit: An Unexpected Journey, You Will Be My Son, What Ever Happened to Baby Jane?, Tinkerbell and the Secret of the Wings 3D, Girlfriend, Babette's Feast), games (Zone of the Enders HD Collection, Zombiu, Ben 10: Omniverse), apps (Tom Tom Navigation), listings, news and much, much more.
That's your winning Ticket in The Irish Times today in print, online and the best of The Ticket on the app.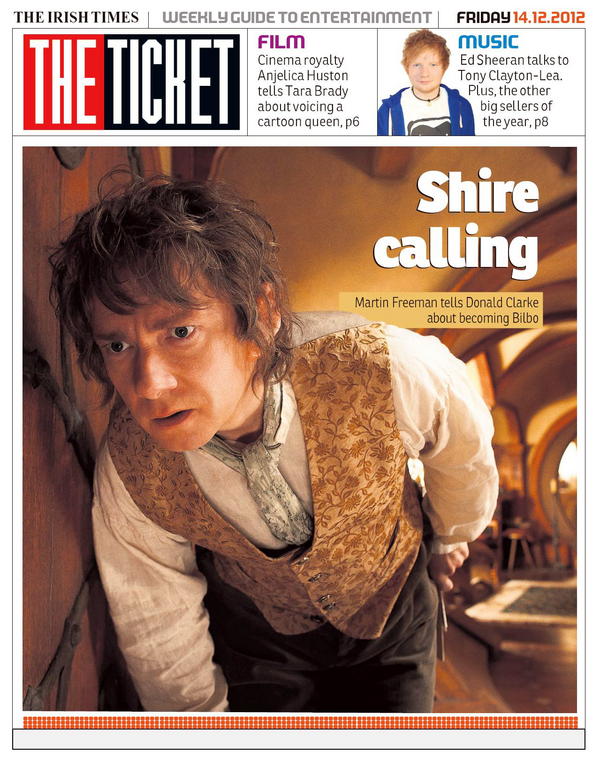 The OTR plugs service is now open for business. Please feel free to plug and recommend stuff away to your heart's content, but remember some simple rules: (a) declare an interest where one should be declared, (b) plugs are accepted on the whim of OTR and may be edited for length/clarity/common sense and (c) plugs which mention a commercial sponsor are really ads and will probably not be published in this slot. It was the Ticket Xmas "do" last night.