The wrap (and you really do need to wrap up today)
Frank Barsalona RIP. The legendary music booker behind Premier Talent – and the agent who probably changed the face of the US touring business – died last week. Tribute from U2 manager Paul McGuinness to the man who put his …
Frank Barsalona RIP. The legendary music booker behind Premier Talent – and the agent who probably changed the face of the US touring business – died last week. Tribute from U2 manager Paul McGuinness to the man who put his band on the right road (McGuinness also talks about the decision to leave Premier around the time of the PopMart tour).
Two seperate yet equally important groups: behold, the crowdsourced Law & Order database.
Christmas is just around the corner which means "Fairytale of New York" will be waltzing out of every radio near you for the next couple of weeks. From The Quietus, here's a timely interview with Shane MacGowan – and, bonus Pogues, the best MacGowan interview ever, as conducted by Will Hodgkinson. C'mon, we've all had nights like that. Yes, even with the fairy forts. Or maybe that's just a Tipperary thing.
RIP Hugh O'Regan. Sad news about the death of the man behind the Thomas Read Group pubs and the Morrison Hotel and who was one of those who transformed the capital's nightlife in the 1990s. I DJ-ed in his pubs years ago and always found him to be a decent, friendly man. Condolences to his family.
The science of counting crowds: at the end of every march or protest (and there's been a lot of them lately), the "how many people were there?" question is asked. All involved seem to rely on Garda estimates – there's obviously a special class in counting crowds on the Templemore curriculum – and I'm sure the gardai would prefer to answer anything else bar this question. Via Anne-Marie Gallagher, here are some notes on the science of counting a crowd.
OTR's art class: if you're in Dublin over the next few weeks, check out the excellent Alice Maher retrospective Becoming at IMMA at the National Concert Hall. Really strong, striking, vibrant show, especially the History of Tears' artworks and pieces like Helmet (below).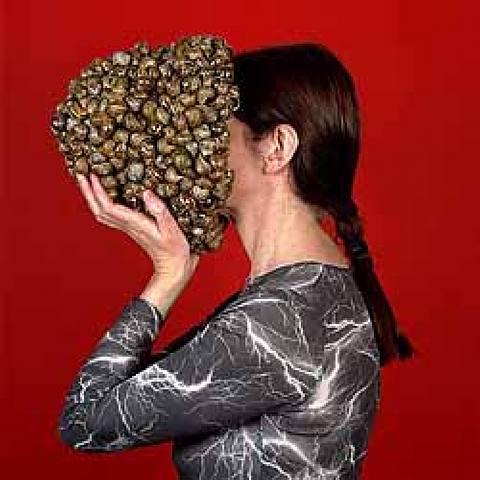 Now, here's how to slag someone off. I'm quaking in my boots.
From the start-up lab (1): say hello to Lanyard, a new app which allows you to gather your gig memories in one place. Yes, you can finally collect your thoughts on those 14 Fall gigs you suffered through. Here's a rave write-up of the service.
Ten jazz albums to hear before you die – and ten more while we're at it.
A follow-up to last week's OTR post on the return of the A&R department, here's a breakdown on how much labels invest in new acts.
From the start-up lab (2): we wrote here a while ago about Queremos, a Brazilian start-up where music fans tired of seeing their favourite acts not visiting Rio de Janeiro decided to pool resources and put on the gig themselves. Now comes Detour, a Songkick side project where people pledge their cash in order to get artists to play in their town. More of this kind of live music biz disruption please! Cheers to Dave Morrissey for the heads-up.
More art: how litigation and forgeries are nobbling the art trade.
Mo' jazz: brilliant profile of Gil Evans. If you only have time to listen to one Gil Evans' album today, make sure it's "Out of the Cool". Hell, here it is for you.
The Chronic revisited: excellent oral history about the making of Dr Dre's seminal album 20 years on.
For everyone who has had their fill of stimulating seminars, crucial conferences, tantalisimg talks, exciting events and brilliant Banter (ahem), this is for you.
During yesterday's discussion on the back of that Academy 2 post, I mentioned Fugazi and, on cue, here's a great interview with Ian MacKaye on the band and Dischord.
We've all heard stories about rappers employing ghostwriters – Nas recently denied hiring Jay Electronica to write for him, while here's XXL's top 10 ghostwriters' poll – but it seems that house and techno acts are also employing anonymous producers to pen their hits.
Any other SkyMall fans out there?
Even mo' jazz: three performances by John Coltrane from his European tours in 1960, 1961 and 1965.