What's in The Ticket today – and your plugs
Madness: Suggs on 36 years of pop hits. Plus what happened to the rest of the ska/TwoTwo gang? Ray Winstone: From Scum to Nil by Mouth to Sexy Beast and now Ashes, Ray Winstone talks about his on-screen career as …
Madness: Suggs on 36 years of pop hits. Plus what happened to the rest of the ska/TwoTwo gang?
Ray Winstone: From Scum to Nil by Mouth to Sexy Beast and now Ashes, Ray Winstone talks about his on-screen career as a hard-chaw.
Sightseers: Ben Wheatley talks about his British black comedy thriller
Fr John Misty: former drummer with Fleet Foxes Josh Tillman on life as a solo musician again.
Nils Frahm: the Berlin-based pianist and composer, who plays the Unitarian Church in Dublin tonight, on making music for the small hours.
Plus CD reviews (including Zoe Conway, Rebekka Karijord, Brian Eno, Sinkane, Miguel, Luke Haines & Cathal Coughlan, Our Krypton Son, Han Bennink Trio, Pierrick Pedron, Rosie Flores, Donnacha Toomey, "Diablos Del Ritmo: The Colombian Melting Pot 1960 – 1985″ etc), films (Gambit, Silver Linings Playbook, End of Watch, Lawrence of Arabia, Nativity 2: Danger in the Manger), games (Call Of Duty Black Ops 2, Little Big Planet Karting, Dance Central 3), apps (Zombiu), listings, news and much, much more.
That's your winning Ticket in The Irish Times today in print, online and the best of The Ticket on the app.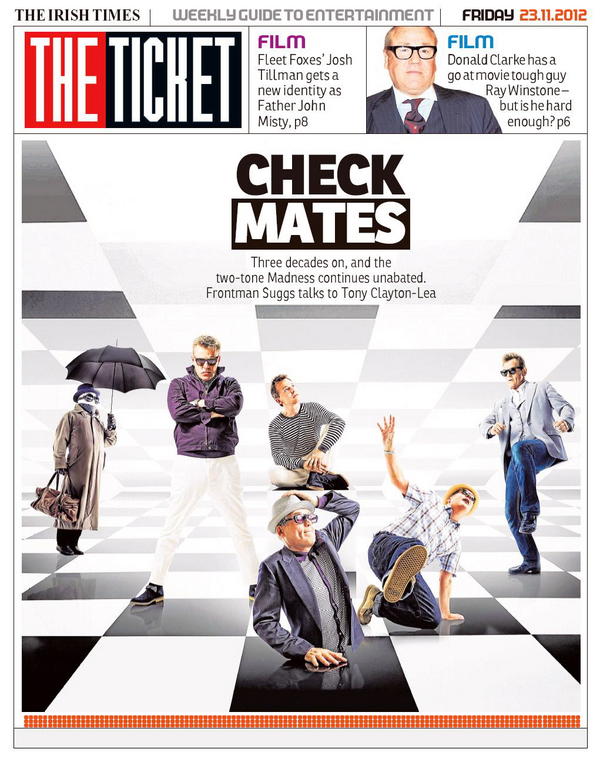 The OTR plugs service is now open for business. Please feel free to plug and recommend stuff away to your heart's content, but remember some simple rules: (a) declare an interest where one should be declared, (b) plugs are accepted on the whim of OTR and may be edited for length/clarity/common sense and (c) plugs which mention a commercial sponsor are really ads and will probably not be published in this slot. This time next week, we'll be hanging with Fungi in Dingle.