What's in The Ticket today – and your plugs
The Master: Joaquin Phoenix on playing dangerous, intense and troubled characters like Johnny Cash in Walk the Line, the ruthless emperor's son Commodus in Gladiator, and now a violent, wayward World War II veteran, Freddie Quell, in Paul Thomas Anderson's …
The Master: Joaquin Phoenix on playing dangerous, intense and troubled characters like Johnny Cash in Walk the Line, the ruthless emperor's son Commodus in Gladiator, and now a violent, wayward World War II veteran, Freddie Quell, in Paul Thomas Anderson's Scientology saga The Master:
Iceage: Elias Ronnenfelt blasts holes in our pointy-headed reference to cool Dabnish culture and salutes Copenhagen's punk young guns.
The Twilight Saga: Michael Sheen talks about the dangers of being cast as a blood-sucking vampire for ever now he's played Twilight's Aro – and former UK Prime Minister Tony Blair
Alternative Ulster (Fry): Stiff Little Fingers' Jake Burns cooks a mean Beef Chili.
Jens Lekman: the gentle guitary pop giant turns 30 and tells Lauren Murphy that he won't be taking any drugs until he's over 60.
Plus CD reviews (including Massive Attack, Hot 8 Brass Band, Melody's Echo Chamber, Paddy Casey, Orphan Code, Prins Thomas, Tracey Thorn, Deftones, "The Twilight Saga – Breaking Dawn Pt 2″, Sara Serpa & Ran Blake, The Lumineers, Aruan Ortiz & Michael Janisch Quintet, Len Graham etc), films (Amour, The Master, Jason Becker: Not Dead Yet, The Twilight Saga: Breaking Dawn 2, Mental), games (Halo 4, Forza Horizon, Medal Of Honor: Warfighter), games (Angry Birds Star Wars), listings, news and much, much more.
That's your winning Ticket in The Irish Times today in print, online and the best of The Ticket on the app.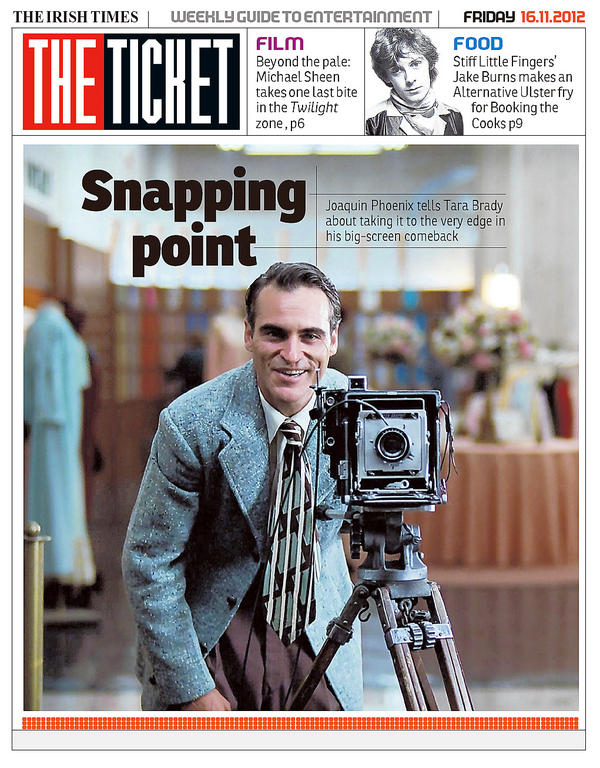 The OTR plugs service is now open for business. Please feel free to plug and recommend stuff away to your heart's content, but remember some simple rules: (a) declare an interest where one should be declared, (b) plugs are accepted on the whim of OTR and may be edited for length/clarity/common sense and (c) plugs which mention a commercial sponsor are really ads and will probably not be published in this slot. Radio OTR now comingatcha 24/7.