The randomiser says "do you come here often?"
Quote of the weekend: "running a record store is like running an angling shop these days: the customers are all middle-aged men". There were many, many, many fine takeaways from our Banter session with Olan O'Brien from All-City Records on …
Quote of the weekend: "running a record store is like running an angling shop these days: the customers are all middle-aged men". There were many, many, many fine takeaways from our Banter session with Olan O'Brien from All-City Records on Saturday afternoon as he went through the history of that shop and label. Other nuggets included a stat that just 30% of All City's business comes from records/CDs and some musing on why Los Angeles' urban sprawl is the go-to place for hot music right now. Thanks also to 2fm's Jenny Huston and Irish Independent's Nick Kelly for their time and contributions to our second Banter discussion at the weekend. Using Jenny's book In Bloom: Irish Bands Now as a jump-off point, we explored the past, present and possible futures of Irish music. Podcasts on both sessions to come.
Florence & The Machine return to Dublin's Olympia for shows on May 2 and 3. Tickets on sale from Friday at €28. That's a 12.5% increase in ticket prices (and, we assume, her fee) since her gig at the same venue last month.
New DJ incoming at Today FM. Red FM's KC is leaving the southern capital for the big smoke where he'll take over the 10pm to midnight slot from Alison Curtis, who is moving to the early breakfast show (5-7am). That move means both Today and 2fm are now all-male broadcasting bastions from 7am to close of business. I can see a few opinion columns a-brewing already….
Observer Music Monthly goes out with a bang with beautiful portraits of those rock'n'roll, blues, jazz and country legends still with us. Let's remember the mag for features like this rather than its usual quota of ass-licking reviews.
The Beatles' songwriting collaborations and partnerships as you have never seen them before.
More Haiti benefits: live sets from BATS, Hunter-Gatherer and Groom plus DJ sets from Nialler9, Mary Jane Girls, Popical Island and guests at the Twisted Pepper on February 4. Music from 8pm, preceded by a cake sale from 7pm, admission is a tenner and all cash raised goes to fund GOAL's work in Haiti.
Book of the weekend: plenty of fabulous reviews incoming (one here and one here) for Race of A Lifetime, Mark Halperin and John Heilemann's revealing look at the runners and riders (so to speak) in 2008′s US presidental election. Excerpts from the book (which is called Game Change on the other side of the pond) here.
Doom, gloom, repeat to fade: worldwide sales of recorded music slumped (you could also say "fell", "dived", "dipped", "collapsed" or "were down") 10% in 2009. Heavens to Murgatroyd!
I bet there is much chewing of the cud about that figure and other record industry woes at the annual MIDEM shindig going on right now in the south of France. You really have to wonder just how relevant MIDEM is in this day and age. While I know a lot of business gets done with various labels selling catalogues and doing distribution deals, the lack of a robust live angle makes this something of a gathering for the dinosaurs. That said, there is always one or two snippets of interest so it's worthwhile to keep an eye on Hypebot's MIDEM coverage this week for breaking news.
Time to program your spam filters to delete all mails with the words "Meteor Music Awards" and "Most Promising New Act" as tens of thousands of acts who think they're the "most promising new act" barrage, harrass and pester you for your vote. It's like the invasion of the bodysnatchers with guitars. There's a reason why public votes don't work, you know.
Film of the weekend: if you only go to see one extraordinary crime thriller set in a French prison this week, make sure it's A Prophet. In particular, Tahar Rahim puts in an incredible performance as Malik, the prisoner at the centre of the drama as he develops from a no-mark to a player over the course of the film.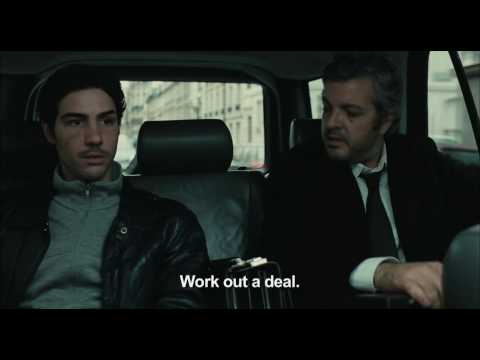 Kudos to the Richter Collective for their Introduction to Belfast bash at the weekend which featured SKP, Girls Names and Not Squares. Enjoyed the post-Wavves wobbles and rattles of Girls Names, while Not Squares again demonstrated the very best way to kick out the jams is to do so without paying the slightest heed to anyone else. The new single is called "Asylum" and it melt your head into tiny little pieces.
I'd forgotten how slamming this tune was until I was DJ-ing on Saturday night and came across it. Take it away, Lefties Soul Connection!