Tipping into Twenty Ten
It's not just all about resolutions at the sharp end of a new year. As is now customary at the start of every year, the tipping has begun in earnest, with various music pundits and observers attempting to show that …
It's not just all about resolutions at the sharp end of a new year. As is now customary at the start of every year, the tipping has begun in earnest, with various music pundits and observers attempting to show that they know what new bands will make a splash – any kind of splash – in the next 12 months.
But before I throw my hat into the ring, let's have a look back at what I said 12 months ago (you can follow that link to read what my fellow tipsters had to say for themselves):
"I'm putting a few euro on Passion Pit, Hockey, Dinosaur Pile-Up (the return of grunge), Chairlift, Villagers and Little Boots to make a splash in 2009. Wavves, AKA San Diego kid Nathan Williams, will provide plenty of No Age, buzzy, noisepop highs, and also keep an eye and ear on London's Three Trapped Tigers, Manchester's Everything Everything, Australia's Temper Trap and, from the Liberties in Dublin, Imelda May. I'm also keen to hear more from the excellent Langhorne Slim, French band The Do and Swedish producer Kleerup, who has already proven he knows his way around whip-smart pop via his work for Lykke Li and Robyn."
Well, swings and roundabouts to be sure. While some of the acts like Passion Pit and Hockey did very well (and no, I didn't expect Imelda May to end up playing the O2 by years' end either), I'm still waiting for some of the others to come good. I'm assuming The Do spent '09 in the recording studio and maybe Kleerup was there with them.
Most of all, there is the question of what exactly we're tipping these acts to do. After all, in the brave new world of the 21st century music business, there are so many different definitions of success. I'm certainly not expecting any of the above to become the biggest noise on the planet because that game is well and truly over. You can pin that state of affairs on the lack of investment capital (and patience) which labels now have at their disposal and assorted new market realities. In truth, few tipsters really expect their bets to become as big as the Kings Of Leon overnight (well, bar Alan McGee and perhaps those who rise to the bait and comment on his tips). All tipsters know that a band require time, tenacity, tunes and a huge amount of luck to get anywhere at all.
But tips also hopefully reflect the reality that acts don't need to become blockbuster names to keep on keeping on. A band like Dinosaur Pile-Up could well have waited for a grunge bandwagon to roll in and carry them away, but the Leeds' trio instead played a ton of shows and festivals in 2009 and are probably very happy with their lot 12 months on from that excellent "My Rock & Roll" single. If they're still making music and winning fans five years from now, they'll probably be delighted. And that's a good benchmark as any for all the acts who come up trumps in the current tipping tombola.
After the jump, my 10 for 2010 feature, as published in The Ticket last week. It's a list of 10 acts you or may not have already heard about, but which I think you're going to dig in the next 12 months and beyond.

It is the time of year when music writers resemble Janus, that old Roman god with the two noggins. We spend half of December looking back to review the year that was and the other half of the month looking ahead to preview the bands we think will make a splash in the year to come.
Everyone on the music-writing beat is at it. There is suddenly a bunch of instant A&R experts tipping acts like they're wandering around Leopardstown with the form card in one hand and a bundle of tenners in the other.
Because of this seasonal mania for tipping, record labels start spinning new acts from October onwards, in the hope that some of the hype will rub off on their charges. The BBC Sound of 2010 poll, the new-band gospel according to 165 UK journalists, broadcasters and bloggers, is eagerly pored over for signs of who might come out on top.
Tipping bands is far from an exact science. Some bands get the nod long before they're ready to take on the world. Last year, for instance, this writer was tipping a great Manchester band called Everything Everything on the back of one fantastic single – "Sufragette Sufragette". In 2009, the band released two more singles, signed a major record deal and are now on everyone else's tipping radar.
There are also long-range tips which come good. Back in December 2005 in a feature in The Ticket, Today FM's head of music, Brian Adams, tipped Lisa Hannigan for solo success. At the time, she was still Damien Rice's sidekick and a solo career was not on her mind. A few years later and, well, we all know what happened there.
Then, there are the acts which don't feature in any of these crystal-ball gazing exercises who make a splash. This time last year, very few were tipping – or had even heard of – The xx, bar a few such as Irish-based website Ragged Words. Within 12 months, The xx had one of the albums of the year to their credit.
So, as you gaze at The Ticket's 10 for 2010, it's definitely a case of caveat emptor . Many of the acts we're tipping here have already been profiled or highlighted in the weekly New Music column, but we think they're going to do a whole lot more in 2010. Now, does someone want to give us a hand to start a record label?
Dublin-born Mike Slott could be the next hip-hop/electronica producer to step up to the next level. Slott's education in beats began at an early age (his cousin Oisín Lunny was in Marxman and used to send him hip-hop mix tapes), but he really got into motion when he moved to Glasgow.
There, he started hanging out with Hudson Mohawke and formed Heralds Of Change, as well as working with the city's Lucky Me collective. After featuring on several singles, EPs and compilations, Slott has just released debut mini-album "Lucky 9teen", a perfect showcase for his sprawling beats, sci-fi atmospherics and deep grooves. Don't be surprised if the Dubliner begins to receive a much higher profile in 2010.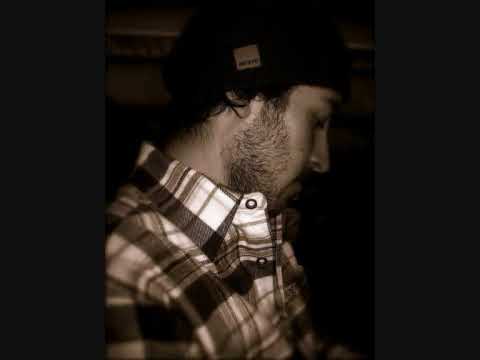 The name of the album is "Tourist History" and it's a release that will produce plenty of good vibes for Bangor's Two Door Cinema Club next year.
Here's a group whose mix of hugely melodic pop and quirky electronica is just what 2010 ordered. Alex Trimble, Kevin Baird and Sam Halliday have been working together since 2007, though they've known each other since their days in the scouts. TDCC cut their teeth on the road, touring with The Black Kids, Iglu Harty, The Wombats and Metronomy.
They've already shown they know their way around catchy, radio-friendly pop tunes with the lush "Something Good Can Work" single, but advance listens to "Tourist History" show they've moved to another level entirely.
How good are The Drums? Well, they're the only surf-pop vagrants and beach-bum dreamers we're tipping this years with an appreciation for the late, great Tony Wilson's Factory label and 1950s and 1960s pop-culture.
From New York by way of Florida, their debut EP "Summertime!" was infectious jangly pop with breezy, giddy tunes such as "I Felt Stupid" and "Let's Go Surfing". They were one of the stand-out acts at last October's CMJ new band jamboree, with people raving about the quartet's live show.
They play a ton of shows in the UK in February as they join up with the Shockwaves NME awards tour, so expect the buzz to become deafening after that.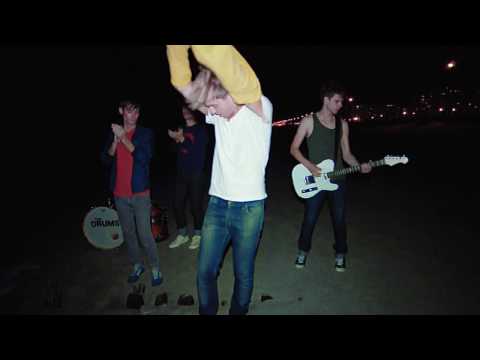 Surfer Blood have the catchy indie rock hooks and harmonies everyone else will want to cog. They've set their stall out with tunes such as "Floating Vibes" and "Swim (To Reach the End)" and the buzz has been quite something.
Surfer Blood's album, "Astro Coast", is coming out early in the year on Kanine, the label that nurtured Grizzly Bear and Chairlift. After a bunch of studio sessions failed to produce anything really earth-shattering, the band took over a dormitory room at the University of Florida, spent their scholarship cash on equipment and recorded the album. Melody, mischief and melancholy and timeless power-pop – another reason why 2010 will be a damn good year for new music.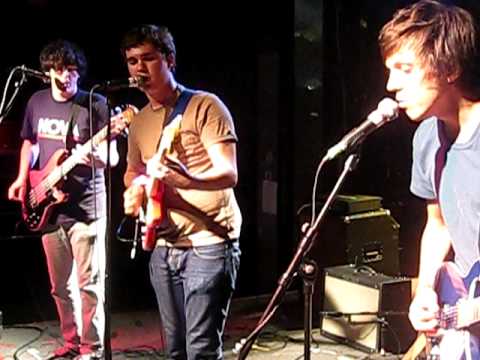 There is, as far as we can make out, only one Dum Dum Girl. Her name is Dee Dee and when she's not making a fabulous riffy, muddy, fuzzy, freaky racket, she works as a librarian in Los Angeles. How long she'll be able to juggle the jobs of organising books and making noise in 2010, especially as she's signed to Sub Pop and will have a debut album – "I Will Be" – to plug, remains to be seen. To date, though, she's handled the day job and other activities quite well.
There have already been a couple of singles and live shows (where her band features members of Crocodiles, Crystal Stilts and Blank Dogs). Soundwise, Dee Dee is all about the buzz and she knows, as well as we do, that coy, shy noise-pop like this never goes out of fashion.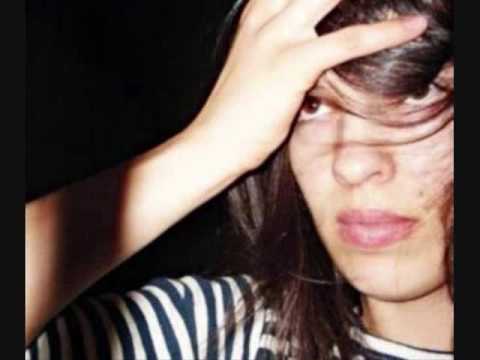 Every time we've seen Belfast trio Not Squares live, we've left the venue reeling. Offstage, Michael Kinloch, Keith Winter and Ricki O'Rawe are mild-mannered, polite young men. Onstage, they change into raving beasts eager to pin you to the back wall with their ferocious punktronica.
Their forthcoming single "Asylum" will make you jump up and down with glee. Here's a hearty indication that the trio's brash, belligerent, exuberant sounds can also work in the recording studio.
That single is due on the Richter Collective label, but 2010 will probably see Not Squares unleash singles on a couple of different imprints. There should also be an album at some stage and, naturally, many opportunities to go buckwild to them in a room near you.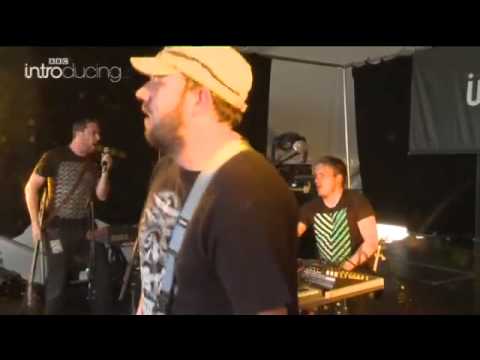 Australia is the new Canada, and the ones at the top of the queue right now are The Middle East. From Townsville in Queensland, within spitting distance (kind-of) of the Great Barrier Reef, The Middle East make superb atmospheric music. Listen to their self-released five-track EP and lose yourself in their gorgeously folky tunes, perfectly-pitched sounds and subtle sense of drama.
If they go on producing tunes as cracking as "Blood", their current spooked calling card, The Middle East can probably take a pew alongside Grizzly Bear or Bon Iver. Expect them to be one of the success stories at South By Southwest 2010.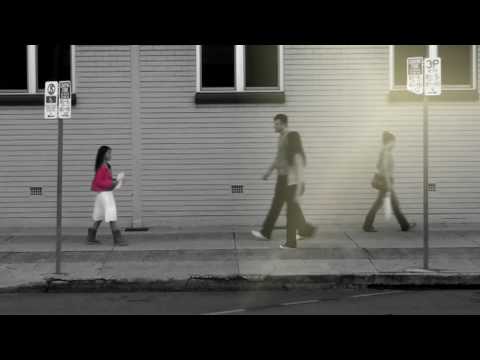 What was initially a side project for Denton, Texas dudes Andrew Savage and Jason Kelly has turned into one hell of a big deal. The watercolour artist and pre-school teacher have discovered that there is far more interest in Fergus Geronimo and their sunnyside, fizzy, ramshackle pop tunes than there ever was in their other acts.
There have already been three singles from the duo, with hip imprints Tic Tac Totally, Transparent and Woodsist getting in on the action. "Tell It (In My Ear)" is the one we keep going back to, a song Simon Garfunkel would have been proud to claim, had they stopped counting the cars on the New Jersey turnpike and got hip to scuzzy surf-pop instead.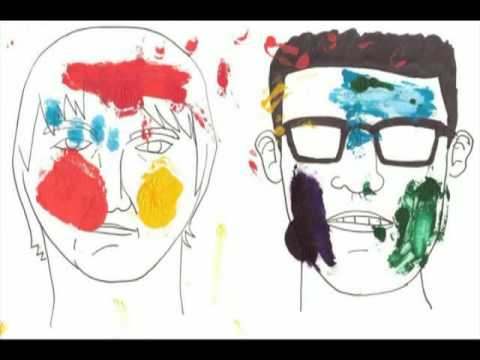 One listen to Ellie Goulding's voice and her songs may have you joining her fanclub. Two tunes in particular stopped us in our tracks: her debut single "In The Sheets" for Neon Gold and her spine-tingling, grandstanding version of Bon Iver's "The Wolves". This lass has class.
A former drama student who dropped out of college to concentrate on music, Goulding has worked with Frankmusik, Burial and Starsmith. It was with producer Starsmith that Goulding really hit the jackpot; the duo produced a ream of magnetic electronic pop songs. She enters 2010 with a major label deal in place, a debut album ready to go and the mantle of most-tipped on her shoulders. Sure, what could go wrong?
Those in search of warm, cooing, glowing pop music that charms and entices should note Holly Miranda's name. Her forthcoming debut album, "The Magician's Private Library", is chockablock with those particular flavours.
Produced by TV On The Radio's David Sitek, the album has ethereal tunes and subtle kinks which may remind some of Feist and Cat Power. Just cop a listen to "Forest Green Oh Forest Green" and you'll also be bowled.
Formerly lead singer with The Jealous Girlfriends, the New York-based Miranda has already enjoyed a plug for her music on Kanye West's blog. Mark our words: West won't be the only one shouting about her in 2010.