Guest post – Niamh Ahern at DEAF 2008
Film-maker and videojournalist Niamh Ahern resides these days in Berlin and she's coming to DEAF 2008 with Totally Wired, her documentary about the city's analogue boutique, Schneider'sBuero. Here's Niamh talking about the background to the documentary. If you've never been …
Film-maker and videojournalist Niamh Ahern resides these days in Berlin and she's coming to DEAF 2008 with Totally Wired, her documentary about the city's analogue boutique, Schneider'sBuero. Here's Niamh talking about the background to the documentary.

If you've never been to SchneidersBuero, the infamous analogue synthesizer store in an old Soviet Bloc office building in Berlin, think of the seventh-and-a-half floor in the office building in Being John Malkovich and it will give you an idea of the atmosphere.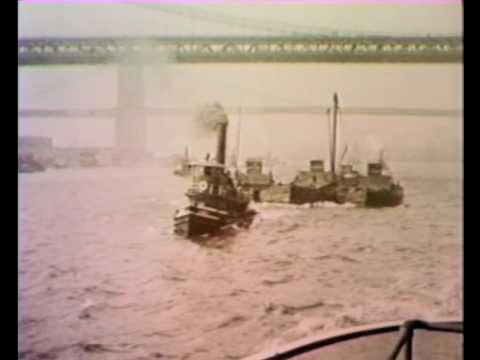 SchneidersBuero is on the second floor, but it feels like the second-and-a-half floor, a place that no-one else in the building realizes is there. First time I went there I couldn't wait to get out. All around me were small beeping machines and a voice box saying "good morning, welcome to SchneidersBuero" which was triggered everytime someone opened the door. Walls and walls of modular systems were blinking and making way too much noise, and I suddenly felt very unwell.
Then a very tall German man with huge hands appeared, rather like a medicine man from the Little House on The Prairie, and proceeded with a "roll up, roll up!" routine that was very strange, but very hard to ignore. And suddenly, I had bitten the hook, and was listening intently to Andreas Schneider's Sermon from the Analogue Mount (it sounds dirty when put that way), and thinking, who is this person, what is this place and maybe I should make a film about it. Three years later, I put the idea to Andreas at a meeting in the revolving restaurant at the top of the TV Tower in Berlin. Where else would you discuss an idea with this man?
And he greeted it with his usual limitless enthusiasm, opened his priceless contacts book, and off I went in search of the people behind, in front of and inside these strange little analogue machines.
Andreas is an analogue purist. His computers are for payroll, not for making music. He believes in books, not Kindle, and prints his photos in the chemist. You get the idea. Not all of his clients are committed digiphobes, but all of them are drawn to the unpredictability and different possibilities that analogue instruments bring to your work. Andreas has a lot of high profile clients, like Daniel Miller, The Chemical Brothers, Ricardo Villalobos, and Florian Schneider, who visit the man on the second floor to explore the latest analogue possibilities.
And I guess that this film is all about possibility. The idea that an idea can be more than an idea. Having the vision to keep going when all around you are telling you to forget It, whether It is music, machines or a film about a crazy little store in Berlin.
If you get to Berlin Alexanderplatz, enter the old Haus des Reisens (the old House for Travel), press 2 on the lift panel, and enter the amazing sonic playground that is SchneidersBuero. In the meantime, come watch the movie at the Digital Exchange on Saturday (2.50pm), and meet the Analogue Evangelist himself.