On The Record at the Spot Festival in Denmark
Greetings from sunny Arhus where things got swinging at this year's Spot festival last night. Over three nights, 116 bands from Denmark and elsewhere in Europe (plus a few acts from Canada and China to keep everyone happy) will be …
Greetings from sunny Arhus where things got swinging at this year's Spot festival last night. Over three nights, 116 bands from Denmark and elsewhere in Europe (plus a few acts from Canada and China to keep everyone happy) will be playing in a load of venues around town.
The festival has been running since 1995 with ROSA, the Danish rock council, taking care of business. They're the ones who ensure that the bands play not just to hundreds of happy Danish music fans, but also dozens and dozens of bookers, festival promoters, music industry pros and journalists from out foreign.
Most of the action will take place in or around the city's Musikhuset, a fine venue with a warren of rooms perfect for bands of all stripes. I suppose it's a bit like the National Concert Hall, if the NCH was not a snobby and elitist enterprise which has no interest in engaging with any musical community beyond the classical gates and who are going to spend millions of your tax euros on a new building which will be more of the same.
Anyway, they do things differently up here in the cool North. For a start, it was the first music festival I've ever been at where a local poet got to kick off proceedings. For real. He recited a lengthy epic in Danish which everyone listened to in absolute silence before breaking into thunderous applause when he was finished. Maybe it was relief? Maybe it was due to the sentiments expressed in his ode? It's at these times that my lack of Danish is really exposed. Still, good idea, yeah? Memo to Hard Working Class Heroes folk, give Seamus Heaney a holler and see if he is free in September.
There were only about a dozen acts playing last night, but three in particular were well worth the trip and the interesting diversion to Aalborg, thanks to Dublin aiport's busted radar.
Number one, Murder. Usually a duo, they were joined onstage by a couple of chaps from Belgian band DAAU to make up an exquisitely bearded and bedraggled ensemble, perfect for this set of splendid, sombre and intense folky tunes. By all accounts, their "Stockholm Syndrome" album is the one to get up close and personal with if you're in the mood for atmospheric Americana done the Nordic way.
Number two, Slow Club. Boy called Charles and girl called Rebecca. Boy plays guitar, girl bashes drum, both sing mighty fine, witty songs which are a little bit country, a little bit pop, a little bit rockabilly, a little bit Lenny Cohen and a whole lot of fun. Here's a video for "Me & You"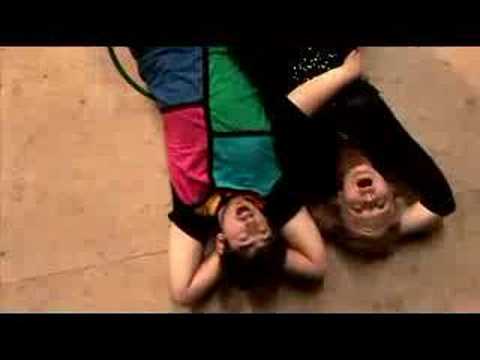 And number three, Soko. She's a French singer and actress called Stéphanie Sokolinski who, thanks to some local DJs picking up on a tune of hers called "I'll Kill Her", is huge in Denmark. Unlike Ireland, where we import awful muck like David Gray or Chris Rea or Tom Baxter, the Danes went for a kooky French singer who sings songs about peanut butter, cats and tigers. If they were remaking Juno and they needed some fresh tunes and Kimya Dawson wasn't up to the task, Soko would be perfect. Have a look at the cheap as chips video for "I'll Kill Her". More from Spot tomorrow.