SXSW 2008 – T is for Texas, tips, tattoos, tacos and Thursday
There are many comparisons you could draw between SXSW and Cheltenham. At both events, you have thousands of punters armed with tips and various form guides. The tips come from all manner of sources – some are ones you picked …
There are many comparisons you could draw between SXSW and Cheltenham. At both events, you have thousands of punters armed with tips and various form guides. The tips come from all manner of sources – some are ones you picked up from a randomer you met in the coffee shop (or steam room – great steam rooms here, though not so sure about the steam rooms in Cheltenham) and some you got from well-placed sources.
What's fascinating to observe is how media and music industry people filter these tips and arrive at much the same conclusions. Remember, there are about 1,700 bands at SXSW. Of course, all of them are not playing on the same night or at the same time, but it is still remarkable to see how certain bands get the bulk of the attention.
The other night, I went to see Wild Light, a band from New Hampshire who were not very good, if truth be told. Yet the room was full of interested labels, agents and journalists, all gazing seriously at the stage and weighing the band up. Most of the audience were applying the three song rule (if a band can't rock your world in three songs, move on fast) and left pretty fast. I heard from someone else who was at the gig that the band got better later on in the set, but that was too late for many.
Last night, it was the same deal at Magic Wands, a full house of people with vested interests. I turned up at the gig because I love their track "Black Magic" and have been playing it on the radio show. That was the second tune of the night, but the first one and the third one were poor by comparison so I was out the door. I was not alone.
You wouldn't want to be a sensitive soul in a band at a festival like this. People walk into your gig mid-song, stay for a song and a bit and then walk back out again. This goes on at every single gig and for every single band. It's binge-gigging and it really must wreck some musicians's heads.
Anyway, enough preamble, the round-up from yesterday is below the fold

Band Of The Day
They're called A Place To Bury Strangers and they have the power. From Brooklyn, New York, this trio are in love with the effects pedal. Indeed, main dude Oliver Ackerman is the man to see if you want your own custom-made effects pedal. This is heavy, gorgeous, bittersweet and over-powering noise pop. They believe in distortion and epic atmospheres and the moment when everything goes bleak and then bright and then bleak again. Read Cormac McCarthy's The Road while listening to them and both will make perfect sense.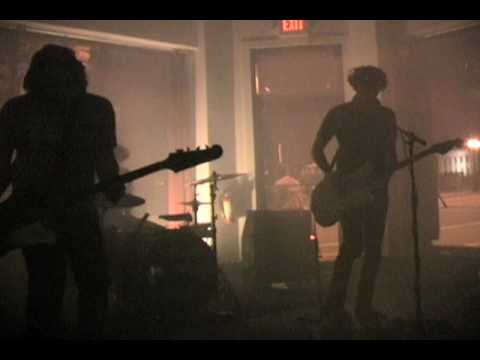 Other Possible Bands of the Day
Destroyer. See, every so often, a band comes along that absolutely everyone on the indie planet already knows about (dude, c'mon, they have released eight or nine albums) and I have never heard before. Yesterday, I saw Destroyer play a set in the hottest room in Austin, Texas. Today, I will buy their back-catalogue.
FM Belfast. After about 10 minutes, you knew – you just knew – that this set would feature Technotronic's "Pump Up The Jam". Don't ask why, just knew. They're from Iceland and they are the geekist red-hot electro-disco machine in Austin this week. Think Hot Chip with bigger smiles and gold medallions and gold crowns on their head.
Holy Fuck. Two little old ladies are standing outside the venue. 'Hey sir, who're the band?' little old lady number one asks the guy on the gate. 'That's Holy Fuck', he tells her. 'Martha!', says little old lady number to little old lady number two, 'it's Holy Fuck!'. And it really is. The funkiest evil supergroup in the world slay Austin again and again and again. Thousands of people have fallen under their spell. The United Nations are on standby. Bush has declared a state of emergency. Two happy little old ladies wander off down Sixth Street.
The Victorian English Gentlemen's Club. A boyo and two lasses from Wales making the most sweetly demented bluesy racket you'll find no matter how much you look. The lass who was playing drums, you wouldn't cross her.

Islands. Another band that numptie here never got the memo about. Totally wonderful strung-out epic pop from Montreal – what's not to like? They're now signed to Anti (we met label prez Big Andy at the gig) and you can download some new tunes from Islands and other Anti acts here.
High Places. A boy and a girl called Robert Barber and Mary Pearson playing out-there freestyle, freewheeling experimental pop which will make you think about Panda Ber, Grizzy Bear and other kinds of bears. We liked, loads
Kaki King. Lush, ambient atmospheric pop with a touch of the Feists here and there. Awesome guitar player too.
Death Sentence: Panda! I may have just imagined this band. Hold on a second. No, they exist. Way-out freeform jazz which missed the exit ramp about ten miles back from three bright-eyed and bushy-tailed young noise and mischief-makers from San Fran. In the space of two songs, they used saxophone, clarinet, flute, drums, vocals and effects. No theremin, though. But if you like The Octopus Project, you'll love Death Sentence: Panda.
Now, I'm off to get a taco and a tattoo. Or a tattoo of a taco.