Who exactly is leaving Ireland?
UCC research will reveal the age, gender, education, occupation and origin of Irish emigrants
Irial Glynn
The country's economic situation has had a notable impact on emigration. But current trends are quite complex since the majority of emigrants left jobs behind them in Ireland. Consequently, studies such as University College Cork's Emigre research project are needed to provide a clearer picture of why Irish people are moving abroad, who is leaving and whether they are likely to return.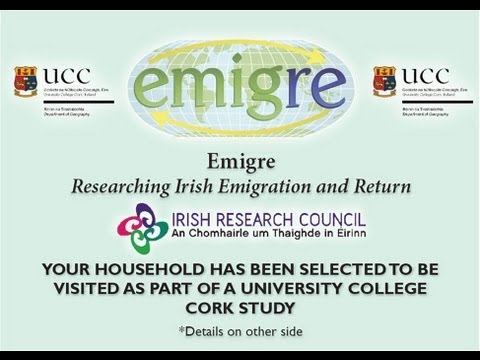 Various state and non-state organisations, as well as scholars, have carried out surveys and reports on past and present emigration from Ireland. But Emigre is, we argue, one of the most representative studies ever completed.
Using a representative sampling method based on the new 'Small Areas' first used in the 2011 Census, we carried out 22 different household surveys around Ireland to discover exactly who was leaving (age, gender, education, occupation, origin) and what impact emigration was having on the families and communities left behind. Furthermore, we asked whether people felt Irish emigrants abroad should be allowed to vote in Irish elections and, if so, under what circumstances.
We then used the findings from our household surveys as a control to re-weight the Emigre online survey, which over 1,500 emigrants completed. Our online questionnaire delved into further detail about emigrants' experiences at home before departure and abroad and a survey was also undertaken at two jobs fairs in Dublin and Cork. Finally, a number of detailed interviews were carried out with emigrants around the world via Skype and Viber.
In order to discover whether Ireland's emigration situation was unique in Western Europe, we contrasted the state's recent experience with that of other countries that had also felt the full effects of the euro zone crisis, such as Portugal, Italy, Greece and Spain. We also compared what is happening in the Republic of Ireland with Northern Ireland.
The findings of the Emigre project will be launched this Friday. The report will be made freely available on our website, and Ciara Kenny will be writing an article for The Irish Times. To coincide with the launch, University College Cork will host a conference examining past Irish emigration and current 'recession' emigration from southern Europe.
In an attempt to include the Irish at home and abroad, this conference will be broadcast live as an online webinar so that anyone can watch, listen and comment on proceedings from their computer anywhere in the world. Just log on to ucc.ie/en/emigre/emigreconferencereport this Friday.
The Emigre project was funded by the Irish Research Council and is hosted by the Institute for Social Sciences in the 21st Century and the Department of Geography at University College Cork. Team members: Irial Glynn, Tomás Kelly and Piaras Mac Éinrí. To read more about the project, see Emigration may have yet to peak and Emotion associated with emigration cannot be represented by statistics.