How tragedy led an Irish man to tackle Japan's suicide culture
Regret at not doing more for a friend in need encouraged Rene Duignan to highlight the causes of the high suicide rate in his adoptive home
Ciara Kenny
Five years ago, a neighbour in Rene Duignan's apartment complex in Tokyo reached out to him for a confidante during a troubled time in her life. At first he offered her an ear and comforting words over tea, but as the visits became more frequent, he tired of playing a supportive role, and began to ignore her knocks on his door.
A few months later, he made a complaint to the landlord about a bad smell in the building which he thought was due to an unfixed leak. The body of his neighbour, who had died by suicide, was not discovered in her apartment until weeks later.
Since that day, Duignan (42) has been living a double life. Monday to Friday, the Dublin-born economist works for the European Union in Tokyo, researching the Japanese economy for Brussels and giving outreach talks on the euro zone to parliament, investors and universities. But a compulsion to raise awareness about Japan's "silent killer" since the death of his friend has led to meetings with parliament, speeches to survivors, and the production of a powerful documentary which has attracted international acclaim and hundreds of thousands of views online.
"Her death was very traumatic, I felt a lot of regret that I hadn't done more to help her," he says. "It would have been very easy for me to help but I didn't."
In an effort to turn his guilt into something constructive, Duignan began to research the underlying causes of Japan's suicide problem, which has claimed more than half a million lives since he moved there 16 years ago, and is responsible for almost half of all deaths of people in their 20s. Japan has one of the highest suicide rates in the world, three times higher than Ireland.
"The theme of suicide is everywhere here – it is used for entertainment in movies, TV programmes, books and even video games – but nobody likes to talk about the issues that lie behind it," he says.
"The number one problem is cultural. In Japan, [suicide] is seen as a legitimate or honourable way to deal with a problem. A suicide manual showing you how to kill yourself has sold 1.5 million copies. There is something very wrong about that."
With no prior experience in mental health, campaigning or documentary making, Duignan set about turning what he was learning into a film exploring the cultural, social and financial pressures which he believes are contributing to the high suicide rate.
Professional documentary makers shunned the idea as "boring", but with with the help of 22-year-old Marc-Antoine Astier, an economics student at Aoyama Gakuin University where Duignan teaches, and Astier's fellow student Eri Kageyama acting as language and culture advisor, Duignan spent the following year interviewing almost 100 people "looking for answers".
The content of the resulting 52-minute film, Saving 10,000: Winning a War on Suicide in Japan, makes for uncomfortable viewing. Police officers and journalists describe the suicide victims they have found and written about in the course of their work, while a Buddhist monk who performs dozens of funerals for people who have died by suicide every year tells how parents have found copies of the "how-to-die" guides after their children's deaths.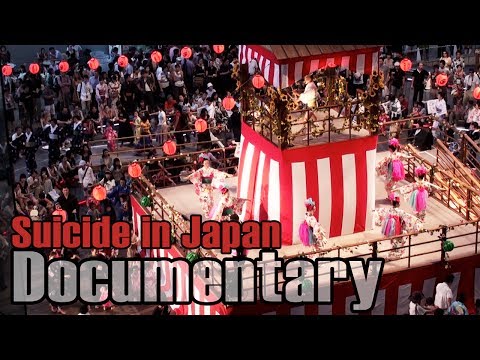 Duignan talks about how the media has normalised, rationalised and commercialised suicide to such an extent that even "serious" news channels go searching for corpses in the Aokingahara forest, made popular as a suicide spot after featuring in a best-selling novel.
The overall picture is of a society pressured to bursting point, where bullying is as pervasive in the workplace as it is in school, consumers opt to end their lives in order to cash in on life insurance to pay off unaffordable debts, and an outdated private mental healthcare system cares more for profit than for patients' wellbeing.
Since its completion late last year, the documentary has been screened at international film festivals from Honolulu to Toronto, winning several awards. More than 35 official screenings have taken place around Japan, hundreds of free copies of the DVD have been distributed to organisations with an interest in suicide prevention, and it has been watched almost 200,000 times on YouTube.
The film has also caught the attention of the Japanese government, who invited Duignan to screen the film for parliament in March. He is now working with the cabinet's Suicide Prevention Unit, and will take part in the Japan Association for Suicide Prevention annual convention in September to discuss reaction to the film.
"I was concerned that it would be seen as a criticism of Japan by an Irishman," he says. "But the overwhelming reaction from Japanese people, especially from those who have been affected, has been 'thank you'. I think my position as an outsider who has made my life here has given me a licence to do this – the fact that I am an Irishman is mentioned in all the coverage."
Duignan is confident momentum is building in the "fight against suicide", and there are early indications the movement is having a positive affect. In 2012, the number of people who took their own lives in Japan was just under 28,000, the first time the figure has dipped below 30,000 in the last 15 years.
"There are so many heroes out there, just some of whom are interviewed in the film, who are helping to make a difference. Some people are taking personal responsibility – like the man at the end of the movie who patrols a cliff where many people attempt to jump, and other initiatives like the blue lights at train stations [believed to have a calming affect which may prevent people from jumping from the platform] seem to be working too."
The project is still consuming Duignan's every spare hour, giving him little time to spend with his Japanese wife and 20-month-old daughter, but he remains determined to ride with it.
"It has been incredibly hard work, and I come away from the screenings completely exhausted, but I think if I have helped just one person it will have been worth it," he says.
"Individually, we can't change the economic situation, or the healthcare system, but we can change what is around us. If we feel there is a friend or family member in need, just by reaching out or by listening, we can help. Some people say that's a very simplistic reccommendation, but I seriously wish I had taken the time to listen myself."
See saving10000.com