Test matches spread cheer among Irish in New Zealand
The Irish rugby team take on the All Blacks in Christchurch for their second test match this Saturday. Fiona Walsh of the Christchurch Irish Society explains how excitement has taken hold of Irish fans across New Zealand.
The Irish rugby team take on the All Blacks in Christchurch for their second test match this Saturday. Fiona Walsh of the Christchurch Irish Society explains how excitement has taken hold of Irish fans across New Zealand.
I can't even begin to the describe the excitement that reverberated around Christchurch when it was announced that the Irish were coming to New Zealand on tour and most importantly, were coming to our town. Those of us who had been here for the World Cup found ourselves reminiscing about the singing and the atmosphere we had experienced only months before. While our team had a disappointing end to the tournament, in true Irish fashion, the party was not forgotten and as supporters, we were definitely voted the best of the bunch.
The test coming to Christchurch is also significant, as it is the All Blacks first here since before the World Cup and before that day in February 2011, when Mother Nature rocked Christchurch with an earthquake measuring 6.3 on the Richter Scale. Many lives were lost and Christchurch became a city in a state of emergency.
Sixteen months on, Christchurch is a city that is fighting back and rebuilding. A huge influx of young Irish immigrants are playing a major part in the rebirth of the city. Bricklayers, stonemasons, carpenters, painters, engineers and quantity surveyors have left the dwindling economy back in Ireland for jobs as far away from home as you can possibly get.
I am the chairperson of Christchurch McKenna's GAA Club, and the numbers we started to see at training doubled, then tripled and just kept on going… We went from having 20 at a mixed training session to holding a mixed social league, in which more than 100 players participated.
My fiancé and I have been in New Zealand for just over 2 years and I have a really good life – I love the summer weather, there's very little rain in Christchurch, and there's always something going on. I miss my family and friends back at home sometimes, but as a whole I know I am better off here.
I love being Irish though, and I don't really care about the stereotypes – I find some of them quite funny, and I can give as good as I get when some Kiwis take the mick. One of the proudest and most emotional sporting moments in my life was in Dunedin last October. The atmosphere had been amazing throughout, but when the game ended and the captains were being interviewed, you could hear nothing but 'Fields of Athenry' – the whole stadium was singing. It was so loud, and seeing the players' reactions as they did a lap around the pitch was enough to realise that this was a special moment. Another memory was soon to follow the next week as hundreds of us sang the Irish team from their hotel to their bus before the quarter final against Wales – that was so special that BOD himself gave it a special mention.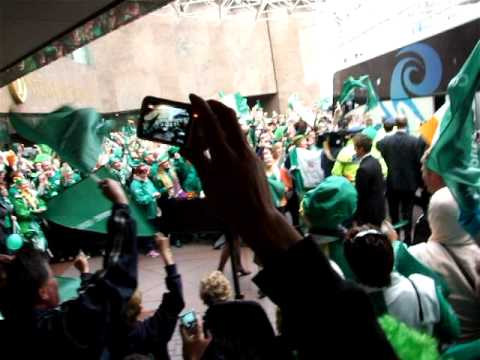 When it was announced that a new stadium was to be built in Christchurch as a temporary home for the Canterbury Crusaders, and that Ireland would play the All Blacks there in June, all anyone could think was "how will I get tickets for that?" To make sure we would get them first, we became season ticket holders for the Crusaders! I can name at least 100 Irish season ticket holders for the Crusaders – that's commitment right?
A friend and I had a chat and thought how great it would be to organise some form of a reception or meet and greet with them, as they missed the chance to visit last year due to the earthquake. She knew someone who knew someone and started to send emails. Once the Six Nations had wrapped up, we got a positive reply and the manager who emailed us mentioned that the group would be interested to find out more about what had happened on that fateful day in February 2011, and speak with some of the Irish community affected and some of those Irish involved in the rebuild. This will happen a few days before the test and it means a huge amount to those of us that will be meeting them. These guys even donated their World Cup fines fund last year, which amounted to a few thousand dollars, to the Christchurch Earthquake Appeal Fund. Fair play to ye lads!
So come the test in Christchurch, whatever the rugby result may be, there will be an all-singing, all-cheering Irish contingent that will definitely win in the noise stakes.
Ireland take on the All Blacks in Christchurch at 7.35pm local time (8.35am Irish time) this Saturday. See www.irishtimes.com/sports/rugby for commentary and analysis.