Emigrants' celebrations: "It wasn't Christmas because it wasn't Ireland"
For Irish people living abroad, Christmas isn't the typical turkey-and-ham affair – but, as a number of emigrants tell CIARA KENNY, they found ways to make it feel like home.
For Irish people living abroad, Christmas isn't the typical turkey-and-ham affair – but, as a number of emigrants tell CIARA KENNY, they found ways to make it feel like home.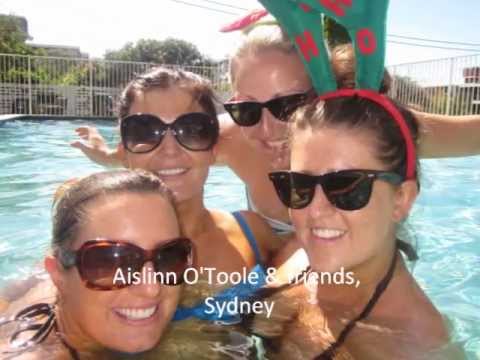 AISLINN O'TOOLE, AUSTRALIA
On Christmas morning in Sydney we all got up early, as we were having friends over to our apartment for Christmas lunch. I live with three other Irish friends, and the first thing we did was go for a swim in our pool. It was the first day in a while that the sun had shone and so we had to make the most of it.
There was no turkey and ham this year, so we made salads, chicken wings, lots of bread, mince pies and cheese instead. By midday, 12 friends had arrived and we had our buffet lunch in the apartment, gave out Christmas presents and at 3pm, taxis arrived to take us to the only place we wanted to be on Christmas Day in Sydney – Bondi Beach.
There were people in bikinis and Santa hats everywhere. The atmosphere was brilliant, the weather was perfect and we ended up bumping into lots of people from Ireland, as well as having banter with the famous Bondi lifeguards and generally enjoying our first Christmas in the sunshine away from home.
The party ended in a friend's apartment just off the beach in the small hours, when some of us had to leave to go home and Skype our families as their Christmas Day began. I decided to wait until the next morning to speak to mine, and got up at the crack of dawn to catch them on Skype as they finished dinner. I definitely missed home, but I don't regret a second of deciding to stay in Sydney – it was brilliant.
The only thing we all missed were leftover turkey sandwiches on St Stephens's Day. Takeaway pizza just wasn't the same.
CEIRE SADLIER, ZAMBIA
As boarding school and college students in Ireland, my siblings and I spent Christmas with our parents in Africa. Our suitcases were wedged with a raw turkey, bacon and sausages, Barry's Tea, video tape recordings of The Late Late Show and the latest copy of The Irish Times.
Now I am the one living in Zambia with my family and it is our turn to produce an Irish Christmas here. Twenty years on, it's a lot easier. We have a €6 per kilo turkey from the nearby supermarket, RTÉ player on the web and the blessing and curse of free Skype calls.
We immersed ourselves in all things Irish this Christmas in the clammy heat of Lusaka. We listened to Joe Duffy's Christmas Eve Liveline from Grafton Street and complained about what a pain in the ass Brendan O'Carroll is.
We went to Mass and were greeted by Fr Joe Kearney from Salthill. We watched Anne Doyle's last newscast through the Slingbox my brother set up on my parents' decoder in Donegal. We shared a full turkey dinner with an Irish friend on the veranda, all the better for not having been dragged 10,000 miles in a suitcase. We listened to Christmas songs on 2FM. We were almost in Ireland.
But it wasn't really Christmas. It's not Christmas until you've seen the lights on Grafton Street, until your brothers slag you about what you're wearing or your sister asks if you kept the receipt for her gift. It's not Christmas until someone is complaining that the thermostat is too high, until you think you might be getting swine flu and until you bemoan the neighbour that accepted your feigned invitation to come over for mince pies. It wasn't Christmas because it wasn't Ireland.
CONOR LENNON, FINLAND
Christmas Eve is the height of the festivities in Finland. Early in the morning my wife Eeva, who is Finnish, and my 15-month-old daughter Emilia and I left our house in Tampere and made our way out to the countryside to my mother-in-law's.
Traditions are pretty much the same as back home. The family gathers together, presents are exchanged and opened (you can rent a Santa to come and deliver if you wish – you pay extra if you want them sober), a feast of food and drink is had, with ham and herring at the core of the meal, old classic films run back to back and church is visited by the masses.
Skype allowed us to join in on the present-opening session back in Bray on Christmas morning, while we opened all the Irish presents my parents had sent us.
Our daughter Emmi was the centre of attention because it was her first Christmas here, and somehow that made being away from home a little easier.
Christmas in Finland is more relaxed and less commercial, but you do miss the people, the craic and overall feeling of Christmas at home and the little things they don't have here, like Christmas crackers, trifle and mince pies. That said, the snow arrived perfectly on time on Christmas morning, and the snowy winter wonderland does have a way of making Christmas feel special.
LAUREN CROTHERS, CAMBODIA
My second Christmas in Cambodia was a pretty relaxed affair for myself and my friends, most of whom are Australian. They get in a festive mood at the smell of sunscreen and don't pine for cold nights and roaring fires like I do.
We spent Christmas Eve boating across the Mekong river to this wonderful floating bar called the Bungalows, which we had to ourselves for the day. We didn't want any fuss the next day, so I suggested that people come to my place.
On Christmas Day, I woke up and opened the packages that had been lovingly sent from home. I called my Mum, who sleepily wished me a merry Christmas.
We had about 10 people over. Some ordered in salad, but myself and some others got roast pork and trimmings from an Australian bar nearby. The spuds – which I had been holding out for all week – were great, but not quite as good as my Mum's roast potatoes or my aunt's leek and potato pie.
We sat around, shared stories, drank, ate. Later in the day, I Skyped home and spoke to my Mum, sister and brothers.
I missed the smell of peat briquettes in the fire and the buzz of having my family around me, but it was a lovely Christmas, and I'm grateful to live in an age where all an emigrant has to do is send a text, pick up a phone or use Skype to connect with loved ones.
TRISTAN FLANAGAN, RIO de JANEIRO
The 24th is the big day here in Brazil for Christmas. Traditionally the main meal is around midnight, and gifts are exchanged afterwards. My wife is Brazilian, so we went to her parents who live nearby with our son Tiago who is almost two. The meal is similar to what we would have in Ireland with turkey and roast vegetables, although I insisted on preparing the roast pork in a honey mustard glaze so I could look forward to something more familiar. Not a mince pie nor pudding to be found, maybe that's recipe to try next year.
Although I'm not a regular Guinness drinker, I thought I'd indulge in a couple of cans which are incredably expensive. They had been sitting on the same shelf gathering dust for months. I was devastated to find they had sold out, but I smiled with the thought that there might be another Irish living nearby who beat me to it.
Christmas day is typically very quiet, think of St. Stephens Day without the shopping. Most people leave the city for the countryside. Those that stay usually go to the beach to meet friends, drink a beer or a cocktail, and enjoy a barbecue. The weather was uncharacteristically Irish this year, raining in the morning and overcast, so we drove to the hills to get a view of the city, and later took a stroll on Ipanema beach.
For the fist time since arriving here two and a half years ago I began to feel homesick. The Christmas songs we would be familiar with are not played. I dug up a copy of 'Fairytale of New York' and nearly cried when I heard it. A bittersweet song between two young immigrants, reminiscing on their dreams, and confronted with the harsh realities of life (Rio can be unforgiving), far away from home during a very family oriented holiday. I certainly felt a resonance.
St. Stephen's day is not celebrated here; most including myself were back to work.
CONOR O'REILLY, SOUTH KOREA
This was the fifth time I was in Korea for Christmas, but it was the first time that I have celebrated it in any way traditionally, and the first time for myself and my wife Jin Won to host Christmas dinner since we married in 2008.
On Christmas Eve, my mother- and father-in-law arrived from the east coast to spend Christmas with us. On Christmas morning we woke, briefly exchanged presents and tucked into a hearty breakfast of eggs, hash browns, and seaweed soup.
Our neighbours arrived at around 5pm and we sat around chatting over a few drinks before Jin Won's brother and his girlfriend arrived with the turkey we had ordered specially from a restaurant. After uncorking a few bottles of red wine, we set up a buffet table and everybody helped themselves.
At 7pm, my old friend Paddy unexpectedly called and at 8pm, the computer started to jingle to the sound of Skype. My family in Dunboyne was waking up and, as we have done in recent years, we watched as everyone opened their presents. It was a loud and raucous 30-minute call, and definitely reminiscent of every other Christmas morning I had experienced in Ireland.
CORMAC MORAN, NEW ZEALAND
We moved to Wellington in 2007 for what was supposed to be a one-year secondment with the technology firm I work for. But more than four years later we're still here and celebrating another Christmas in the southern hemisphere.
Although Wellington is better known for howling gales than glorious summer sunshine, myself and my wife Deirdre woke up on Christmas morning to a beautiful blue sky. Worried that it wouldn't last, we popped around the corner to our local beach for a pre-breakfast stroll with Barney, the family dog.
We spent most of the day sitting out in our back garden texting, phoning and Skyping family and friends and making good use of the gas barbecue for brunch and dinner. Presents from both sets of parents arrived two weeks before Christmas this time – no repeat of my in-laws' mistake last year of ignoring An Post's deadlines for posting overseas.
Christmas dinner was our own take on the traditional turkey and ham, with home-made turkey and veggie kebabs, and seasonal local asparagus wrapped in prosciutto, all grilled on the barbecue. Much to the relief of my wife, we couldn't find any Brussels sprouts.
Christmas here coincides with the main summer holiday period for most Kiwis, so there's a really relaxed atmosphere from mid-December onwards.
Mixing warm sunshine, beaches and barbecues with the traditional northern hemisphere Christmas imagery we grew up with still feels weird. But who knows, in a few years' time, maybe Santa in board shorts and sandals on the beach will become the norm for us and for our children.