Leaving all the old, familiar places
Saddened by the return of emigration as a normality for Irish people, photographer David Monahan began his 'Leaving Dublin' project, capturing soon-to-be emigrants at locations around the city. By CIARA KENNY
Saddened by the return of emigration as a normality for Irish people, photographer David Monahan began his 'Leaving Dublin' project, capturing soon-to-be emigrants at locations around the city. By CIARA KENNY
THE NIGHT before Ara López moved back to Mexico after two-and-a-half happy years in Dublin, she and her boyfriend, Daragh McMunn, took a walk down O'Connell Street. They stopped at the Spire, across from the GPO, the place where they had first kissed two years previously.
The evening was charged with emotion for both of them; she was leaving Ireland permanently, and he was to follow her a few months later when his contract was up at the hospital where he worked. But on this night, they weren't sharing their romantic moment alone.
David Monahan, a Dublin photographer, was with them, capturing their final hours together in Ireland as part of his Leaving Dublin project. Monahan has taken 58 such images of emigrants as they prepared to leave the country over the past 19 months.
"I felt a huge sadness at the re-establishment of emigration as a trait of our normal lives," says Monahan. "I'm in my 40s, and although I've never been an emigrant myself, I am well used to the emigrant cycle, and seeing those close to me moving away. I was here in Dublin on my own right through the 1990s, as my two brothers and my sister had all left."
Monahan has captured young graduates, unemployed tradesmen, couples, families with children and a handful of people in their 40s and 50s, some of whom are emigrating for a second time.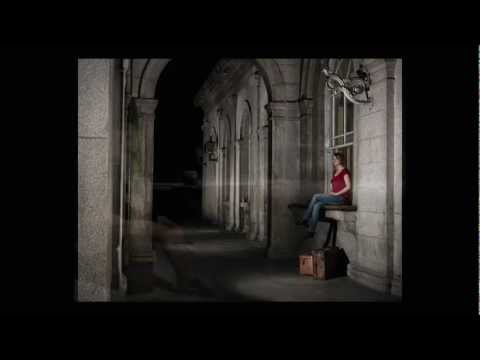 "There are a whole range of stories coming through, but there are discernable trends," he says. "Some people leave because they have no choice, they have no chance of getting work here and have tried everything. Anyone beyond the age of 30 is thinking of their future, and of what is best for their family in the long run. The young people just want to get out of the country and try something new, and are hoping when they come back everything will be better here again."
Each of Monahan's photos has a deliberately theatrical composition, staged at night and painstakingly spot-lit to highlight the most dramatic aspects of the location selected, chosen by the subject as a place with a special meaning to them. A battered old leather suitcase is a recurring prop.
"By shooting at night, you are taking something that is quite ordinary and normal, a backdrop that we would all be familiar with, like the corner of Smithfield or the banks of the River Liffey, and dissociating it from our usual conception of the place," Monahan says.
His photos capture soon-to-be emigrants in front of streetscapes and bridges, buildings and doorways, monuments and parks all over Dublin. The project began with a simple post on Monahan's blog, calling for people who were preparing to move to consider posing for a photo. The site has received more than 40,000 hits from all around the world, and has been used on American, French, Chinese and Dutch television as a metaphor for modern Ireland.
Monahan is hoping to have at least 20 more photos taken before the end of January, when he will begin preparing for an international screening of the images in public areas in cities such as Toronto, Sydney and London, where Irish emigrants are concentrated. The work will also be exhibited as part of the PhotoIreland Festival next July.
We spoke to some of the people who have already taken part in the project.
If you are interested in posing for a photo or assisting with the overseas screenings, you can contact David Monahan through his blog, thelillipution.blogspot.com
Seán Ó Dálaigh and Leia Uí Dhálaigh, Rotterdam
"Our tale bounces between Bray; Portland, Oregon; a proposal up a skyscraper in Chicago; our wedding in Belfast; and our honeymoon in Malta," says Seán Ó Dálaigh (31), who moved to Rotterdam in the Netherlands, in May, with his heavily pregnant wife, Leia (27), who is from Chicago.
Seán, a web designer, was made redundant three times in Dublin in 2010, so when he was offered a job as a support services manager for an Irish electrical-engineering firm in Rotterdam, where he had spent four years as a child, he accepted after just six hours and moved six days later.
The couple's daughter, Astrid, was born in Spijkenisse the following month, and is now in the US for Thanksgiving with Leia, meeting the American side of her family.
"The shoot was quick and fun. We chose that spot as it was around the corner from our apartment in Dún Laoghaire. I cycled past it every day en route to work. We were very happy while living there.
"We're delighted with the portrait we have now on our wall. The photo is a reminder of what we did in order to take care of our family."
Julie Mitchell, Vancouver
Julie Mitchell (30) left her job as a graphic designer in a Dublin studio in February 2009 to go on a round-the-world adventure with her best friend, Marie-Louise O'Callaghan.
"Maz and I always had the intention of returning home and getting new jobs, but . . . we quickly found out it was not going to be as simple as that," she says.
A few months into the trip, Mitchell met a Canadian man in Peru, and by the time the year was up, a plan to move to Canada was formulating in her mind. After four months in Ireland, she moved to Vancouver, where she works in a design studio while waiting for her permanent residenc.
"I was torn, as I absolutely loved living and working in Dublin and have left my amazing friends behind, but leaving was something I had to do. I am really happy to have the photo, which was taken near my old home in Smithfield, as a memento."
Darren Crook, Perth
Darren Crook (25), spent two years looking for work as a mechanic before emigrating to Australia in February. "It was also time to fly the nest and there was no way I was going to be able to do that in Ireland with no job."
He now works at the same company as his brother, who arrived in Perth a week before him, testing the pressure of pipes for industrial use.
"I saw an item about David's project on the news about two weeks before I left, and I thought a photo would be a nice memento for me to have to look back on in the future. He asked me to think of somewhere in Dublin that meant something to me, and I chose Howth. I have a lot of good memories of going there with friends, and my father used to take me fishing on the pier. My parents have a print of the photo hanging on the wall at home. It means a lot to them."
Crook is hoping to apply for residency. "I think I'm here for the long haul," he says.
Conor McMahon, London
"Coincidentally, this article will be printed on the day I arrive back in Dublin," says Conor McMahon (40), whose experience of emigration has come full circle after just 15 months. He had expected to spend three or four years in the UK when his company, an international financial organisation where he works as an interaction designer, offered him a transfer to London last year.
"I like London, and it was great to spend some time here, but I'm glad to have the opportunity to come home again. I'm moving back to my home and a permanent job, which is the inverse of most emigrants' experiences at the moment," he says.
"There's a lot of places I love in Dublin, but my favourite place is my own back garden in Donaghmede. That's where the photo was taken. There's no place like it on a summer's evening.
"I have the photo hanging at home in Dublin, as a cue to come back, and as a reminder of my first attempt at leaving the country, a reminder that I tried the emigration thing."