irishtimes.com

- Posted: August 2, 2012 @ 5:27 pm
If you only do one thing this weekend . . . festivalise
Laurence Mackin
In a festive funk: If you were the king of festival land, and were wearing your finest festival suit, while riding along in your festive carriage being pulled by the most festive horses in all the land, you still wouldn't be festive enough to handle all that this bank-holiday weekend could throw at you.
King of the heap by a nose is Castlepalooza, the three-day event that turns Charleville Castle into one enormous house party. Among the acts playing are The Charlatans, Le Galaxie, Ghostpoet, King Charles, Jape, Solar Bears, Little Green Cars, Katie Kim, Donal Dineen and plenty more. Tickets are available for just €50. Suits of armour are optional.
Meanwhile, in Cork, the Indiependence Music and Arts Festival is laying on the likes of British Sea Power, Feeder, Maverick Sabre, Japanese Popstars, Delorentos, We Cut Corners, and more in Mitchelstown. Tickets for this one are €99.
Also trying to show you a good time is the Liss Ard 2012 festival featuring Chic (who are bossing their away around various bits of the country at the moment), Lisa Hannigan, Bob Mould, Tieranniesaur, and more. €89.50 gets you through the gate for the whole shebang.
Solo shows: Away from the festival heap, the standout gig of the weekend could well be James Blake's DJ set in the Academy on Friday night, and his turn in Stiff Kitten in Belfast on Saturday. The electro producer who everyone wants to work with will be including tracks from his Harmonimix alter ego, with support from The Chain and the hotly tipped Space Dimension Controller.
London beatboxer and live improviser Beardyman is also taking the time to perform in Dublin's Button Factory this weekend – he's a frequent enough visitor to this part of the world, but given his extraordinary dexterity he always gets a warm welcome.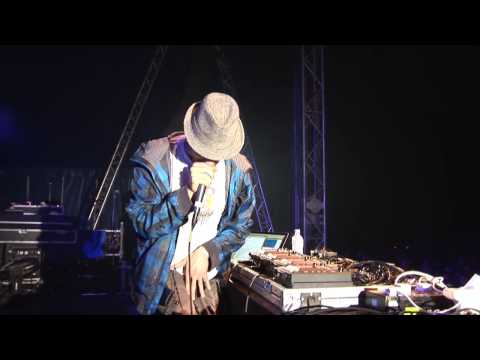 Meanwhile, Nicolas Jaar will be rolling into Dublin on Sunday night for a rare live show, as part of a showcase for his label, Clown & Sunset Records. Support on the night comes from Acid Pauli and Valentin Snip.
Planning a quiet weekend in, were you? Forget it. All sleep has been cancelled.
Do not avert your Gaze: This year sees the Gaze Dublin International LGBT Film Festival celebrate 20 years in action, and it will be calling Dublin's Light House cinema home for the weekend. Among the highlights on offer are: Leave It On The Floor, Sheldon Larry's low-budget musical; Carol Channing: Larger than Life, an affectionate if uncritical biopic of the Broadway star; Sexing the Transman, a documentary made by Buck Angel that claims to be the "most progressive sex education film ever made"; and Revealing Mr Maugham, Michael House's film on the playwright, novelist and spy W Somerset Maugham.
Fading pictures: The PhotoIreland festival is drawing to a staggered close, but there's still time to catch some of its host of exhibitions before the pictures come down. Evelyn Hofer's work will stay in Temple Bar's Gallery of Photography until August 31st, while Sean Hillen's work in Northern Ireland from 1979 to 1990 will stay across the way in the National Photographic Archive until the end of September. Kimura Ihei's pictures of Paris from 1954 to 1955 (below) are at Alliance Française until September, and you have the weekend to squeeze in a fleeting glimpse of the work of Jean Revillard at the Copper House Gallery.
Eastern promise: If you haven't seen it already, this is your last chance to take in The Tale of the Bamboo Cutter, a glorious exhibition in the Chester Beatty Library, featuring newly restored 17th-century Japanese picture scrolls that illustrate the oldest Japanese work of prose fiction. I've mentioned it before on the blog, but it's worth repeating, and here's Gemma Tipton's article on these scrolls, perhaps the first ever Japanese sci-fi story.